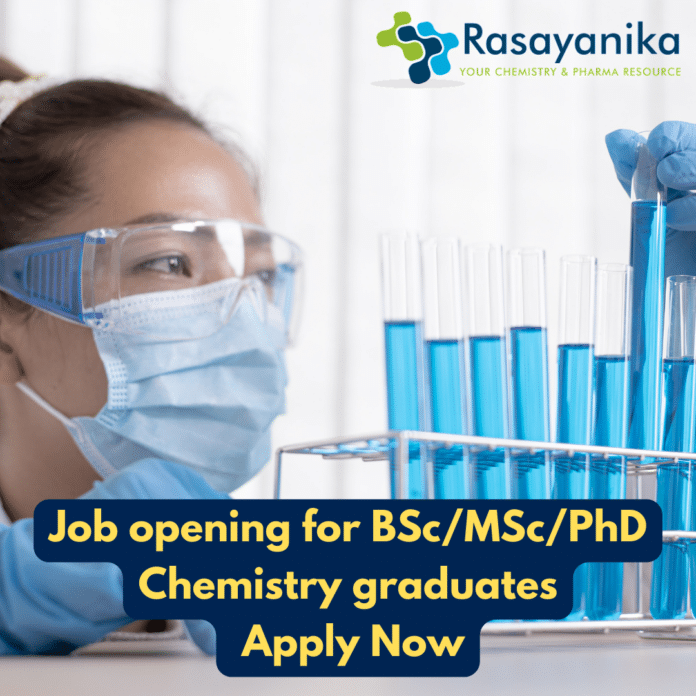 Job opening for BSc/MSc/PhD Chemistry graduates – check out the details below and Apply 
Role : Senior Scientist – Chemistry
Location : Ambar-134/4/16 Ashok Nagar, Pune, Maharashtra, 411007, India
Requisition Number : 177222
Experience Level : Experienced Hire
Job category : Engineering/Science/Technology
Product Service Line : Production Enhancement
Full Time / Part Time : Full Time
Job description:
Help energize the world one oil company at a time.
Your familiarity with chemical hygiene plans and current laboratory safety standards will apply to the job of Sr. Chemist Scientist.
In this role you will follow the prescribed safety rules and regulations in performing assigned duties and assist lower-level technicians in these areas.
You will also apply theories, principals and practices to the research and development of new and improved products, processes and procedures.
Educational Qualifications:
An undergraduate degree in Science, Engineering or similar discipline is required. Must also have 4 years of related experience.
Completion of a Masters and PHd in Science and Engineering is preferred.
Check out the Latest Job opening for BSc/MSc/PhD Chemistry graduates at Rasayanika
Here are some interview questions and sample answers for the Senior Scientist – Chemistry role:
Can you tell us about your experience working with chemical hygiene plans and laboratory safety standards? Sample Answer: In my previous roles, I have always prioritized safety in the laboratory. I have extensive experience in developing and implementing chemical hygiene plans to ensure the well-being of both personnel and the environment. I am well-versed in current laboratory safety standards and have actively participated in safety training programs. I believe that a safe work environment is essential for productive research, and I am committed to upholding the highest safety standards.
Could you describe a challenging situation you encountered in the laboratory and how you addressed it to ensure the safety of your team and the success of the project?Sample Answer: Certainly. In a previous project, we encountered a chemical reaction that unexpectedly became unstable, posing a potential safety risk to the team and the lab. I immediately initiated our safety protocols, ensuring everyone evacuated the area and appropriate safety gear was worn. Subsequently, I collaborated with my colleagues to analyze the situation, identify the root cause, and make necessary adjustments to the experiment. This incident reinforced the importance of vigilance and quick response in maintaining a safe laboratory environment.
How do you approach the research and development of new products, processes, or procedures in a scientific setting?Sample Answer: I approach research and development with a methodical and collaborative mindset. First, I thoroughly analyze existing literature and research to understand the current state of the field. Then, I work with cross-functional teams to brainstorm ideas and formulate hypotheses. We conduct experiments, gather data, and analyze results to refine our approach. Collaboration is key, as it brings together diverse perspectives and expertise to drive innovation. Additionally, I am meticulous in documenting our findings and lessons learned, which helps inform future projects.
What motivated you to pursue a career in science and engineering, and how has your educational background prepared you for this role?Sample Answer: I've always been passionate about the potential for science and engineering to solve real-world challenges. My educational background, including my undergraduate degree in [mention your discipline], provided me with a solid foundation in scientific principles and critical thinking. Additionally, completing a Master's and Ph.D. in Science and Engineering allowed me to delve deeper into research and develop advanced problem-solving skills. This educational journey equipped me to tackle complex scientific problems and contribute effectively to the development of new products and processes.
Can you share an example of a successful project you've worked on that led to the development of a new or improved product or process?Sample Answer: Certainly. In a previous role, I led a project focused on optimizing a chemical process used in our production line. Through a series of experiments and process modifications, my team and I were able to significantly increase the efficiency of the process while reducing waste. This not only resulted in substantial cost savings but also improved the overall product quality. The success of this project underscored the value of continuous improvement and innovation in our operations.
Explore the Latest Job opening for BSc/MSc/PhD Chemistry graduates at Rasayanika
ALL THE BEST!