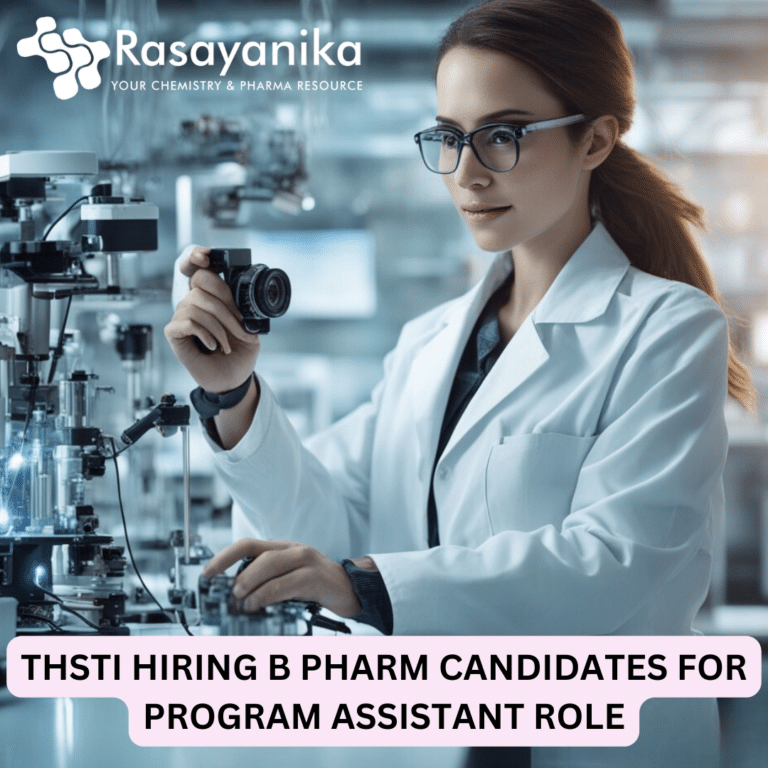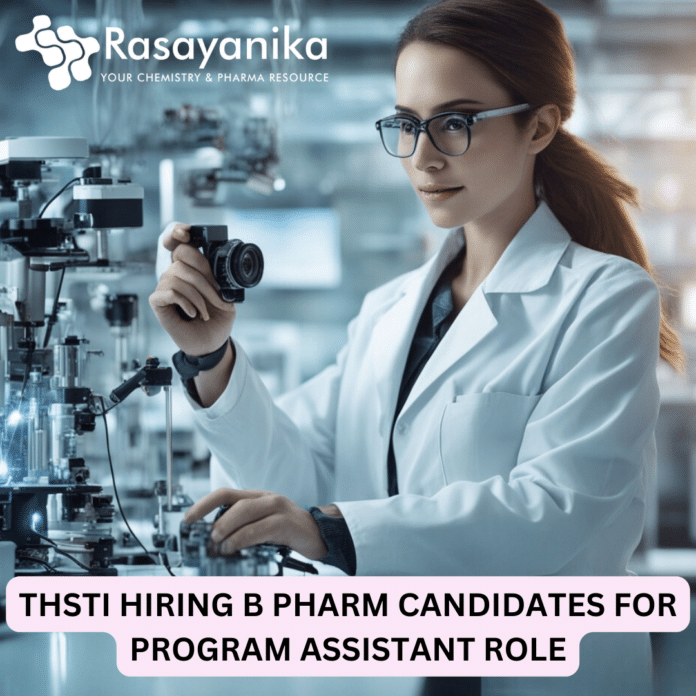 THSTI Pharma Project Job – Pharma Graduates Apply Online
THSTI Pharma Project Job – Pharma Graduates Apply Online. Pharma jobs. THSTI Careers. Interested and eligible applicants can check out all of the details on the same below:
Job Title: Program Assistant, THSTI-CDSCO-WHO Regulatory series
Institution : Translational Health Science and Technology Institute (THSTI)
Location: CDSA, THSTI, NCR, Biotech Science Cluster, Faridabad 
Name of the Project: Technical support for building capacity of clinical trials in India (Phase 1) [WHO program]
Your Responsibilities:
Day-to-day management of this project which includes but is not limited to development as well as coordination.
Ability to conduct webinars
Facilitating communication between general staff and senior staff
Design and development of presentation template, course-related guidelines, and various checklists.
Scheduling appointments
Develop self-assessment tool based on a feedback analysis
Continuous follow-up and coordination with IT support for the auto generation of certificate.
Helping participants complete the entire process of taking this course
Conduct webinars and assist in coordinating lecture recordings.
Perform administrative tasks like tracking attendance and momentum
database entry, preparing activity and evaluating forms, and updating and maintaining files.
Support Course Advisory Group (CAG), if any
Micro-planning, and management per topic with each resource person (assigned per topic)
Maintaining documentation and records – as per the requirements of the course including any changes needed from time to time
Overseeing and drafting for the webinar development
Create awareness about the webinars to be launched on LMS through websites, social platforms, and other outreach avenues.
Ensure that the webinar is being developed and conducted in accordance with general partnering organizations guidelines.
Deal with any problem identified with respect to the webinar with resource persons and participants and resolve it with help of senior management.
Monitor the progress of the webinars according to timelines Support PI in any other work assigned from time to time in this project
Minimum Educational Qualification and Experience:
Graduate degree in Science/Pharma from a recognized university OR Bachelor's degree in Medicine/Dentistry
Minimum 2-3 years' experience at a mid-level in managing programme for clinical/ healthcare or pharmacy area.
Demonstrated working proficiency in managing an LMS based program, webinar platforms
Desirable qualifications & work experience:
Higher qualifications in Science/Pharmacy/Dentistry/ Medicine
Experience in training and webinar domain
Experience working with various digital technologies, certificate management, feedback mechanisms and analysis
Knowledge of recording lectures, formatting, IT support, beta testing, etc.
Coordination with various faculty in recording and professional formatting of the course lectures with subject matter experts Coordination with participants to ensure completion of their certification program
Professional skills:
Excellent management, interpersonal, networking skills
Excellent communication skills, both verbal & writing
Proficient in computers and other IT skills
Soft skills and excellent people management
Age Limit: Up to 35 years
Emoluments: Rs.50,000 (Consolidated) monthly
How to Apply:
Interested candidates fulfilling the criteria as mentioned for Sr. No. 1 Post may walk-in for a written test/skill test/interview on 27th September @01:00 PM (13:00 hours) for Consultant Senior Program Officer Position at THSTI, NCR Biotech Science Cluster, 3rd Milestone, Faridabad Gurugram Expressway, Faridabad – 121001. (Note – The candidate must report by 10:00 AM to be interviewed otherwise the candidate will not be interviewed by the selection committee).
Interested candidates fulfilling the criteria as mentioned For Sr. No. 2. May walk-in for written test/skill test/interview on 26th September 2023 @11:00 AM at THSTI, NCR Biotech Science Cluster, 3rd Milestone, Faridabad-Gurugram Expressway, Faridabad – 121001. (Note – The candidate must report by 10:00 AM to be interviewed otherwise the candidate will not be interviewed by the selection committee).
Note: Outstation candidates can send their request for an online interview through email:

[email protected]

. one day prior to the interview with the updated CV/Qualification and experience certificate. Their candidature will be subjected to the approval of the appropriate authority. The request of Delhi/NCR Candidates for online Interviews will not be entertained
GENERAL TERMS & CONDITIONS:
a) This is short-term positions and extension will be granted subject to satisfactory performance of the incumbents and tenure of the project for which they are selected. Those appointed to these positions will not have any claim for regularization of their employment.
b) All educational, professional and technical qualification should be from a recognized
Board/University.
c) The experience requirement specified above shall be the experience acquired after obtaining the minimum educational qualifications specified for the post.
d) The age limit, qualification, experience and other requirements may be relaxed at the discretion of the competent authority, in case of candidates who are otherwise suitable. In case candidates are not found suitable for the posts notified, they can be offered lower post / lower emoluments on the recommendation of the Selection Committee.
e) Age and other relaxations for direct recruits and departmental candidates: 1. By five years for candidates belonging to SC/ST communities. 2. By three years for candidates belonging to OBC communities. 3. For Persons with Benchmark Disabilities (PWBD) falling under the following
categories: (i) UR – ten years, ii) OBC – 13 years (iii) SC/ST – 15 years 4. Age is relaxable for Central Government servants up to five years in accordance with the
instructions or orders issued by the Central Government, from time-to-time. 5. There is no upper age limit for the Institute employees who are treated as departmental candidates. 6. For Ex service men up to the extent of service rendered in defense forces (Army, Navy & Air force) plus 3 years provided they have put in a minimum of 6 months attested service.
f) All results will be published on our website and all future communications will be only through email.
g) In case a large number of applications are received, screening will be done to limit the number of candidates to those possessing higher/relevant qualification and experience.
h) With regard to any provisions not covered in this notification, the bye laws of THSTI / Govt. of India rules / guidelines shall prevail.
i) Canvassing in any form will be a disqualification.
j) You are requested to bring 2 passport size photograph & one set of photocopy of your
education/qualification certificate/documents along with the originals at the time of interview
Here are Some Possible Interview Questions and Answers:
1. Can you describe your experience in project management and how it relates to the responsibilities of this role?
– Answer: In my previous role as a Program Assistant at [Previous Organization], I was responsible for the day-to-day management of multiple projects. This included coordinating tasks, tracking progress, and ensuring that all project activities were completed on time. I also have experience in developing and maintaining project documentation, which aligns with the requirement to maintain records and documentation in this role.
2. How proficient are you in conducting webinars and facilitating communication between different staff levels?
– Answer: I have experience in conducting webinars, where I have not only organized the technical aspects but also ensured smooth communication between presenters and participants. I have also served as a bridge between junior and senior staff members by effectively conveying messages, addressing concerns, and facilitating collaboration.
3. Can you discuss your experience in creating presentation templates, course-related guidelines, and checklists?
– Answer: In my previous role, I was responsible for designing and developing presentation templates and course-related guidelines. This involved a keen eye for detail, ensuring consistency, and aligning materials with the project's goals. I have also created checklists to streamline processes and improve efficiency.
4. How do you manage scheduling appointments and coordinating various tasks simultaneously?
– Answer: I excel in time management and organization. I utilize digital tools and calendars to schedule appointments efficiently. To coordinate multiple tasks, I prioritize based on deadlines, urgency, and importance, ensuring that nothing falls through the cracks.
5. Can you explain your experience in monitoring attendance, managing databases, and updating files?
– Answer: I have a strong background in administrative tasks, including tracking attendance, managing databases, and maintaining organized files. I am proficient in using software such as Excel and databases to ensure accurate records and data management.
Follow Rasayanika for more updates!
Editor's Note: THSTI Pharma Project Job. THSTI Pharma Project Job – Pharma Graduates Apply Online. Subscribe to Rasayanika for the latest chemistry and Pharma job openings, follow us on Facebook and Telegram and subscribe to our youtube channel for the latest updates on chemistry and Pharma jobs and much more.