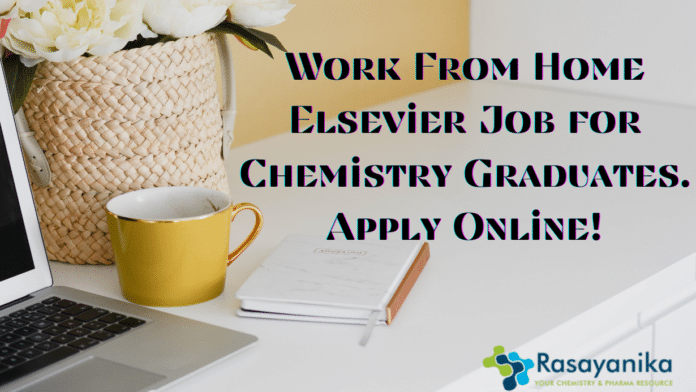 WFH Chemistry Jobs at Elsevier – Apply Online!
WFH Chemistry Jobs at Elsevier – Apply Online! Looking for a rewarding career opportunity as a Scientific Editor in the field of chemistry? Elsevier, a renowned leader in scientific publishing, is currently accepting online applications for this exciting role. Join our team and contribute to advancing scientific knowledge and research worldwide. Apply now!
Job Title: Scientific Editor- Joule ( Energy Research)
Company: Elsevier
Location: Chennai, Delhi, Mumbai and Bangalore
Work from Home: Work From Home Opportunity available
Job Type: Full Time
Requirements:
Have a degree and research experience in Chemistry, Materials, Physics, Engineering, Energy Analysis or any subject relevant to the journal. Research experience in heating / cooling / thermal transport related to energy applications is advantageous.
Have a passion for sustainable energy research across the scope of Joule.
Have excellent interpersonal and communication skills, and an aptitude to develop strong links with, and influence, global energy researchers.
Possess critical thinking skills and the willingness to learn and absorb new areas of research.
Responsibilities of Work from Home as well as Work from Office Candidates:
Rigorously evaluating submissions against Joule's demanding requirements for reporting breakthrough energy-first research.
Building global networks and commissioning world-leading submissions (including insightful front matter articles).
Contributing to and implementing a journal strategy that ensures Joule remains topical, distinctive, impactful and agenda-setting.
Collaborating with Cell Press colleagues to broaden our footprint and ensure we continue to meet the needs of the research communities we serve.
Opportunities to travel across India and abroad to participate in international conferences and visit top universities in the world to meet leading researchers.
Work From Home Opportunity at Elsevier. The possible interview Q & A to help you with:
Q1: Can you explain your experience in rigorously evaluating research submissions, particularly in the context of breakthrough energy-first research?
A1: In my previous role, I served as a scientific editor at [Previous Employer], where I was responsible for evaluating research submissions in a highly competitive field. I ensured that manuscripts met stringent criteria for novelty, scientific rigor, and relevance to the field, which aligns with the demanding requirements at Joule. I consistently upheld these standards by collaborating closely with reviewers and authors to enhance the quality of published work.
Q2: How have you built and maintained global networks in your previous roles, and how would you approach commissioning world-leading submissions for Joule?
A2: Building and maintaining global networks is crucial in scientific publishing. In my previous role at [Previous Employer], I actively engaged with researchers and attended international conferences to establish connections. I would approach commissioning world-leading submissions for Joule by leveraging these networks, proactively reaching out to experts in the field, and staying up-to-date with the latest trends and breakthroughs to identify potential contributors.
Q3: Can you share your insights on how you would contribute to Joule's strategy to remain topical, distinctive, impactful, and agenda-setting in the field of energy research?
A3: To ensure Joule's continued success, I would focus on staying attuned to emerging trends in energy research, fostering collaborations with leading researchers, and soliciting cutting-edge contributions. Additionally, I would actively seek feedback from the scientific community and engage in strategic discussions with colleagues to refine and implement a strategy that aligns with Joule's goals and maintains its prominence in the field.
Q4: Collaboration with colleagues at Cell Press is essential. Can you provide an example of how you've effectively collaborated across different teams or departments in your previous roles?
A4: In my previous role, I worked closely with the editorial, production, and marketing teams to streamline the publication process and enhance the visibility of our journal. For instance, I collaborated with the production team to expedite the publication of high-impact articles and with the marketing team to develop strategies for reaching a wider audience. This cross-functional collaboration resulted in improved journal performance and a more comprehensive service to our research communities.
Q5: The opportunity to travel and engage with researchers globally is an exciting aspect of this role. Can you describe a specific experience where attending an international conference or visiting a top university had a significant impact on your work or professional development?
A5: Attending the [Name of Conference] in [Year] was a transformative experience. I had the opportunity to connect with leading researchers in my field and engage in stimulating discussions on the latest advancements. This experience not only expanded my knowledge but also allowed me to forge valuable collaborations that led to several groundbreaking publications. It reinforced the importance of international exposure and networking in advancing scientific research and my own professional development.
Editor's Note: WFH Chemistry Jobs at Elsevier – Apply Online! Subscribe to Rasayanika for the latest chemistry and Pharma job openings, follow us on Facebook and Telegram and subscribe to our youtube channel for the latest updates on chemistry and Pharma jobs and much more.