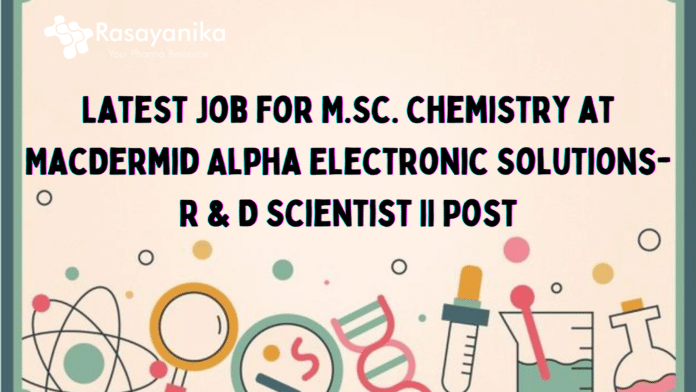 Job for MSc Chemistry-MacDermid- R & D Scientist II Post
MacDermid Alpha Electronic Solutions is offering an exciting opportunity for M.Sc. Chemistry candidates as an R&D Scientist II. Join our innovative team and contribute to cutting-edge research in the field of electronic solutions. Take the next step in your career with us!
Job Title: R & D Scientist II
Company: MacDermid Alpha Electronic Solutions
Education: Masters in Chemistry
Requirements & Qualifications for Latest job for M.Sc. Chemistry:
A masters degree in Chemistry/Analytical Chemistry and Extensive bench experience with various analytical instruments, especially ICP, HPLC, IC, and XRF is essential.
Clear knowledge of all ISO/GLP regulations is required .Excellent knowledge of QMS, OHS and EMS and other associated Quality systems.
Training in Quality related fields are advantageous.
Job Purpose:
Analytical chemists analyze samples using a range of techniques such as electro-chromatography, high performance liquid chromatography, spectroscopy and various other conventional techniques.
The Analytical Chemist will be using a range of software, techniques and equipment to carry out day-to-day analysis to support all customers in India.
Job Responsibilities:
Assist in analytical protocol development, design and implementation.
Responsibilities as stated in Good Laboratory Practice regulations.
Data interpretation and report writing.
Establish test protocols and corresponding SOP's.
Develop experimental design and supervise implementation of experiments (tests).
Ensure all experimental data is properly recorded and that observations of unanticipated responses of the test system are accurately recorded and verified.
Ensure tests are conducted in accordance with the test protocol and SOP.
Run instruments and/or train analysts in instrumentation. Check instrument conditions and calibrations.
Interpretation, calculation, analysis, documentation and reporting of results.
Any other duties assigned.
Relevant Industries:
Chemicals
Electronics
Engineering
Job for MSc Chemistry-MacDermid- R & D Scientist II Post Possible Interview Q & A that can help you with:
1. Interview Question: Can you describe your educational background and experience in Chemistry/Analytical Chemistry?
Answer: I hold a master's degree in Chemistry with a specialization in Analytical Chemistry. I have also accumulated extensive bench experience working with various analytical instruments such as ICP, HPLC, IC, and XRF. My educational and practical background has equipped me with the necessary knowledge and skills to excel in this role.
2. Interview Question: How familiar are you with ISO/GLP regulations, and how do you ensure compliance with them in your work?
Answer: I have a clear and in-depth understanding of ISO and GLP regulations. Throughout my career, I have consistently adhered to these regulations in my analytical work. I ensure compliance by meticulously following established protocols, maintaining accurate records, and participating in regular quality control activities to uphold the highest standards of data integrity and reproducibility.
3. Interview Question: Can you provide an example of a project where you had to develop analytical protocols and standard operating procedures (SOPs)?
Answer: Certainly. In a previous role, I was responsible for developing analytical protocols and corresponding SOPs for a complex project involving the analysis of environmental samples. I collaborated with the team to design protocols that ensured precise and consistent results. These SOPs played a crucial role in maintaining the quality and reproducibility of our analytical work.
4. Interview Question: How do you handle unexpected responses or deviations from the test system during experiments, and why is this important?
Answer: When faced with unexpected responses or deviations during experiments, I first document them accurately and verify the observations. It's essential to do so to maintain data integrity and ensure that any anomalies are not overlooked. Depending on the nature of the deviation, I may troubleshoot the issue, repeat the experiment, or make necessary adjustments to the experimental design while following the established protocols.
5. Interview Question: Can you provide an example of a time when you trained colleagues or junior analysts in using analytical instrumentation?
Answer: Certainly. In my previous role, I had the opportunity to train junior analysts in the operation and maintenance of analytical instruments such as HPLC and ICP. I conducted hands-on training sessions, emphasizing instrument safety, calibration, and troubleshooting techniques. This ensured that the team had the necessary skills to operate the instruments effectively and obtain reliable results, contributing to our overall success in meeting project goals.
Editor's Note: Job for MSc Chemistry-MacDermid- R & D Scientist II Post. Subscribe to Rasayanika for the latest chemistry and Pharma job openings, follow us on Facebook and Telegram and subscribe to our youtube channel for the latest updates on chemistry and Pharma jobs and much more.