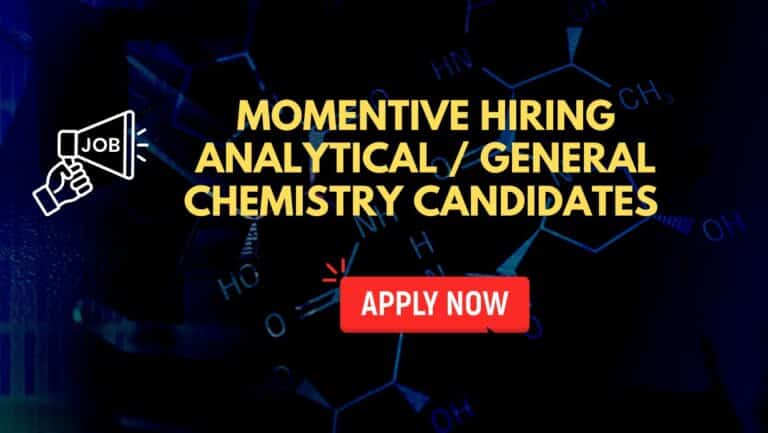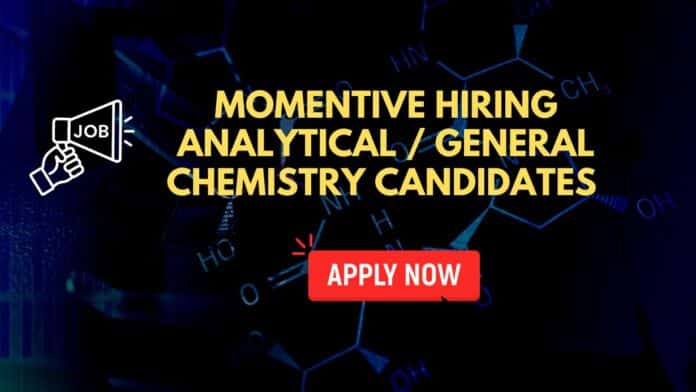 Momentive Hiring MSc Chemistry. Apply Online!
Momentive is currently seeking a highly skilled and motivated MSc Chemistry graduate to join the team as a Senior Research Assistant. This role offers a unique opportunity to contribute to cutting-edge research and innovation in the field of chemistry, with the potential for career growth and development within our organization. Join us in shaping the future of materials science and technology.
Job Title: Sr Research Assistant Post
Company: Momentive
Location: Bangalore
Job Type: Full Time
Momentive Hiring MSc Chemistry. The qualifications and skills required are:
Experience between 2 to 3 years in analytical sciences.
M. Sc. in Analytical/General Chemistry or related discipline.
Good knowledge in analytical chemistry/characterization techniques.
Self-motivated, take initiatives, able to work independently.
Use of basic statistical tools for representing experimental data.
Good interpersonal and communication skills.
Momentive Hiring MSc Chemistry
Job Description: Develop analytical solutions for technology programs to enable product and process development.
Responsibilities at Momentive:
Responsible for analytical efforts in the area of Chromatography, Wet chemistry and Thermal/Microscopy and Rheology techniques for characterization of Silicone polymeric materials.
2 years of experience in Analytical area or science in relevant industry.
Good execution skills for timely analytical feedback to multiple projects.
Communicate effectively with stakeholders both verbally and written.
Maintain and calibration of analytical instruments working with engineers.
Adhere to lab safety practices.
They should be aware of safety practices execute projects in timely manner.
Momentive Hiring MSc Chemistry. The possible interview Q & A:
Q: How do you stay updated on the latest advancements in analytical techniques and instrumentation within the field of chemistry?
A: I'm committed to continuous learning. I regularly attend workshops, conferences, and subscribe to scientific journals to keep up with the latest developments in analytical chemistry. This knowledge allows me to incorporate cutting-edge techniques into our analytical processes.
Q: Can you describe a situation where effective communication played a crucial role in the success of a project you were involved in?
A: Certainly. In one project, we were tasked with developing a new silicone material for a specific application. Effective communication was key in conveying the project's requirements to the analytical team, enabling us to tailor our testing methods to the project's unique needs. This collaboration resulted in a successful product launch.
Q: How do you handle unexpected challenges or deviations in analytical results, and what steps do you take to troubleshoot and resolve them?
A: When faced with unexpected challenges or deviations, I first assess the data integrity and instrument performance. Then, I work with my team to identify potential sources of error. We systematically troubleshoot, retest, and refine our methods until we obtain consistent and reliable results. This process ensures that our data is accurate and actionable.
Q: How do you ensure the accuracy and reliability of analytical instruments, especially when working with engineers?
A: Instrument calibration and maintenance are critical. I regularly perform calibration checks and preventive maintenance on analytical instruments to ensure their accuracy. I also collaborate closely with engineers to address any instrument-related issues promptly.
Q: Can you explain your approach to maintaining lab safety practices, and how do you ensure compliance within your team?
A: Lab safety is a top priority. I lead by example and ensure that all team members are well-trained in safety protocols. Regular safety audits and reminders are also part of our routine to maintain a safe working environment.
Latest Job – Momentive Hiring MSc Chemistry