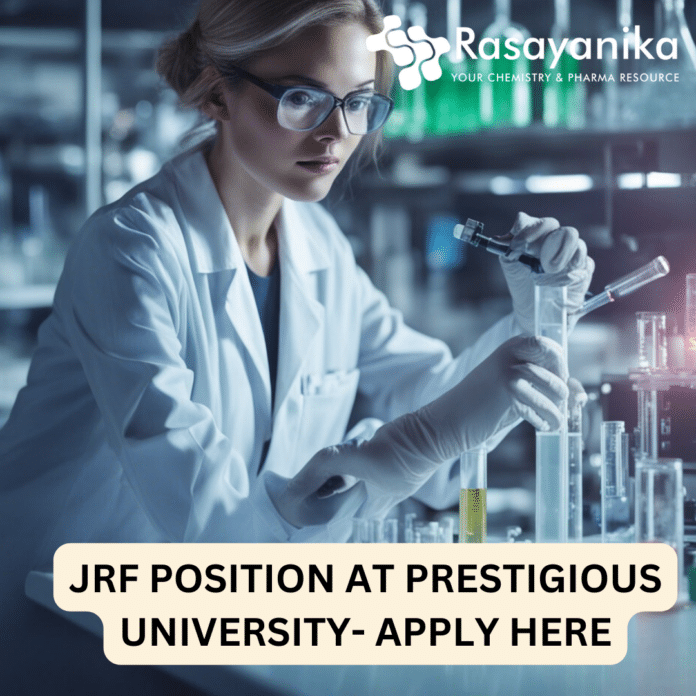 style="text-align: center;">
MSc Chem JRF Job at Presidency University – Apply & Attend Walk-In
MSc Chem JRF Job at Presidency University – Apply & Attend Walk-In. MSc Chemistry Junior Research Fellow job at Presidency University. Interested and eligible applicants can check out all of the details on the same below:
Advertisement for Junior Research Fellow (JRF) Date: 11/09/2023
Applications are invited for one Junior Research Fellow (JRF) positions in an ICMR-sponsored Project
Position: JRF
Institute: Presidency University Kolkata
Project Title: "Exploring the role of XIAP and cFLIP in the activation of Inflammasomes
for better understanding of the Inflammasome-mediated Lung Carcinogenesis"
Name of the PI: Dr. Nabendu Biswas, Asst. Professor, Department of Life Sciences
How to Apply
Interested candidates for JRF position at Presidency University are requested to send their applications and CV to [email protected] by 22nd September 2023. Shortlisted candidates will be called for an interview.
Date of Interview: 25.09.2023 from 12.00 p.m.
Fellowship: Rs.31000/- pm + 24% HRA
Qualification:
M.Sc. in any branch of Biological Sciences/Life Sciences/ Biochemistry /Chemistry with a minimum of 55% marks from a recognized University. Students must have qualified CSIR/UGC NET.
On completion of the project satisfactorily the candidate will be eligible for further extension for Ph.D. degree.
Click here for the notification
Possible Interview Questions and Answers:
1.Tell us about your research experience and background related to this project.
Answer: I have a Bachelor's degree in [Your Relevant Field] and a Master's degree in [Your Relevant Field]. During my Master's program, I worked on a research project related to [Briefly Describe Relevant Research Experience], which provided me with hands-on experience in [Relevant Techniques/Methods]. I am passionate about [Specific Research Area], and this project aligns perfectly with my research interests and background.
2.What motivated you to apply for this JRF position at Presidency University and this particular research project?
Answer: I was drawn to this JRF position because of the opportunity to work on a cutting-edge research project that addresses a critical question in the field of lung carcinogenesis. The role of XIAP and cFLIP in the activation of inflammasomes is an exciting and relatively unexplored area, and I believe that my skills and research interests make me a strong fit for this project. Additionally, working at Presidency University Kolkata would provide me with access to top-notch research facilities and a supportive academic environment.
3.Can you briefly explain what inflammasomes are and their significance in lung carcinogenesis?
Answer: Inflammasomes are multi-protein complexes that play a crucial role in the innate immune response. They are responsible for the activation of pro-inflammatory cytokines like interleukin-1β (IL-1β) and interleukin-18 (IL-18). In the context of lung carcinogenesis, inflammasomes have been implicated in promoting inflammation, which is a key factor in the development and progression of lung cancer. Investigating the role of XIAP and cFLIP in the activation of inflammasomes is essential for better understanding how these complexes contribute to lung cancer development.
4. What specific techniques or methodologies do you plan to use in this research project?
Answer: I plan to employ a combination of molecular biology techniques such as Western blotting, real-time PCR, and immunoprecipitation to study the expression and interaction of XIAP, cFLIP, and inflammasome components. Additionally, I intend to use cell culture models to manipulate XIAP and cFLIP expressions and assess their impact on inflammasome activation. I may also perform in vivo studies using mouse models to validate our findings.
5. What challenges do you foresee in this research project, and how would you address them?
Answer: One potential challenge is the complexity of the inflammasome signaling pathway, which involves multiple proteins and intricate regulatory mechanisms. To address this, I would start with a comprehensive literature review to ensure I have a solid understanding of the current knowledge in the field. Additionally, I would collaborate with experienced researchers and seek guidance from my advisor to navigate any technical or conceptual challenges that may arise during the project.
Follow Rasayanika for More Updates!