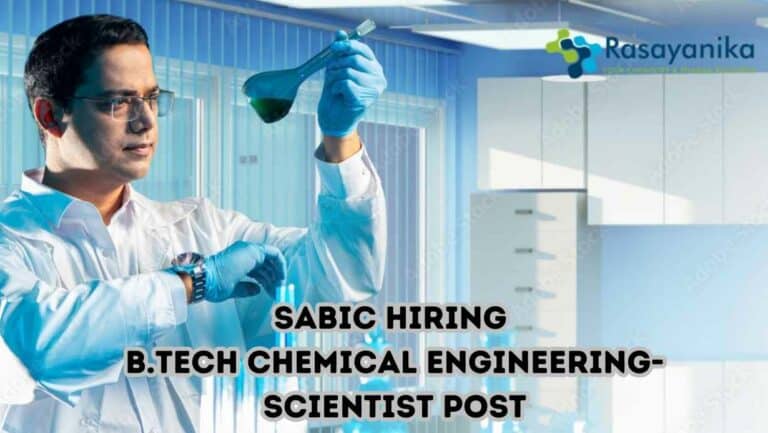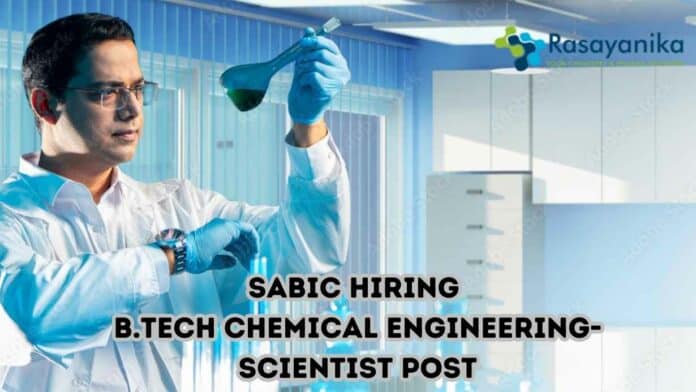 SABIC Hiring Chemical Engineering Graduates. Apply Online!
SABIC, a global leader in diversified chemicals and innovative materials, is currently recruiting for the position of Scientist in B.Tech Chemical Engineering. This exciting opportunity offers a chance to contribute to cutting-edge research and development projects. Interested candidates can apply online to be part of SABIC's dynamic team.
Job Title: Scientist, An & Ops, Sustain, T&I,IN
Company: SABIC (Saudi Basic Industries Corporation)
Location: Bangalore, India.
Essential Education: Bachelor's Degree in Chemical Engineering or Environmental Engineering from an internationally recognized university (Advanced degree in one the above disciplines will be highly desired.
Experience:
Prior exposure to LCA modeling and LCA modeling tools such as SimaPro and GaBi will be desired.
Preferred experience is 3-5 years in related areas of work.
Prior experience in one or more of the areas of bio-based LCA studies, sustainability reporting, Scope 3 accounting, circularity metrics, ESG disclosure and ratings, monetization of natural capital, social LCA and related areas will be highly desired.
Job Purpose:
SABIC is looking for creative and resourceful individual, who is seeking to utilize technical skills in the field of Sustainability and Life cycle assessment to help business achieve its growth aspirations.
The opportunities in this role involves driving projects and programs linked to LCA needs of existing and developing products and technologies to ensure informed strategy and decision making for business.
Job Responsibilities:
Build Life Cycle Models (LCA) & develop Carbon Footprint estimates for various chemical processes and polymer products of SABIC interest.
Keep abreast with recent methodological developments and demonstrate expertise in application of deeper and complex methodological topics linked to LCA including but not limited to social impacts, life cycle costing, end-of-life modeling methods, circularity metrics, science based targets and accounting methodologies for Scope 1, 2 and 3 accounting, ESG metrics, reporting guidelines for disclosures, integrated financial reporting.
Identify opportunities for innovation linked to sustainability with exposure to newer developments in the field of sustainability such as green H2, electrification, renewable energy and feedstocks, carbon capture and utilization, etc.
Be an effective and clear communicator and effective at simplifying messaging of complex topics to non-technical and concise communication. Proof-read external communications linked to sustainability for avoiding potential risks from greenwashing that may arise from inaccurate or non-transparency communication.
SABIC Hiring Chemical Engineering Graduates. The possible interview question and answer:
1. Question: Can you describe your experience with LCA modeling and relevant tools like SimaPro and GaBi?
Answer: In my previous role, I had the opportunity to work extensively with LCA modeling tools such as SimaPro and GaBi. I used these tools to build comprehensive Life Cycle Models (LCAs) and estimate Carbon Footprints for various chemical processes and polymer products. My experience includes analyzing environmental impacts, assessing resource consumption, and evaluating the sustainability of different products and processes.
2. Question: How do you stay updated with the latest developments in sustainability and LCA methodologies?
Answer: Staying current with sustainability and LCA methodologies is crucial for this role. I make it a priority to regularly attend industry conferences, webinars, and workshops related to sustainability. Additionally, I am an active member of professional organizations and online communities where experts share insights and the latest research. This continuous learning helps me stay informed about emerging trends and methodological advancements in the field.
3. Question: Could you provide an example of a project where you identified opportunities for innovation related to sustainability?
Answer: Certainly. In a previous role, I identified an opportunity to enhance the sustainability of our products by exploring the use of green hydrogen as an alternative feedstock. By researching and analyzing the feasibility of incorporating green hydrogen into our processes, we were able to reduce carbon emissions significantly. This initiative not only aligned with sustainability goals but also improved the overall environmental performance of our operations.
4. Question: How do you ensure effective communication of complex sustainability topics to non-technical stakeholders?
Answer: Effective communication is key in sustainability roles. I believe in simplifying complex topics by using clear and concise language. I often create visual aids such as charts, graphs, and presentations to help convey the information. Additionally, I engage in regular discussions with cross-functional teams, actively seeking their input and addressing any questions or concerns. This approach ensures that non-technical stakeholders understand the importance of sustainability initiatives and can make informed decisions.
5. Question: How do you prevent the risk of greenwashing in sustainability communication?
Answer: Preventing greenwashing is essential to maintain credibility in sustainability efforts. To avoid this risk, I have a meticulous approach to communication. I ensure that all sustainability claims and disclosures are accurate, transparent, and backed by data and evidence. I also adhere to established reporting guidelines and standards, such as GRI or SASB, to provide consistency and credibility in our sustainability reporting. Regular internal and external audits can further validate the accuracy of our sustainability claims, reducing the risk of greenwashing.
Editor's Note: SABIC Hiring Chemical Engineering Graduates. Apply Online! Subscribe to Rasayanika for the latest chemistry and Pharma job openings, follow us on Facebook and Telegram and subscribe to our youtube channel for the latest updates on chemistry and Pharma jobs and much more.