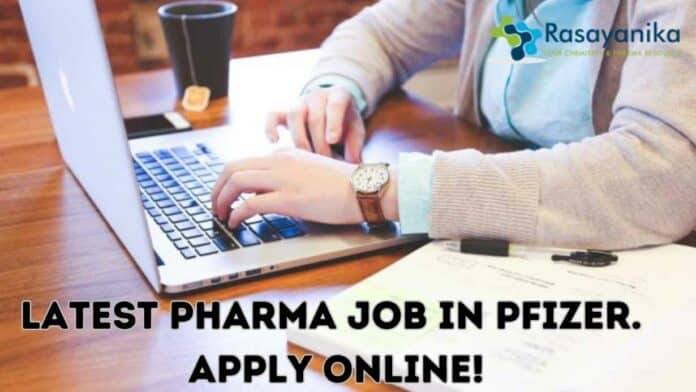 Pfizer Hiring Pharma Graduates. Apply Now!
Pfizer, one of the world's leading pharmaceutical companies, is currently offering an exciting career opportunity for individuals passionate about the field of scientific communications. As an Associate Scientific Communications Reviewer, you'll have the chance to work at the forefront of pharmaceutical innovation, ensuring the accuracy and compliance of critical scientific materials. Join Pfizer's dynamic team and contribute to the advancement of healthcare worldwide. Apply now for this rewarding position!
Job Title: Associate Scientific Communications Reviewer
Company: Pfizer
Location: India (Flexible)
Pfizer Hiring Pharma Graduates. Qualification & Experience required are:
Post-graduate degree in pharmaceutical/natural science or graduate in medical (MBBS/BDS/MDS) or allied health sciences.
2-5 years of prior work experience in promotional content and medical/scientific material review.
Special Skills & Knowledge:
Technical skills: Knowledge of "pharmaceutical medicine" including clinical pharmacology, medical and paramedical sciences, medicine and medical statistics, and relevant therapeutic areas/products.
Writing skills: Excellent writing skills.
Analytic skills: Ability to examine data, formulate reasonable hypotheses, and design and execute analyses to test them.
Sound medical judgment/decision making.
Language skills: High fluency in written English and strong functional fluency in spoken English.
Personal skills: Strong organizational skills and ability to prioritize multiple projects and meet deadlines.
Interpersonal skills: Effective persuasive and negotiation skills, including an ability to guide decision-making for document content strategy when appropriate. Ability to work well with all levels and roles in cross-functional, global teams.
Regulatory knowledge: Familiarity with global regulatory guidance (especially ICH, FDA, and EMA) relevant to clinical and safety data.
Software: Previous experience with software commonly used to present and analyze data and experience with searching academic databases is preferred. Working knowledge of tools to aid the promotional material review process (GCMA/Zinc/PMAW) is required.
Pfizer Hiring Pharma Graduates. The possible interview Q & A that can be asked:
1.Question: Can you describe your experience with pharmaceutical medicine and how it relates to the role of an Associate Scientific Communications Reviewer?
Answer: In my previous role as a [mention previous position], I gained extensive experience in pharmaceutical medicine, including clinical pharmacology and medical sciences. This knowledge allowed me to critically evaluate scientific materials for accuracy and compliance. I am well-versed in therapeutic areas and products, which I believe will be an asset in ensuring the quality of Pfizer's scientific communications.
2.Question: How do you approach maintaining excellent writing skills, especially when reviewing and editing scientific content?
Answer: I consider continuous improvement crucial to maintaining excellent writing skills. I regularly engage in writing exercises, attend relevant workshops, and stay updated with industry best practices. Additionally, I pay meticulous attention to detail, ensuring that the content is not only scientifically accurate but also well-written and clear for various audiences.
3.Question: Can you provide an example of a situation where your analytic skills played a significant role in your previous role?
Answer: Certainly. In my previous position, there was a complex issue regarding data interpretation in a scientific document. I used my analytic skills to thoroughly examine the data, formulate hypotheses, and design a robust analysis to address the issue. This resulted in a clearer and more accurate representation of the data in the document, meeting regulatory requirements.
4.Question: How do you exercise sound medical judgment and decision-making in your work as an Associate Scientific Communications Reviewer?
Answer: Sound medical judgment is crucial in this role. When reviewing scientific content, I rely on my extensive background in medical and paramedical sciences to assess the accuracy and relevance of the information. I also consult with experts when necessary to make informed decisions that align with regulatory standards and best practices.
5.Question: Can you share an example of a time when you effectively collaborated with cross-functional, global teams in your previous role?
Answer: Certainly. In my previous position, I was part of a global project that involved multiple teams across different time zones. To ensure effective collaboration, I utilized strong interpersonal skills to facilitate communication and decision-making. By actively engaging with team members at all levels, I helped guide document content strategy and ensured that the project met its objectives.
Editor's Note: Subscribe to Rasayanika for the latest chemistry and Pharma job openings, follow us on Facebook and Telegram and subscribe to our youtube channel for the latest updates on chemistry and Pharma jobs and much more.