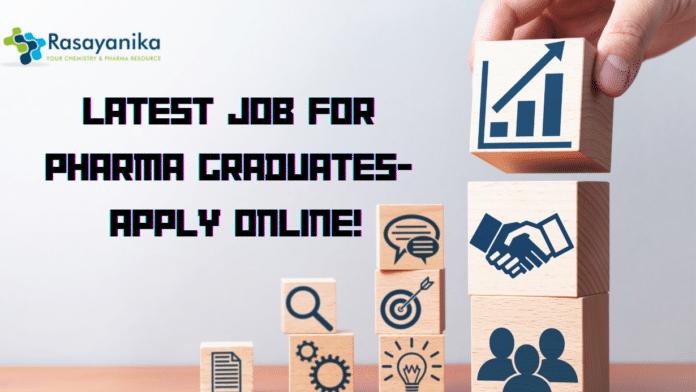 Latest Job for Pharma Graduates. Apply Online!
Boehringer Ingelheim, a leading pharmaceutical company, is offering an exciting opportunity for Pharma graduates to join their team as a Business Development Manager. This role promises to be a dynamic and impactful career path within the pharmaceutical industry. Don't miss the chance to contribute to cutting-edge healthcare solutions with a global leader like Boehringer Ingelheim.
Job Title: Business Development Manager
Department: Poultry
Company: Boehringer Ingelheim
Location: Lucknow
Education: Bachelor's degree, Graduate degree preferably in Veterinary Science/Science/ Pharmacy
Requirements to apply for Latest Job for Pharma Graduates:
3-5 years of experience on Animal Health-Poultry Business.
Proficiency in Excel, Word, PowerPoint, Outlook and database applications.
Ability to travel Extensively.
Should reside in assigned geography or be willing to relocate.
Will cover area of Central and Eastern part of Lucknow.
Job Description: To achieve the sales objectives for the assigned territory and stretch beyond the targets by increasing demand from identified customers (veterinary doctors/Layer's/Broilers/Integrators/Breeders etc.) through effective implementation of marketing activities.
Duties & Responsibilities: 
Sales Target Achievement – Achieve monthly, quarterly and annual sales targets as assigned by the organization.
Payment Receivable- Implement Company's credit policies and follow up for payments from stockiest and distributors.
Inventory Management – Manage the stock level at stockiest.
Ensure product availability, and liquidation of products and manage near expiry and slow-moving products.
Customer Calls – Make a predetermined number of effective calls to identified customers for promoting company's products and concepts as per policy decided from time to time.
Collect complete data on territory customers, maintain and submit call records in the prescribed format and update customer data base.
Efficient Day Planning – Plan daily work with clear objectives for each call, perform pre and post call analysis and visits Farmers/Integrators/ Consultants/distributors for feedback.
Market Intelligence – Keep track of movement of company products vis-à-vis competitor's products and give regular feedback to superiors. Assist the ASM to identify appropriate target customers.
Latest Job for Pharma Graduates. The possible interview Q & A that will help you:
Question 1: How do you plan to achieve and exceed the assigned sales targets for the territory?
Sample Answer:
I plan to achieve and exceed sales targets through a multi-faceted approach. Firstly, I'll conduct a comprehensive analysis of the territory to identify potential customers such as veterinary doctors, poultry farmers, and integrators. Then, I will develop tailored marketing strategies and promotional activities to create demand for our products. Additionally, I'll foster strong relationships with key customers and provide them with product information and support. Continuous monitoring of sales performance and adapting strategies based on market feedback will also be a key part of my approach.
Question 2: Can you provide an example of a situation where you had to follow up for payments from stockists and distributors while maintaining a positive relationship?
Sample Answer:
Certainly. In my previous role, there was an instance where a distributor was consistently late with payments, impacting our cash flow. I initiated a proactive and open conversation with the distributor to understand their challenges. By collaborating closely with their finance team, we devised a payment schedule that accommodated their cash flow constraints. This approach not only ensured timely payments but also strengthened our business relationship.
Question 3: How would you ensure efficient inventory management, including product availability and the management of near-expiry and slow-moving products?
Sample Answer:
Efficient inventory management is pivotal. I would regularly analyze sales trends and collaborate closely with stockists to maintain optimal stock levels. For near-expiry products, I would implement a 'first-in, first-out' (FIFO) system to prioritize older stock. Slow-moving products would be addressed through targeted promotions, bundling with faster-moving items, or exploring alternative markets. The goal is to minimize wastage while ensuring a consistent product supply.
Question 4: Could you share a typical daily plan for managing customer calls and promoting company products?
Sample Answer:
Certainly. My daily plan would start with setting clear objectives for customer calls, prioritizing key accounts and prospects. Before each call, I'd prepare by reviewing their purchase history and any specific needs. During the call, I would present our products, highlight their benefits, and address any questions or concerns. Post-call, I'd record details in our CRM system and, if necessary, follow up with additional information or support. It's crucial to maintain a customer-centric approach while promoting our products.
Question 5: How do you stay updated on market intelligence, especially regarding competitor products, and how would you use this information to benefit the organization?
Sample Answer:
To stay updated on market intelligence, I actively monitor industry publications, attend relevant conferences, and engage in networking with industry professionals. Additionally, I regularly review competitor products, pricing strategies, and customer feedback. This information helps me identify trends and opportunities. I would use this intelligence to provide actionable insights to the management team, adapt our marketing strategies, and ensure that we stay competitive by offering superior products and services.
Editor's Note: Subscribe to Rasayanika for the latest chemistry and Pharma job openings, follow us on Facebook and Telegram and subscribe to our youtube channel for the latest updates on chemistry and Pharma jobs and much more.