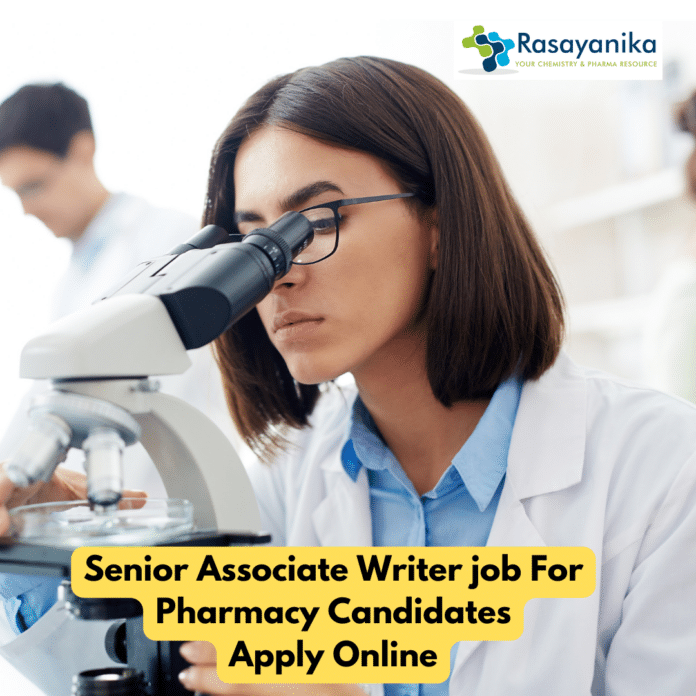 Senior Associate at Pfizer, MSc Life Sciences Candidates Apply Online
Senior Associate at Pfizer, MSc Life Sciences Candidates Apply Online. Latest Senior Associate at Pfizer. Interested and eligible candidates check out all the details given for the same below
Job position: Senior Associate Publications Writer
Job Location: India – Mumbai
Job ID: 4893635
MAIN REPONSIBILITIES / DUTIES
Responsible for providing support to the Pfizer Biopharmaceuticals Group (PBG), CMAO-Global Medical Excellence & Innovation, Global Medical Affairs team specifically:
Support development of abstracts, posters, manuscripts, congress presentations and slide decks as per the required business needs under the supervision of Publications writer.
Perform requisite data mining as per the requisite needs of the document.
Responsible for data quality control of all documents and ensure that data is objectively and accurately represented
Adherence to general publication policies and company policies on all documents.
Provide regular updates on projects using trackers and presentations as per pre-specified format.
Train on developing plain language summaries for all manuscripts, as applicable.
Scientific support at congresses including development of materials and reports.
Providing support to the Medical Affairs group including but not limited to literature reviews and summaries, preparation of slide decks.
Ensuring delivery of all required activities within expected timelines, on budget and adhering to all requisite guidelines.
The Associate Publications Writer supports the Publications Writer and the Global Medical Affairs by:
Supporting manuscript writing including researching, organizing, compiling, and quality checking various types of technical and/or medical information.
Creating slides, abstracts, training materials, and style guides, as needed for our clients and their diverse audiences.
REQUIRED SKILL SET
Technical
Writing skills:  Good scientific writing skills, including an ability to interpret and summarize complicated data effectively, concisely and persuasively.
Analytic skills: Utilize tools such as OvidSP and other bibliographic databases such as PubMed, Medline, Embase, and Biosis. Ability to examine data, formulate reasonable hypotheses, and design and execute analyses to test them.
Language skills:  High fluency in written English and strong functional fluency in spoken English.
Personal skills: Strong organizational skills and ability to prioritize multiple projects and meet deadlines. Able to maintain confidentiality and pay attention to details.
Interpersonal skills: Effective influencing and negotiating skills, including when appropriate an ability to guide decision-making for document content strategy.
Software: Previous experience with software commonly used to present and analyze data (Word, PowerPoint, Excel and reference management tools such as EndNote) is required. Experience with searching literature and freely accessible databases (e.g. for antimicrobial resistance related) is preferred.
Managerial
Reports directly to the Publications Lead-GMAIST.
Works closely with Publications Writer Global Medical Affairs Leads and Publication coordinators.
Interacts with Medical Affairs colleagues, Local, Regional and at a Global level.
Certifications
NA
Education for Senior Associate at Pfizer
• Post-graduate/ Doctorate degree in life sciences/Pharmacy/Medical sciences or equivalent degrees.
Experience for Senior Associate at Pfizer
2 to 3 years relevant experience for medical graduates/PhDs. More than 3 years relevant experience for masters in life sciences.
Minimum 2 years of experience in publication writing in academic settings/ communications experience within an agency, CRO, Pharma / Biotech Company. Prior experience in using search tools, developing search strings and assessing search results and data analysis is preferred.
Possible interview questions may be asked for Senior Associate at Pfizer
1. Can you describe your experience with developing abstracts, posters, manuscripts, and congress presentations for the pharmaceutical industry?
Answer: In my previous role, I worked as a Publications Writer where I was responsible for developing abstracts, posters, manuscripts, and congress presentations for a pharmaceutical company. I understand the specific requirements and guidelines for creating such documents in the industry. I'm well-versed in conducting comprehensive literature reviews and translating complex scientific data into clear and persuasive content for various audiences.
2. How do you ensure data quality control and accuracy in publications?
Answer: Data quality control is essential in publications, and I take it very seriously. I maintain meticulous attention to detail and cross-check data to ensure accuracy. I also follow the company's publication policies and industry best practices rigorously. Additionally, I'm proficient in using tools and software for data analysis and validation.
3. Can you provide an example of a challenging publication project you've worked on and how you handled it?
Answer: In a previous role, I was tasked with preparing a manuscript for a complex clinical trial. The challenge was to present the data in a clear and concise manner while adhering to strict publication guidelines. To overcome this, I collaborated closely with the clinical team and conducted in-depth analyses. I also sought feedback from subject matter experts to ensure accuracy and clarity. Ultimately, the manuscript was successfully published.
4. How do you keep up-to-date with the latest developments in the pharmaceutical industry and scientific research?
Answer: Staying current in the pharmaceutical field is crucial. I regularly read scientific journals, attend conferences, and participate in webinars related to pharmaceuticals and medical research. This helps me stay informed about the latest advancements and trends, which is essential for creating up-to-date publications.
5. How do you manage multiple publication projects and meet deadlines effectively?
Answer: Time management and organization are key. I use project management tools to track the progress of each project and set clear milestones. Prioritization is also crucial. I ensure that I allocate sufficient time for each project based on its complexity and deadline. If necessary, I communicate with the team to adjust timelines and resources to meet project goals.