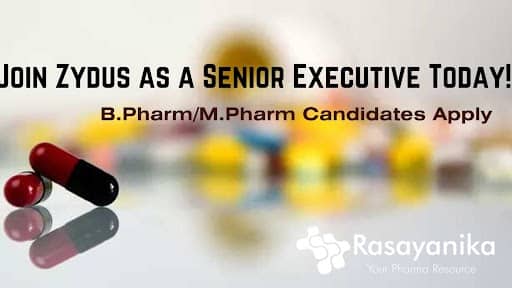 Zydus Pharmaceuticals Hiring Are you a dedicated and experienced pharmaceutical professional looking for your next career move? Zydus Pharmaceuticals is actively seeking talented individuals to join our team in Senior Executive roles. In this dynamic and challenging environment, you can make a significant impact on the pharmaceutical industry. Explore this opportunity by joining Zydus as senior Executive and take the first step towards an exciting career journey with us.
Job Title: Senior Executive- Chemistry
Company: Zydus Hospira Oncology Pvt.ltd
Essential Qualification: B Pharma / M Pharma / M Sc
Experience: 4 to 5 years and 1 year in Zydus
Location: Sez Matoda, Ahmedabad
Employee Type: P-P8-Probationer-HO Executive
Required Hands on Experience forJoin Zydus as a Senior Executive:
Operation, Sample analysis, Method Validation, Calibration and Troubleshooting of HPLC (Agilent) & (Shimadzu)

 Chromoleon software.

Wet chemistry (pH, KF, IR, UV, LPC) analysis.

 GMP/GLP/GDP/Data integrity ALCOA+ practices

Basic computer applications viz. Word, Excel and PowerPoint
Behavioral Skills:  Self-motivated and basic problem solving skills.
Administrative Skills: Proactive, Time Management, Collaborative,  Communication 
Possible Interview Q & A:
1. Q: Can you describe your hands-on experience with HPLC, specifically Agilent and Shimadzu systems?
A: I have extensive hands-on experience with both Agilent and Shimadzu HPLC systems, including operation, sample analysis, method validation, calibration, and troubleshooting.
2. Q: Have you worked with Chromoleon software for chromatographic data analysis? Can you provide an example of how you've used it in your previous role?
A: Yes, I have worked with Chromoleon software for data analysis. In my previous role, I used it to process and analyze chromatographic data, generate reports, and ensure data integrity.
3.Q: Can you discuss your experience with wet chemistry techniques such as pH, KF (Karl Fischer), IR (Infrared), UV (Ultraviolet), and LPC (Liquid Particle Count) analysis?
A: I am well-versed in wet chemistry techniques, having conducted pH measurements, Karl Fischer titrations, IR and UV spectroscopy, and Liquid Particle Count analysis in previous roles. I understand the importance of precision and accuracy in these methods.
4. Q: How familiar are you with GMP (Good Manufacturing Practices), GLP (Good Laboratory Practices), GDP (Good Documentation Practices), and ALCOA+ (Attributable, Legible, Contemporaneous, Original, Accurate, and Complete) practices?
A: I have a strong understanding of GMP, GLP, GDP, and ALCOA+ practices and their significance in maintaining data integrity and compliance in a regulated laboratory environment.
5.Q: Have you been responsible for maintaining and calibrating laboratory instruments and equipment, including HPLC systems? Can you share an example of a successful calibration process?
A: Yes, I have managed instrument calibration in previous roles. For instance, I led a calibration project for an HPLC system, ensuring that it met accuracy and precision requirements by following established procedures and standards.
Q.6: How do you troubleshoot issues that arise during HPLC analysis? Can you provide an example of a challenging problem you've encountered and resolved?
A: Troubleshooting HPLC issues requires a systematic approach. In a previous role, I faced a retention time drift problem, which I resolved by checking and adjusting column temperature, mobile phase composition, and detector settings to regain consistent and reliable results.
Q.7: Are you proficient in using basic computer applications like Microsoft Word, Excel, and PowerPoint? Can you describe how you've used these tools in your previous work?
A: Yes, I am proficient in using Word, Excel, and PowerPoint. I have used Word for documenting procedures and protocols, Excel for data analysis and report generation, and PowerPoint for creating presentations to communicate findings and results.
Q.8: Can you explain the importance of data integrity in a laboratory setting and how you ensure it in your work?
A: Data integrity is crucial to maintain the accuracy and reliability of results. I ensure data integrity by following ALCOA+ principles, using electronic laboratory notebooks, maintaining detailed records, and performing regular reviews to identify and rectify any discrepancies.
Q.9: Have you participated in method validation activities for analytical techniques? What steps do you typically follow in method validation?
A: Yes, I have been involved in method validation processes. I follow a comprehensive approach, which includes setting acceptance criteria, conducting linearity, accuracy, precision, specificity, and robustness studies, and documenting all validation activities in accordance with regulatory requirements.
Q.10: Can you provide an example of a project or task where you demonstrated your proficiency in both analytical techniques and regulatory compliance within a laboratory environment?
A: Certainly. In a previous role, I conducted a method validation study for a critical pharmaceutical product. I successfully developed and validated an HPLC method, ensuring compliance with GMP and GLP standards throughout the process, and the validated method was subsequently used for product release testing. This experience showcased my ability to merge analytical skills with regulatory compliance.
Zydus Pharmaceuticals Hiring Looking for latest chemistry and Pharma job openings, follow Rasayanika Facebook and Telegram and subscribe to our youtube channel for the latest updates on chemistry and Pharma job.