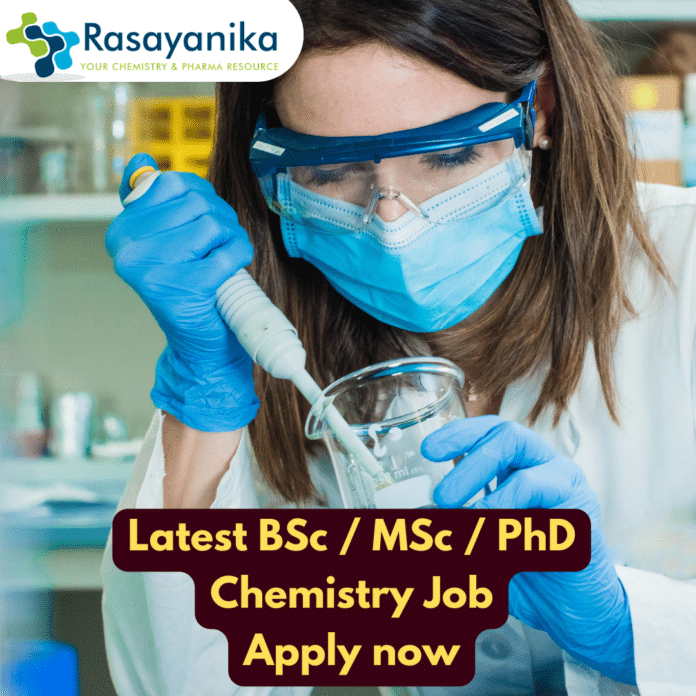 Latest BSc / MSc / PhD Chemistry Job – Process Engineer Role – Check out the details below and Apply Now
Role : Process Engineer
Location : AS-IN-Pune
Req No : 41277BR
Organization : Global Engr Mfg. Technology & Equipment
Employment Status : Full Time
Job Description and Qualifications
Air Products & Chemicals, Inc., a Fortune 500 manufacturer of industrial gases and chemicals, has an opening for a Process Engineer to be located at our Engineering office in Vadodara, India.
Position Purpose:

Process Engineer for Ammonia/Methanol/Hydrogen project:
The successful candidate will work as part of the Execution Process Engineering team which is responsible for the Engineering of Process Gas Plants and related equipment for the production of hydrogen, carbon monoxide, carbon dioxide, ammonia, syngas blend and coal gasification island projects in general and Ammonia, Methanol and Hydrogen in particular.

Hence proven experience is required for working on mega capacity Ammonia, Methanol and Hydrogen plant process design.

Working with different Licensor packages is added advantage. Having experience in Air Separation Unit operation or Design Experience will be given added advantage

The successful candidate for this position will be working as a team member of Process engineers for Ammonia, Methanol and Hydrogen projects during Basic Engineering/ Detailed Engineering, working closely with the Air Products Process Engineering execution teams from other regions.
Responsibilities:
Process engineer for Basic / Detailed engineering of Ammonia, Methanol & Hydrogen Plant

Review of Clients tender documents, verification of FEED design & calculations.

Aware of relevant international codes and regulations and their applicability.

Basic & detail Design Engineering activities for the assigned project in accordance with the Company established procedures. Process Design including process simulations (Aspen Plus preferred), design calculations, Process Optimization, sizing & selection of equipment etc. for Tenders (as required) and for awarded Projects.

Preparation of various engineering deliverables (Drawings & Documents) such as Process Flow Diagrams, P & I Diagrams, Process Datasheets Specifications for Equipment and Instruments, Cause & Effect Diagrams, Control Philosophies, Shutdown Philosophies, Operation & Maintenance Manuals etc.

Evaluation of vendor's quotations and documents, clarifications, Technical Bid Analysis etc.,

Participate in PFD/P&ID review meetings internally and externally with client. Participate in the HAZARD/HAZOP review, process and other safety evaluations and 3D Piping Model Reviews.

Coordinating functional issues across other engineering disciplines, vendors, contractors, Project Management Consultants during various stages of project execution.

Participate in field-commissioning activities and Start-up

Domestic and international travel (estimated at 10 – 15%) to customer locations and to plant sites for Operational Readiness Inspections, startup support, Performance Guarantee Test Run etc.
Qualifications / Education:
Bachelors/ Masters or Ph.D. in Chemical Engineering

Min. 5 years prior experience in Process Design/Engineering

Experience as Process Engineer for Basic & Detail engineering of at least one project on Ammonia, Methanol & Hydrogen Plant will be considered as added advantages

Candidate must have good interpersonal and communication skills, with good commercial and fiscal awareness
Discover the Latest BSc / MSc / PhD Chemistry Jobs at Rasayanika
Here are some interview questions and possible answers for the role of Process Engineer at Air Products & Chemicals, Inc.:
Can you briefly explain your experience in process engineering and how it relates to Ammonia, Methanol, and Hydrogen plant projects?Answer: I have a strong background in process engineering with over [X years] of experience. During this time, I have worked on various projects in the chemical industry, including Ammonia, Methanol, and Hydrogen plant projects. I have been involved in both basic and detailed engineering phases, where I have contributed to process design, simulations, calculations, and equipment selection specific to these types of plants.
Could you describe your experience with international codes and regulations relevant to process engineering? How do you ensure compliance with them?Answer: I am well-versed in international codes and regulations that apply to process engineering, especially in the context of Ammonia, Methanol, and Hydrogen plants. I stay updated on these standards and ensure compliance by conducting thorough reviews, participating in HAZARD/HAZOP evaluations, and collaborating closely with the project team and regulatory authorities.
What software tools have you used for process simulations and why? Have you worked with Aspen Plus?Answer: Yes, I have experience using Aspen Plus for process simulations, which is a valuable tool for its accuracy and versatility. It allows for in-depth process optimization and helps in sizing and selecting equipment effectively. However, I am also proficient in other simulation software packages as needed for specific project requirements.
Can you provide an example of a challenging issue you encountered during a previous project and how you resolved it?Answer: Certainly. In a previous Ammonia project, we faced a complex issue related to optimizing the reactor temperature for maximum efficiency. To resolve it, I conducted extensive simulations and collaborated with the team to fine-tune the process parameters. Ultimately, we achieved a solution that improved reactor performance and increased overall plant efficiency.
How do you handle coordination and communication among different engineering disciplines, vendors, and contractors during project execution?Answer: Effective communication and coordination are essential in project execution. I ensure seamless collaboration by actively participating in cross-discipline meetings, maintaining open communication channels, and addressing any potential conflicts or issues promptly. I believe in fostering a collaborative work environment to achieve project goals efficiently.
Explore Rasayanika for Latest BSc / MSc / PhD Chemistry Jobs
ALL THE BEST!