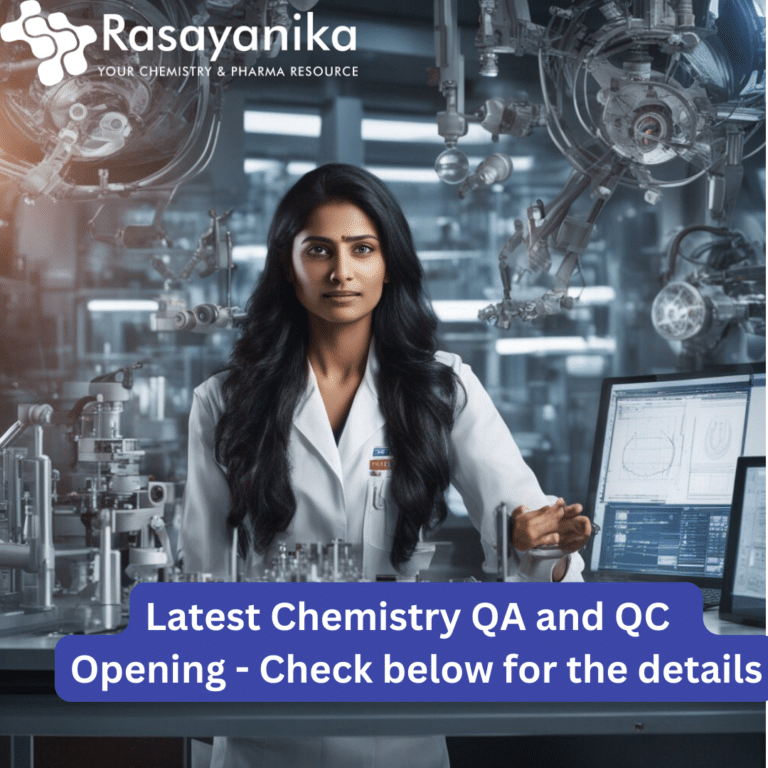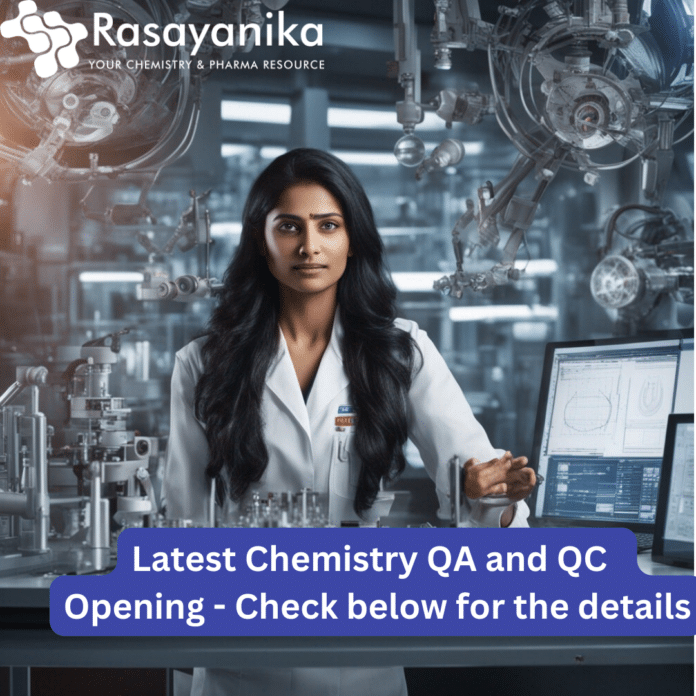 Latest QA and QC vacancies at LanXess. QA QC Chemistry Job details are given below. Latest MSc chemistry vacancy. Please apply online once you are interested.
Title: Deputy Manager – QA and QC
Requisition ID: 5085
Location: Nagda, MP, IN, 456331
Business Unit / Group Function: Flavors and Fragrances
Work Arrangement: Onsite
Level of Experience: Middle management
Job Highlights of QA QC Chemistry Job-
Below are the Job responsibilities for the said position.
Ensuring Odor quality of Flavor and Fragrance (F&F) chemicals having Indepth experience of Olfactory analysis of F&F products.
Monitoring customer's complaints and resolving them by providing timely detailed RCA and CAPA report to the customers through Sales and Marketing
Providing regulatory related declarations/ solutions about F&F products to customers.
Accountable for quality assurance of raw material/packing material and finished products. Follow up for updating the material safety data sheet (MSDS) of raw material/finished goods. Accountable for vendor development process in the plant.
Check and control 'In Process Material' (semi-finished goods) of all the plants.
Coordinating with Instrument Manufacturers and service providers for quotations, servicing and indenting the needed instruments and spares.
Interacting with Sales, Marketing and Production functions on daily basis and Responsible for providing market samples to new vendors for Business development task.
To ensure quality products are dispatched as per customer requirements and maintaining lab instruments for timely analysis.
Providing timely training all the Laboratory personnels on technical skillset, documentation and olfactory evaluation
Supporting in QMS, food safety related and Internal On-site and virtual audits.
Supporting Global Procurement and Logistics team for developing new supplier and conduct supplier audit as per the audit calendar.
Requirements
M.Sc with chemistry or applied science degree with > 8 years experience
Knowledge of all types of analytical instruments like GC, GCMS, UV-VIS, FTIR, Karl
Fisher titrator, Lovibond Tinto meter, pH meter & Basic computer knowledge.
Knowledge of English language, Effective communication skills, Knowledge of data processing, Basic Chemistry, Knowledge of hazardous chemical handling and Safety measures, Customer focus & Teamwork.
Knowledge of QMS, FSMS, ERP, Auditing, Documentation and olfactory analysis.
Must have worked for at least 3-4 years in the field of aroma chemicals, cosmetic ingredient industry.
Lean six sigma certifications will be an added advantage.
Knowledge of Qualitative and Quantitative analysis, GMP, 5S and Lean Methods
Greetings, colleagues! We have compiled a list of interview questions along with their corresponding answers that you should anticipate during your interview. Make sure to thoroughly prepare and perform confidently to excel in your upcoming interview of QA QC Chemistry Job.
Question 1: Can you provide an example of a situation where you successfully resolved a customer complaint related to odor quality in Flavor and Fragrance (F&F) chemicals?
Answer: Certainly. In a previous role, a customer expressed dissatisfaction with the odor quality of a fragrance product. I promptly initiated a Root Cause Analysis (RCA) to identify the underlying issue. Through comprehensive olfactory analysis and collaboration with the sales and marketing teams, we determined the cause and implemented Corrective and Preventive Actions (CAPA) to rectify the problem. The detailed RCA and CAPA report were shared with the customer, resulting in their satisfaction.
Question 2: How do you ensure compliance with regulatory declarations and solutions for F&F products while interacting with customers?
Answer: When addressing regulatory concerns for F&F products, I ensure a meticulous understanding of the requirements. By collaborating with internal experts and staying updated on regulatory guidelines, I provide accurate and timely declarations to customers. Open communication channels and thorough documentation are key to assuring customers that our products meet regulatory standards.
Question 3: Could you describe a situation where you were responsible for quality assurance of raw materials and finished products, and how you managed the accountability process?
Answer: Certainly. I've overseen quality assurance of raw materials and finished products by meticulously reviewing Material Safety Data Sheets (MSDS) and ensuring they are up-to-date. Additionally, I've worked closely with the vendor development process to ensure the procurement of high-quality materials. Regular checks and controls on 'In Process Material' across plants have enabled me to maintain consistent quality standards.
Question 4: How have you managed the coordination between different functions such as Sales, Marketing, and Production to ensure timely analysis and dispatch of quality products?
Answer: Effective cross-functional collaboration is crucial. By maintaining regular interactions with Sales, Marketing, and Production teams, I ensure that market samples are provided to new vendors promptly for business development. Through streamlined communication and understanding their unique requirements, we guarantee the dispatch of quality products that meet customer expectations.
Question 5: Could you provide an example of your involvement in supporting internal audits related to QMS, food safety, and providing training to laboratory personnel?
Answer: Certainly. I have actively participated in internal audits by providing necessary documentation, assisting auditors, and addressing any identified gaps. Additionally, I've conducted training sessions for laboratory personnel to enhance their technical skill sets, improve documentation practices, and enhance olfactory evaluation techniques. These efforts contribute to maintaining compliance and quality standards within the organization.