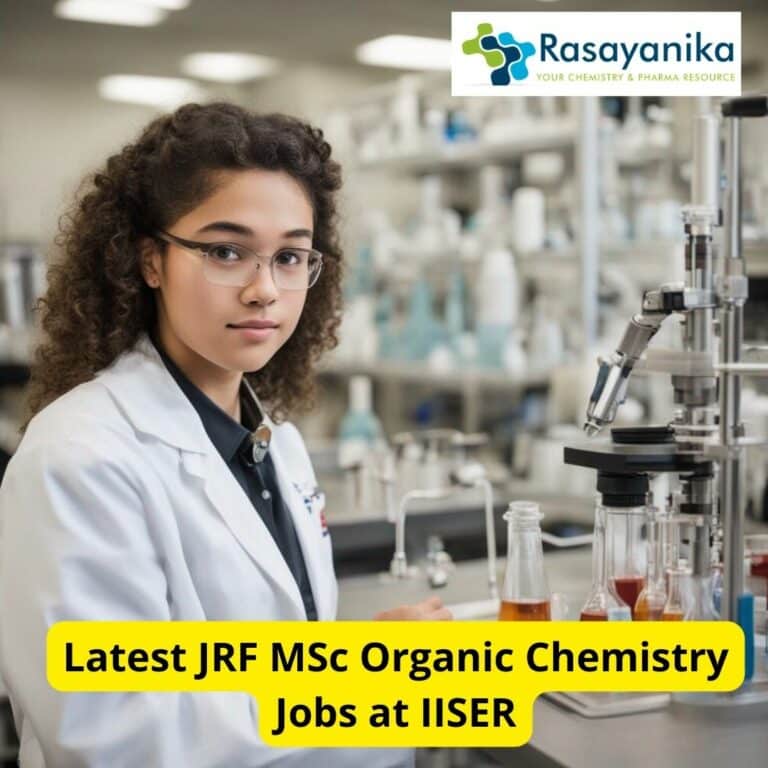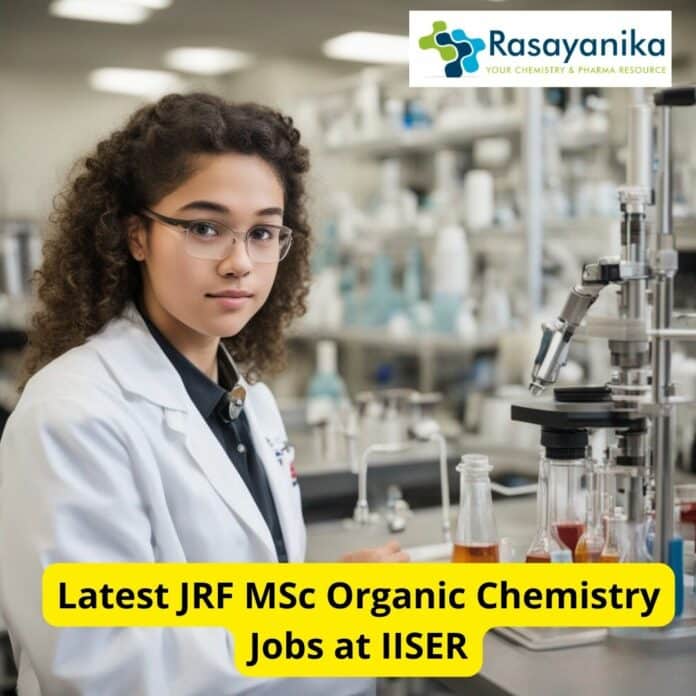 Project Junior Research Fellow. Interested students can check the notification and application format below.
INDIAN INSTITUTE OF SCIENCE EDUCATION AND
RESEARCH BHOPAL
DEPARTMENT OF CHEMISTRY
ADVT. NO. CHM/MK/2023/02                                  Last date: September 04, 2023.
Applications are invited from Indian nationals for the post of "Junior Research Fellow" under the following research project funded by the SERB, Government of India.
Title of the Research Project: Accessing Remote Alkylation through Transition-metalcatalyzed Carbene Insertion and C-C Bond Activation.
Name of the Post: Project Junior Research Fellow
No. of Posts: 01
Qualification & Experience: M.Sc. degree in Chemistry (First class, and a specialization in Organic Chemistry is compulsory) from a recognized University/Institute with valid NET
(CSIR/UGC JRF) /GATE. A candidate with some form of research experience would be
preferred
Salary: Rs. 31,000/- p.m. + HRA (as applicable)
Duration: 12 months (extendable, subject to evaluation of performance).
How to apply: The application should contain a detailed résumé, photograph, and names of two referees and should be in the appended format. Shortlisted candidates will be called for an online interview; no TA/DA will be paid for attending the same. Photocopies of
certificates /mark sheets and other testimonials will be collected at the time of joining, if selected. Completed applications should reach the undersigned on or before
September 04, 2023
, by
email
. The candidate selected will be required to join as early as possible.
Manmohan Kapur, Ph. D.,
Professor, Dept. of Chemistry
330, Academic Building II
Indian Institute of Science Education and Research Bhopal
Bhauri, Bhopal By-pass Road
Bhopal 462 066, Madhya Pradesh, INDIA
Email: [email protected]
View Notification and check the application format here
Possible interview questions with answers for the role of Project Junior Research Fellow:
1:Can you briefly explain your experience and background in organic chemistry, emphasizing any research projects or coursework that relates to the advertised position?
Answer: Certainly. I hold an M.Sc. degree in Chemistry with a specialization in Organic Chemistry from a recognized university. During my academic journey, I engaged in several research projects focused on organic synthesis and reaction mechanisms. One notable project involved designing and synthesizing novel heterocyclic compounds using transition-metal catalysis. This experience has equipped me with a deep understanding of carbene insertion and C-C bond activation, which aligns well with the objectives of the research project advertised.
2: The advertised position requires a valid NET (CSIR/UGC JRF) or GATE qualification. Could you elaborate on how your qualifications and achievements align with this requirement?
Answer: Certainly. I successfully cleared the CSIR-JRF examination, which demonstrates my strong grasp of fundamental concepts in chemistry. This achievement reflects my dedication to academic excellence and my ability to excel in competitive examinations. Additionally, my GATE qualification further showcases my proficiency in the subject matter. These qualifications not only validate my academic credentials but also reflect my commitment to advancing in the field of chemistry.
3: The research project involves "Accessing Remote Alkylation through Transition-metalcatalyzed Carbene Insertion and C-C Bond Activation." Could you discuss any prior experience you have with transition-metal catalysis and its relevance to this project?
Answer: Certainly. I have a solid foundation in transition-metal catalysis gained through coursework and research endeavors. I previously worked on a project investigating palladium-catalyzed cross-coupling reactions, which involved C-C bond formation. This experience honed my understanding of transition-metal catalysis mechanisms and reaction optimization. The current project's focus on transition-metal-catalyzed carbene insertion and C-C bond activation strongly resonates with my previous work, enabling me to contribute effectively to the research objectives.
4:Collaboration and communication skills are crucial in research projects. Can you provide an example of a team-based project you've been involved in, and how you effectively communicated your findings and ideas to your team members?
Answer: Certainly. In one of my research projects during my M.Sc., our team worked on designing a novel synthetic route for a complex natural product. Each member had distinct roles, and my responsibility was to optimize a key reaction step involving a multistep synthesis. I maintained open channels of communication by sharing progress updates, challenges faced, and potential solutions during regular team meetings. By presenting clear and concise summaries of my findings, I ensured that the team remained well-informed and could collectively make informed decisions to overcome hurdles and achieve our objectives. This experience strengthened my collaborative and communication skills, which I believe are essential for effective teamwork in research settings.
Project Junior Research Fellow
Stay Tuned on RASAYANIKA for more chem and pharma related job updates.