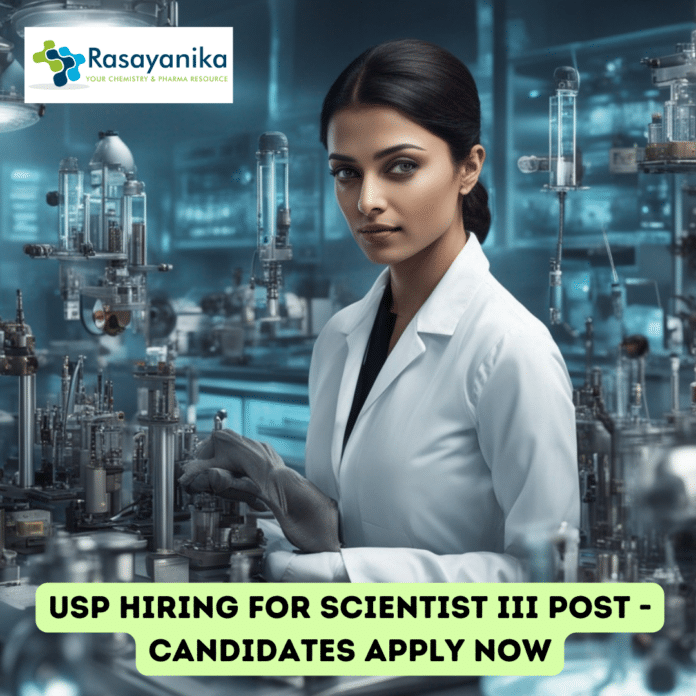 Latest Scientist III at Usp, Interested and eligible candidates check out all the details given the same below
Job position: Scientist III, Synthetics
Job Location: Hyderabad, India
Job Category Chemistry & Scientific Standards
Job Type Full-Time
About company:
The role is engaged in the delivery of USP Reference Standard candidate materials (API Impurities) through development of cost-effective synthetic routes. Candidate should carry literature search using scientific databases and works on design, planning and execution of synthesis of target molecules in mg to multigram/KG scale. He should optimize key reactions and develops scalable process and develop control strategies using PAT. As project team member, ensures the completion of assigned tasks as per timelines, communicates with the team and update on the project progress. They are also responsible for making project reports and technology transfer documents. They should be adherent to QMS and lab safety guidelines. They should possess excellent organizational, communication, and interpersonal skills.
The successful candidate will have a demonstrated understanding of our mission, commitment to excellence through inclusive and equitable behaviors and practices, ability to quickly build credibility with stakeholders, along with the following competencies and experience
Qualifications we seek in you for Scientist III at Usp ..! 
Scientist III – Ph.D (Synthetic Organic Chemistry) from a reputed group with minimum 1-3 years post-doctoral experience in organic and peptide synthesis (Or) M Sc (Organic Chemistry) from a reputed university with minimum 6-8 years of industrial experience in Pharmaceutical Process R&D or CRAMS or CRO set up (or) organic and peptide synthesis
Strong background in synthetic organic and peptide chemistry, characterization of compounds based on IR, NMR, Mass Spectra, Elemental analysis and other analysis
Ability to independently search literature, design, optimize and develop synthetic processes for any given APIs/ Target molecules
Hands on experience in process development of diverse chemical class of APIs/ NCEs on lab scale
Excellent troubleshooting skills in synthesis and purification of target compounds
Should possess good verbal and written communication skills.
Should possess good organizational, communication, and interpersonal skills
Additional Desired Preferences: 
Extensive knowledge on various types of organic reactions, peptide synthesis and practical experience in handling various chemicals/reagents
Track record of patents/ publications in synthetic organic chemistry/ process development
Should have exposure to GMP/GLP environment and documentation procedures. Have good practical, documentation & presentation Skills
Meticulous attention to detail, as well as outstanding critical thinking and problem-solving skills
Demonstrated ability to work both independently and as a member of a team, show initiative, solve problems, prioritize the activities, and meet deadlines.
Supervisory Responsibilities
Not Applicable
Benefits
USP provides you with the benefits you need to protect yourself and your family today and tomorrow. From company-paid time off, comprehensive healthcare options to retirement savings, you can have peace of mind that your personal and financial wellbeing is protected.
Possible interview questions may be asked for Scientist III at Usp
1. Question: Can you describe your experience in process development for diverse chemical classes of APIs and NCEs?
Answer: Certainly. In my previous roles, I've been actively engaged in process development for a wide range of chemical classes of APIs and NCEs. For instance, in a project involving [mention a specific project], I successfully developed a robust and scalable synthetic route for a novel API. This required extensive optimization of key reactions and purification methods. My ability to adapt my expertise across different chemical classes is demonstrated by my accomplishments in [mention another relevant project], where I tackled challenges specific to that class while ensuring efficient process development.
2. Question: How do you approach troubleshooting and resolving issues during synthesis and purification?
Answer: Troubleshooting is an integral part of synthetic chemistry. When issues arise, I follow a systematic approach. I first review the experimental details and identify potential factors that might have led to the problem. I analyze reaction conditions, reagent quality, and any unusual observations. Next, I design and implement strategic modifications to the reaction conditions, purification methods, or even the synthetic route if necessary. I find that collaboration with colleagues is valuable for brainstorming solutions. My troubleshooting skills were evident in [mention a situation where you resolved a complex issue], where I overcame a challenging purification problem by modifying the solvent system and optimizing column chromatography, ultimately leading to successful compound isolation.
3. Question: Can you provide an example of a project where you demonstrated effective communication skills within a project team?
Answer: Certainly. In my previous role at [previous company], I was part of a cross-functional project team focused on developing a novel API synthesis. Regular communication was key to ensure that everyone was aligned and progress was on track. I scheduled weekly update meetings where I presented my findings, progress, and any potential roadblocks. I also encouraged open discussions to address concerns and gather input from team members. This collaborative approach led to efficient decision-making and timely adjustments, resulting in successful project completion within the specified timeline.
4. Question: How do you manage multiple tasks and prioritize activities to meet project deadlines?
Answer: Time management and prioritization are crucial in a fast-paced environment. I begin by breaking down larger projects into manageable tasks and setting realistic milestones. I then evaluate the urgency and impact of each task, considering the project timeline. Utilizing tools such as project management software or to-do lists helps me organize and track progress. In a recent project at [mention a project], I effectively balanced multiple parallel tasks, prioritized based on project goals, and adapted to changing priorities while still meeting all critical deadlines.
5. Question: How do you ensure adherence to quality standards and safety guidelines in your work?
Answer: Ensuring quality and safety is paramount in any scientific work. I make sure to thoroughly familiarize myself with relevant quality standards, guidelines, and safety protocols before starting any experiment. I maintain meticulous records of experimental details, ensuring traceability and reproducibility. Regular internal audits of my work processes and documentation help identify areas for improvement and adherence to quality management systems. For instance, in my role at [previous company], I actively participated in periodic safety training sessions and contributed to updating safety protocols based on evolving best practices and regulations.