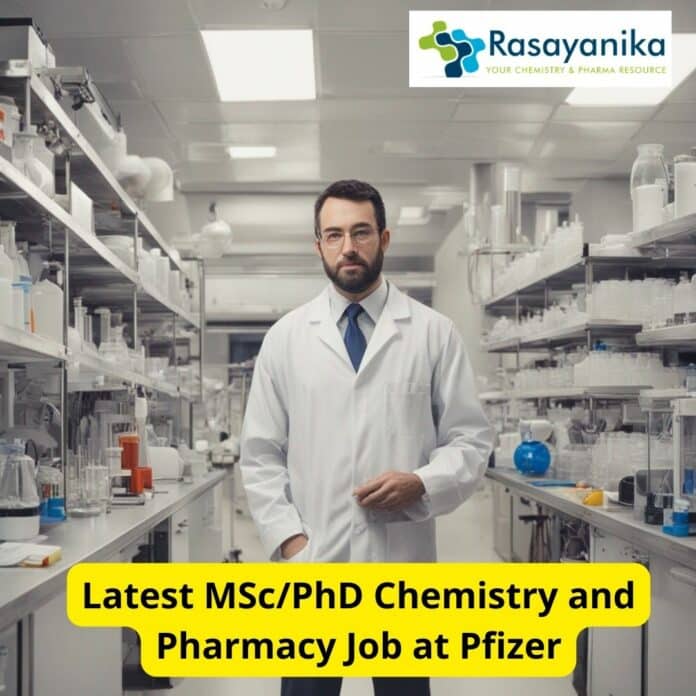 Scientist at Pfizer. Interested candidates can check the details below and apply online.
Job role: Scientist – Separation Science, Analytical Research and Development
Job location: IND – Chennai IIT Madras Research Park
Job ID: 4893050
Job Type: Full time
Here at Pfizer, we have a specific purpose – to find breakthroughs that change patients' lives. We are a patient centric company, guided by our four values: courage, joy, equity, and excellence. Our breakthrough culture lends itself to our dedication to transforming millions of lives.
Analytical Research and Development (ARD), at Pfizer R&D in Chennai, India is part of the global Pharmaceutical Sciences Small Molecules (PSSM) function and plays a critical role in the research and development of new medicines in Pfizer's exciting small molecule portfolio by concentrating on RSM, advanced intermediates development, and we are seeking an enthusiastic scientist who is keen to learn, and has a passion for analytical science, to join our exciting, vibrant group in Chennai, India.
What we offer
Focus on work life balance and other benefits
Flexible workplace culture
Growth and Talent development
Diverse and inclusive workforce
Annual bonus
A competitive compensation and flexible benefits package, a good work-life balance and a fun rewarding career
with opportunities every day to work with other highly talented scientists. Myriad opportunities to learn new technical and interpersonal skills, develop existing strengths, coach and mentor other colleagues, while pursuing our purpose – to find breakthroughs that change patients' lives.
Job Focus
We are seeking someone with a passion for analytical science and chromatography to join our Analytical Research and Development team (ARD) in Chennai. As part of diverse, multi-disciplinary teams you'll support projects teams within our development portfolio as they seek to design the highest quality analytical methodologies, capable of operating in development and/or manufacturing environments.
The successful applicant will contribute to developing new solutions and approaches in the field of chromatography.
Responsibilities may include.
Use your knowledge of chromatographic techniques to develop analytical methods for the analysis of candidates in the Pfizer small molecule portfolio – starting materials, in-process control samples, intermediates and drug substance.
Develop and apply chromatographic techniques to meet CRD teams CQA's, for example developing chromatographic techniques such as liquid, gas or supercritical fluid chromatography, for the identification and/or quantitation active & impurities.
Be a positive advocate for new technologies and process improvements, engaging with internal and external experts to drive continuous innovation of our capabilities, including advocating the use of computational, modelling and simulation tools.
Influence the external environment through professional presentations, posters and seminars.
Create and review documents analytical test methods, study protocols and SOPs.
Proactively identify and address issues that arise during routine analytical testing.
Ensure timely completion of assigned Trainings and activities.
Perform and review the analytical method development, validation and transfer experiments as well as associated protocols and reports.
Stay abreast of the latest relevant literature, and provide technical coaching, mentoring
and training to colleagues within Analytical R&D.
Skills required for Scientist at Pfizer
Ability to critically evaluate analytical data from a broad range of scientific disciplines.
Extensive analytical development background and hands on experiences with working knowledge of Chromatography techniques in pharmaceutical analysis.
Carries out peer reviews of work performed by colleagues.
Demonstrates knowledge of the scientific principles, methods and processes used to conduct a systematic and objective investigation including study design, collection, analysis and interpretation of data and the reporting of results.
Lab Management – Has in depth understanding of the lab activities and should own the responsibility of Lab area.
Significant relevant analytical working knowledge in chromatographic techniques like HPLC/UPLC, GC, IC, SFC and other analytical equipment.
Acts as a technical and scientific resource within own project team/ discipline.
Frequently develops and may create novel processes and hypotheses using new ideas and knowledge.
Knowledge and/or experience in the use of computational predictive tools, modelling software or data visualization tools is desirable.
Comfortable working as part of multi-disciplinary, cross-functional teams.
Good verbal communication & sense of handling situations using interpersonal skills.
Qualifications
Master's degree in chemistry, Analytical Chemistry or Pharmaceutical Sciences, with 8+ years previous relevant experience
OR PhD degree in Chemistry, Analytical Chemistry or Pharmaceutical Sciences, with 5+ years of previous relevant experience.
Other Information for Scientist at Pfizer: This is an individual contributor role.
Job Families for Job Profiles: 093- Chemistry-Analytical
Worker Sub-Type: Regular
Time Type: Full time
Primary Location: IND – Chennai IIT Madras Research Park
Primary Job Posting Location: India – Chennai
Scheduled Weekly Hours: 48
Purpose
Breakthroughs that change patients' lives… At Pfizer we are a patient centric company, guided by our four values: courage, joy, equity, and excellence. Our breakthrough culture lends itself to our dedication to transforming millions of lives.
Digital Transformation Strategy
One bold way we are achieving our purpose is through our company wide digital transformation strategy. We are leading the way in adopting new data, modelling, and automated solutions to further digitize and accelerate drug discovery and development with the aim of enhancing health outcomes and the patient experience.
Flexibility
We aim to create a trusting, flexible workplace culture which encourages employees to achieve work life harmony, attracts talent and enables everyone to be their best working self. Let's start the conversation!
Equal Employment Opportunity
We believe that a diverse and inclusive workforce is crucial to building a successful business. As an employer, Pfizer is committed to celebrating this, in all its forms – allowing for us to be as diverse as the patients and communities we serve. Together, we continue to build a culture that encourages, supports and empowers our employees.
DisAbility Confident
We are proud to be a DisAbility Confident Employer and we encourage you to put your best self forward with the knowledge and trust that we will make any reasonable adjustments necessary to support your application and future career. Our mission is unleashing the power of our people, especially those with unique superpowers. Your journey with Pfizer starts here!
Work Location Assignment : On Premise
Pfizer is an equal opportunity employer and complies with all applicable equal employment opportunity legislation in each jurisdiction in which it operates.
Research and Development
#LI-PFE
Possible interview questions with answers for the role of Scientist at Pfizer:
1:Can you describe a specific project where you applied your expertise in chromatography to solve a complex analytical challenge?
Answer: Certainly. In my previous role, I was tasked with developing an analytical method for quantifying impurities in a novel drug candidate using high-performance liquid chromatography (HPLC). I collaborated with a cross-functional team to identify the critical quality attributes (CQAs) and designed a robust HPLC method that effectively separated the active compound from its impurities. By optimizing column selection, mobile phase composition, and detection parameters, we achieved exceptional sensitivity and accuracy. This method was subsequently validated and implemented for routine analysis, contributing to the successful advancement of the project.
2: How do you stay updated on the latest advancements and trends in separation science and chromatography?
Answer: I have a strong commitment to continuous learning and staying current in my field. I regularly attend scientific conferences, webinars, and workshops focused on separation science and chromatography. I also subscribe to reputable scientific journals and publications, which allow me to access the latest research findings and technological developments. Engaging in discussions with colleagues and participating in online forums further enhance my understanding of emerging trends. This proactive approach ensures that I remain at the forefront of advancements in separation science.
3:Can you share an example of a situation where you had to adapt your analytical methodology to address unexpected challenges in a project?
Answer: Certainly. In a recent project, we encountered unexpected matrix effects that were impacting the accuracy of our chromatographic results. These effects emerged during the analysis of a complex biological sample. To address this, I collaborated with the team to modify the sample preparation protocol and adjust the chromatographic conditions. By optimizing the sample clean-up step and altering the mobile phase composition, we successfully mitigated the matrix effects and obtained reliable results. This experience highlighted the importance of adaptability and problem-solving skills in ensuring the robustness of analytical methods.
4:How do you approach mentoring and sharing your expertise with colleagues in a collaborative work environment?
Answer: Mentoring and knowledge sharing are integral to my professional philosophy. I believe in fostering an environment of continuous learning and growth. When working in teams, I actively engage with colleagues by organizing knowledge-sharing sessions, where I discuss best practices, troubleshooting techniques, and the rationale behind method development decisions. I also encourage open dialogue and feedback, creating a space where team members can comfortably seek guidance and learn from each other. By nurturing a culture of collaboration and mentorship, I believe we can collectively elevate our analytical capabilities and deliver impactful results.
Scientist at Pfizer
Stay Tuned on RASAYANIKA for more chem and pharma related job updates.