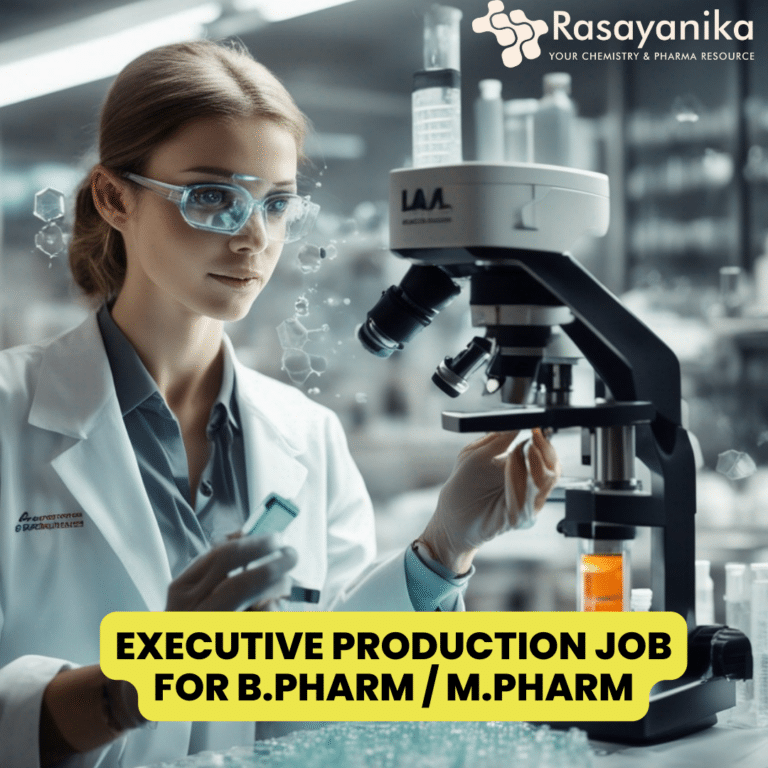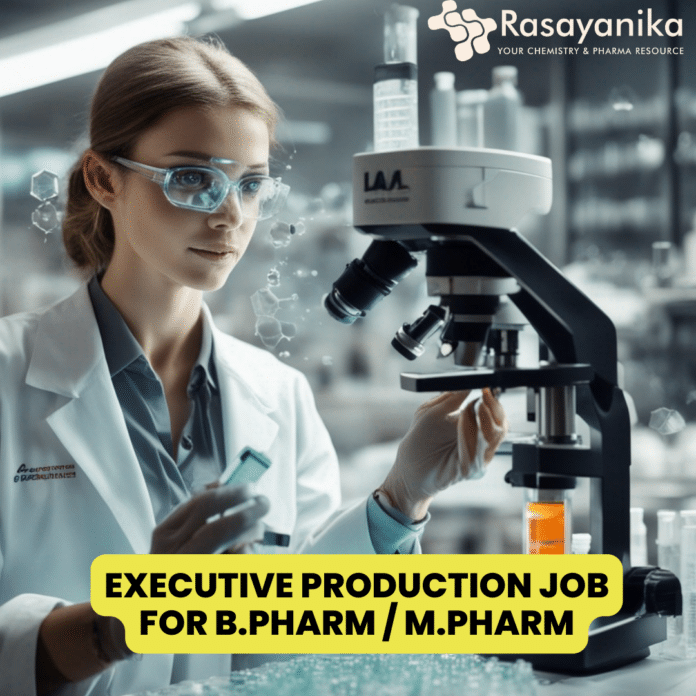 Executive Production Job For B.Pharm / M.Pharm At Sanofi
Sanofi S.A. is a French multinational pharmaceutical and healthcare company. Executive Production Job For B.Pharm / M.Pharm At Sanofi. Interested Candidates can check out the details below and Apply Online.
Job title: Executive Production
Job Location: Verna, India
Job id: R2711593
Job Type: Full Time
Responsibilities:
Production Planning and Scheduling: Receive production plan from Manager Packing, plan, execute, interact with cross functional departments for communicating requirement for completion of plan, allocate jobs to the Associates, monitor daily activities, plan changeovers, maintain adequate WIP levels and document for all products manufactured at Goa to achieve scheduled production.
New Product Introduction at Goa: Assist in manufacturing and packing new products transfer at Goa, with respective documents for process validation
cGMP Systems: Ensure that the products are manufactured and stored as per the requirements, ensure implementation of the quality system, ensure that the manufacturing records are evaluated by authorized personnel, maintain the department, premises, and equipment's, ensure validation status of the area & ensure initial and continual training of the department personnel under my responsibility to obtain the required quality in the product. Ensure that all the Employees follow the data integrity principles and routine training on Data Integrity. Ensure the adherence to GQD and GQS.
HSE Systems: Ensure that the of continuous improvement. Coordinate the departmental safety committee meeting and implementation of ISO-14001 requirement for preservation and promotion of environment implementation of HSE systems, safe working conditions and maintain a culture
Implement Process Excellence and Project: Improve processes through lean initiative, reduce cycle time, increase yields, optimum utilization of capacity to improve cost of goods manufactured
Training and development: Train and help subordinates to implement GMP/HSE systems and development of people.
Qualification:
Experience: Preferably 1-3 Years
Soft skills: MS Word, Excel, SAP, Power point
Technical skills: Blister Packing machine, cartonator machine, Track & Trace system, Checkweigher system, Strip packing machine, Camera Systems
Education: B.Pharm / M.Pharm
Languages: Must know English and able to write and communicate in English
Here are five interview questions along with their answers based on the provided job description for the position of Executive Production:
Question 1: Can you describe your experience with production planning and scheduling in a manufacturing environment?
Answer: Certainly. In my previous role, I was responsible for receiving the production plan from the Manager Packing. I would then interact with various cross-functional departments to communicate the requirements for completing the plan. I allocated jobs to the Associates, monitored daily activities, and ensured timely changeovers. I also maintained adequate work-in-progress levels and documented all manufacturing activities. This helped achieve scheduled production and maintain efficient workflow.
Question 2: How have you been involved in new product introductions and process validation?
Answer: I have actively participated in the manufacturing and packing of new products during their transfer phase. I ensured that all relevant documents required for process validation were in place. This included coordinating with different teams to ensure a smooth transition and adherence to quality standards. This experience has allowed me to understand the critical aspects of introducing new products into the production line.
Question 3: Can you discuss your experience in implementing cGMP and quality systems in manufacturing?
Answer: Certainly. I have played a key role in ensuring that products are manufactured and stored according to cGMP requirements. I've been responsible for implementing quality systems, evaluating manufacturing records, and maintaining departmental facilities and equipment. I've also focused on training department personnel to ensure compliance with quality standards. Additionally, I've been actively involved in promoting data integrity principles and routine training on Data Integrity for all employees.
Question 4: How have you contributed to health, safety, and environmental (HSE) systems in your previous role?
Answer: In my previous role, I took a proactive approach to enhancing health, safety, and environmental systems. I facilitated departmental safety committee meetings and ensured the implementation of ISO-14001 requirements to promote a safe working environment and environmental preservation. I fostered a culture of safety awareness among team members and worked towards continuous improvement in HSE practices.
Question 5: Can you provide an example of a process improvement project you've led to optimize production efficiency and cost?**
Answer: Certainly. I led a process improvement project aimed at reducing cycle times and increasing yields in the production line. By implementing lean principles, we identified and addressed bottlenecks in the production process. This led to a significant reduction in production cycle times, improved resource utilization, and ultimately lowered the cost of goods manufactured. The project resulted in increased overall efficiency and improved profitability for the company.
Remember, these answers are based on the information provided in the job description. Feel free to personalize the responses further based on your actual experience and achievements.
Subscribe Rasayanika for more Chemistry and Pharma job updates