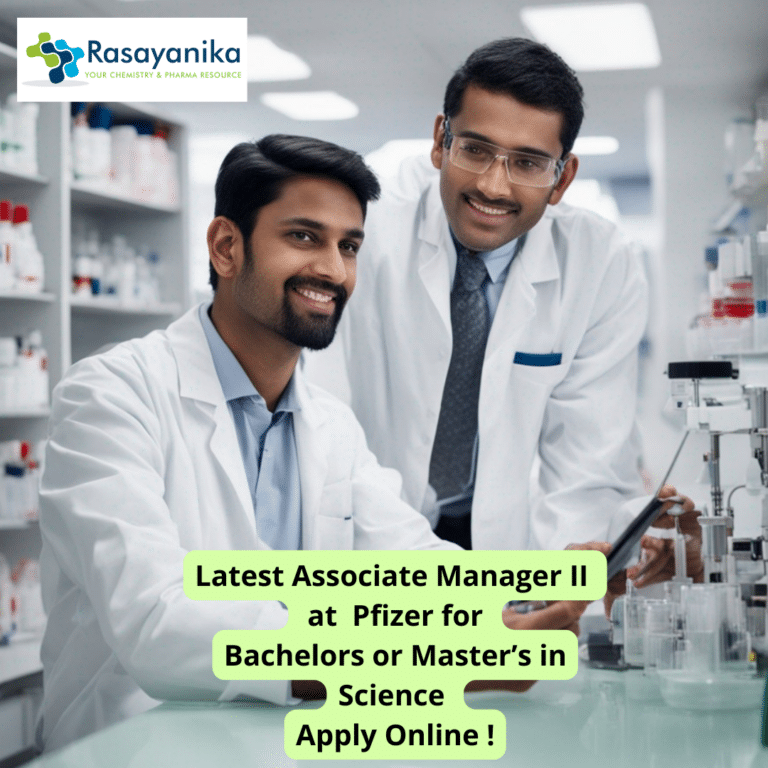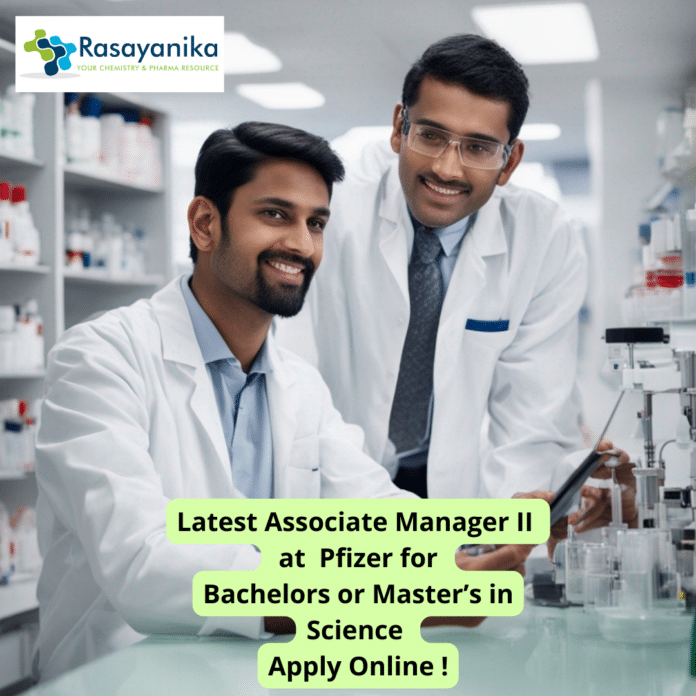 Check out the latest Associate Manager at Pfizer, view the entire details given the same below
Job role: Associate Manager II
Job position: India – Vizag
ROLE SUMMARY
Summarize the primary purpose & key accountabilities of the role. Summary should be concise and include strategic information that would attract candidates to the role. It may be helpful to complete this section after you have finished the other sections of the document.
Functions as Regulatory Product Owner for the assigned products of Vizag site transfer project (Dolphin) to define the Global Regulatory strategy and ensure quality regulatory submission for successful transfer and commercial manufacturing.
ROLE RESPONSIBILITIES
Functions as product owner for site transfer submissions for assigned products, working with cross functional team, site team and corporate regulatory team to ensure preparation of quality global regulatory strategy document and supplements / variations.
Provides regulatory support to the cross functional teams for the assigned products, participates and provides inputs in technical reviews and strategic discussions on regulatory submissions
Responsible for effective co-ordination with the cross functional teams at site and corporate for the review and finalization of supplements to ensure effective data presentation and quality
Responsible for the preparation and finalization of Global Regulatory Strategy Documents (GRSD), CTD sections of supplements / variations for site transfer submissions.
Also provides guidance and support to Junior Product Owners in the preparation of quality global regulatory strategy document and supplements
Remains knowledgeable about current regulations and guidance, interprets and implements in the assigned projects
Provides regulatory support for Change assessment related to submissions from Vizag site
Responsible for effective review and providing timely feedback to the teams on technical documents related to transfer (Technology transfer protocols), batch documents related to submission (batch records, Exhibit batch and stability protocol, etc.,)
Identifies, assesses regulatory risks associated with assigned projects and timely communication of the issues, its impact to global regulatory management & core team and drives resolution of issues
Drives resolution of issues. Communicates issues, impact and outcomes to global regulatory management, team lead and core team.
Collaborates with and ensures adequate support to the regional team to ensure completion of assigned shared task or goal.
Qualifications we seek in you for Associate Manager at Pfizer..!
Preferred Education/ Qualification & Experience
Bachelors or Master's in science / Pharmacy.
Minimum 7 to 10 Years in leading independently or a team in the Regulatory Affairs function in a reputed pharmaceutical organization with major experience in handling new submissions / post approval changes to health authorities especially USFDA, EMA and other EU authorities. Experience in handling site transfer submissions is preferable.
Core Competencies
Regulatory requirements for handling Technology Transfer activities and submission of supplements/variation to various global regulatory agencies especially USFDA and preferably EMA & other EU health Authorities, Health Canada and TGA.
Sterile injectable manufacturing and regulatory data requirements for submission.
Good oral and written English communication skills.
Good conceptual, analytical, problem solving, and organizational skills
Possible interview questions may be asked for Associate Manager at Pfizer
1. Can you explain your experience in managing regulatory submissions and strategies for site transfers in the pharmaceutical industry?
Answer: Absolutely. In my current role, I've functioned as the Regulatory Product Owner for the Vizag site transfer project. I've been responsible for defining the global regulatory strategy for assigned products, collaborating with cross-functional teams and corporate regulatory to ensure successful transfers and commercial manufacturing. This involves preparing comprehensive Global Regulatory Strategy Documents (GRSD), overseeing CTD sections for supplements/variations, and ensuring effective coordination between site and corporate teams. My experience in regulatory submissions and cross-functional collaboration has been crucial in guiding projects to successful outcomes.
2.  Can you share an example of a complex technical review or strategic discussion you've participated in to support regulatory submissions?
Answer: Certainly. In a recent technical review, our team was evaluating the regulatory submission for a site transfer project. I actively participated in discussions with cross-functional teams, providing regulatory insights and input on data presentation. We addressed challenges related to technical documents, batch records, and stability protocols. By ensuring the quality and accuracy of these documents, we were able to enhance the submission's effectiveness. This experience highlighted the importance of collaboration and my role in shaping successful submissions.
3.  How have you managed regulatory risks associated with your projects? Can you provide an example?
Answer: Mitigating regulatory risks is a critical aspect of my role. In a project involving a site transfer, we identified potential issues that could impact regulatory approval. I communicated these risks to global regulatory management and the core team, driving discussions on resolution strategies. By addressing these concerns proactively, we were able to refine our submission strategy and minimize potential delays. This experience demonstrated my ability to assess risks and initiate effective risk management strategies.
4.  How do you ensure effective coordination between regional teams and global regulatory objectives?
Answer: Effective collaboration between regional and global teams is essential for successful regulatory outcomes. I ensure open communication channels and provide support to regional teams to achieve shared goals. For instance, in a recent project, I collaborated closely with regional teams to align on submission requirements and timelines. By fostering a cooperative environment and sharing insights, we were able to complete shared tasks efficiently. This approach reinforces my commitment to teamwork and aligning efforts toward common objectives.
5.  Can you discuss a situation where you had to handle a significant change assessment related to submissions? How did you navigate this challenge?
Answer: Certainly. During a project involving a change assessment, we encountered unexpected modifications that required swift regulatory response. I engaged cross-functional teams to assess the impact on submissions and collaborated with corporate regulatory to devise an updated strategy. By leveraging my understanding of regulatory requirements and collaborating effectively, we navigated the challenge, updated the necessary documents, and successfully communicated the changes to health authorities. This experience showcased my agility in handling unexpected changes while maintaining compliance.