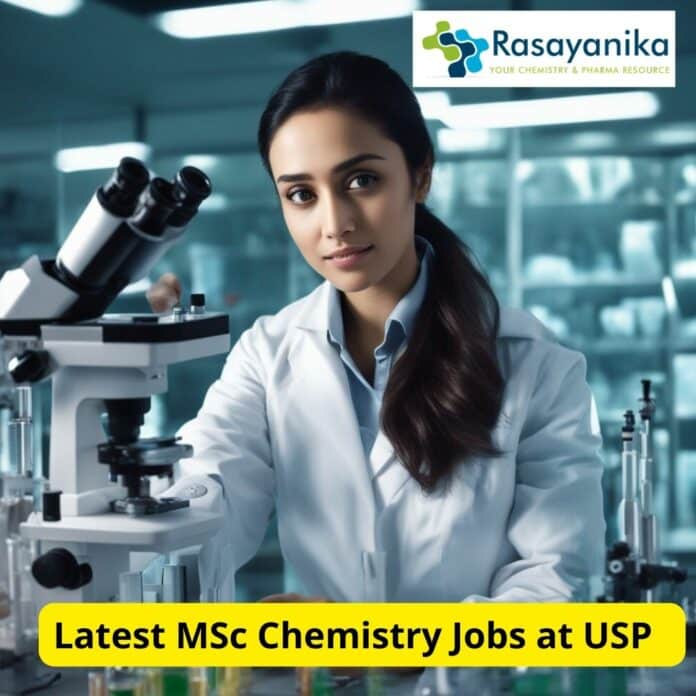 Scientist I at USP. Interested candidates can check the details given below and apply online
Job Role: Scientist I, ARD – NMR
Job Location: Hyderabad, India
Job Category: Chemistry & Scientific Standards
Job Type: Full-Time
Description
Brief Job Overview of Scientist I at USP
This is a non-supervisory position in USP-India's Analytical Research & Development Laboratory. In this role, the Scientist – I is responsible for providing NMR support for characterization or identification samples received from various laboratories of USP India such as ARD, Synthetic chemistry, RSL, Verification, CDL and Biologics. The Scientist I performs a variety of non-routine and routine NMR tests, including evaluation of reference standards, evaluation of packaging materials and stability studies, and general research in NMR Lab.
Responsibilities:
Responsible for operating, and maintenance of 500 MHz NMR instrument, recording and interpretation of NMR spectra for samples submitted by the Synthetic Organic Chemistry Lab, Reference Standards Lab, Biologics & Biotechnology Lab, and other sources as per ISO 17025.
Support to synthetic R&D projects from start to completion as per ISO 9001
Assist and maintain the safety aspects in the laboratory
Performs other related duties as per requirement
Prepare for ISO-9001 & ISO-17025 audits and related activities
Ensure that the calibrations of the equipment are performed as per the schedule.
Responsible for preparing, executing and completing IQ/OQ/PQ of new instruments.
Ensure the lab requirements like glassware, chemicals and columns for NMR lab.
Ensure to follow USP Policies and Procedures.
Educational Qualification and Experience:
The successful candidate will have a demonstrated understanding of our mission, commitment to excellence through inclusive and equitable behaviors and practices, ability to quickly build credibility with stakeholders, along with the following competencies and experience:
MSc. in Analytical Chemistry / Organic Chemistry, from a well-recognized University in India or abroad and required not less than 2 years' experience in handling the NMR spectrometer.
Extensive NMR knowledge both in running the equipment and interpretation of results and characterization of the compound by spectral techniques (NMR, MASS and IR). Must possess a strong work ethic and a solid record of problem solving and technical results.
Experience in small molecule structure elucidation using NMR.
Must be familiar with electronic notebook documentation of experimental procedures.
Ability to embrace and lead change. Extremely adaptable. Excellent communication skills, both written and verbal.
Good interpersonal skills and proven ability to function in a team-oriented environment are necessary. Understanding of GMP / ISO-IEC 17025 Guidelines is a requirement
Additional Desired Preferences
Experience on biological molecules such as peptides, proteins and vaccines would be an added advantage.
Knowledge of solid state NMR and multinuclear NMR operations is an advantage.
Proven track record of consistently delivering projects on time and with high quality
Prior experience in a high volume pharmaceutical ARD laboratory or contract pharmaceutical analytical laboratory testing organization is a plus.
Takes personal responsibility for delivery of projects to customers.
Expertise with Bruker NMR software- automation software & hardware including cryo-probes.
Comprehensive understanding of the science involved in the development of synthetic organic molecules and analytical chemistry. ACD & Chemdraw software's handling is an added advantage. Proven self-effectiveness skills are must.
Supervisory Responsibilities
NA
Benefits
USP provides you with the benefits you need to protect yourself and your family today and tomorrow. From company-paid time off, comprehensive healthcare options to retirement savings, you can have peace of mind that your personal and financial wellbeing is protected.
COVID-19 Vaccination Policy (will apply to the selected candidate(s) hired):
As a condition of employment with the United States Pharmacopeial Convention's (USP) duty to provide and maintain a workplace free of known hazards, all employees and contingent staff hired after July 1st, 2021, must be fully vaccinated unless a reasonable accommodation is approved. Your recruiter will advise accordingly.
USP is proud to be an equal employment opportunity employer (EEOE) and affirmative action employer. We are committed to creating an inclusive environment in all aspects of our work—from the standards we make to the partnerships and conversations we cultivate. An environment where every employee feels fully empowered and valued irrespective of, but not limited to, personality, race, ethnicity, physical and mental abilities, education, religion, gender identity and expression, life experience, sexual orientation, country of origin, regional differences, work experience, and family status. We are committed to working with and providing reasonable accommodation to individuals with disabilities.
Note: USP does not accept unsolicited resumes from 3rd party recruitment agencies and is not responsible for fees from recruiters or other agencies except under specific written agreement with USP.
Possible interview questions with answers for the job role of Scientist I at USP:
1: Can you describe your experience with operating and maintaining NMR instruments, particularly the 500 MHz NMR instrument mentioned in the job description?
Answer: Certainly. In my previous role at [Previous Company Name], I was responsible for operating and maintaining a variety of NMR instruments, including a 500 MHz NMR instrument. I routinely performed sample analysis, recorded NMR spectra, and interpreted the results for various projects, such as synthetic chemistry, reference standards evaluation, and stability studies. I'm well-versed in following ISO 17025 guidelines and ensuring accurate and reliable results. I also have experience in performing IQ/OQ/PQ procedures for new instruments, ensuring their proper calibration and functionality.
2: The job description mentions working on synthetic R&D projects from start to completion. Can you provide an example of a synthetic R&D project you've been involved in and how your NMR expertise contributed to its success?
Answer: Certainly. During my time at [Previous Company Name], I was part of a synthetic R&D project focused on developing a novel pharmaceutical compound. I played a key role in characterizing the compound's structure using NMR techniques. By analyzing the NMR spectra, I identified specific proton and carbon signals, which allowed us to confirm the molecular structure and validate its intended synthesis pathway. This information was crucial for ensuring the compound's quality and efficacy, contributing to the successful completion of the project.
3: The job description emphasizes the importance of adhering to ISO 9001 and ISO 17025 standards. Can you share an experience where you've demonstrated your understanding of these standards in a laboratory setting?
Answer: Of course. In my previous role at [Previous Company Name], I actively participated in the preparation for ISO 9001 and ISO 17025 audits. I ensured that all laboratory processes, documentation, and procedures were in line with these standards. For instance, I implemented rigorous documentation practices, maintaining electronic notebooks for experimental procedures and results. Additionally, I contributed to equipment calibration schedules and maintained a well-organized lab environment to meet ISO requirements. This commitment to standards helped us successfully pass audits and maintain the lab's credibility.
4: The job description mentions familiarity with solid state NMR and multinuclear NMR operations as advantageous. Can you discuss a scenario where you applied your knowledge of these advanced NMR techniques to enhance your analysis of complex samples?
Answer: Absolutely. In a previous project at [Previous Company Name], I encountered a complex sample that required in-depth analysis due to its unique structure. I applied my knowledge of solid-state NMR techniques to study the sample's interactions in the solid phase. By employing advanced pulse sequences and careful data analysis, I was able to gain insights into the molecular arrangement and packing of the sample's components. This information was crucial for understanding the sample's behavior and stability, demonstrating how solid-state NMR can provide valuable insights beyond traditional solution-state NMR analysis.
Scientist I at USP
Stay tuned on RASAYANIKA for more chem and pharma related job updates.