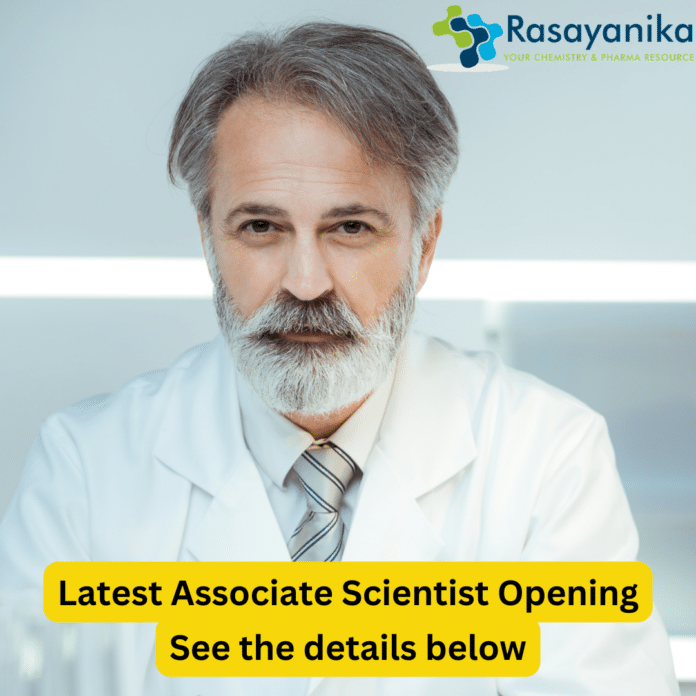 Pfizer has a specific purpose – to find breakthroughs that change patients' lives. We are a patient-centric company, guided by our four values: courage, joy, equity, and excellence. Our breakthrough culture lends itself to our dedication to transforming millions of lives. Pfizer is hiring for MSc Chemistry Scientist Job. The details are attached below. Applications are invited for the MSc Chemistry Scientist Job.
Role – Associate Scientist, Analytical Research and Development
Time Type: Full time
Primary Location: IND – Chennai IIT Madras Research Park
Primary Job Posting Location: India – Chennai
Scheduled Weekly Hours: 48
Job description
The successful candidate will have a passion for analytical chemistry. They will work alongside subject matter experts and analytical leads, in cross-functional project teams, to deliver analytical excellence. These project teams work with partner lines from chemical research development, regulatory, quality and manufacturing to develop medicines for clinical and commercial use.
Successful candidates will have the opportunity for personal growth and development within the analytical department.
·Training in and application of analytical techniques including liquid, gas and supercritical fluid chromatography, infra-red spectroscopy, mass spectrometry and NMR.
·Providing support to regulatory starting materials and drug substance research and development projects to develop analytical methodology
.
·Working with colleagues to assess the most appropriate analytical tools to support project activities, including use of computational predictive tools, modelling software and data visualization tools where appropriate.
·Investigating causes of regulatory starting material and drug substance instability and mechanisms of chemical degradation.
·Assisting in the maintenance and renewal of laboratory instruments, systems or apparatus and in the maintenance and continuous improvement of safe and effective working practices.
·Maintaining written records of all experimental work in accordance with Good Laboratory Practice/Good Manufacturing Practice and departmental philosophies.
·Advocating new technology, process improvements and informatics initiatives designed to increase efficiency and compliance.
Master's degree in chemistry
2+ years of experience
Hands on experience in UHPLC/HPLC, GC and wet-chemistry techniques.
Provides attention to detail and good knowledge in Method development.
Ability to extract relevant information from scientific literature, accurately record observations, facts, data and conclusions during experimental work or investigations.
Interact effectively with peers and leaders as part of a multi-disciplinary team.
Effective verbal and written communication skills
Good Laboratory Practices knowledge.
Desire to develop own technical skill set.
Other Information: This is an individual contributor role.
Dear friends, we have compiled a set of interview questions and answers that you might encounter during your interview for the MSc Chemistry Scientist Job. Take the time to prepare and excel in your upcoming interview.
Question 1: Could you describe your experience with analytical techniques like liquid chromatography and mass spectrometry?
Answer: Certainly. Throughout my academic and professional journey, I've gained hands-on experience with various analytical techniques, including liquid chromatography and mass spectrometry. I've worked on projects that involved method development and optimization using these techniques, enabling precise analysis and accurate data interpretation.
Question 2: Can you provide an example of a project where you collaborated with cross-functional teams to develop analytical methodologies for drug substance research?
Answer: Of course. In my previous role, I collaborated closely with experts from research, quality, and regulatory departments to establish robust analytical methodologies for a drug substance research project. By combining our collective expertise, we successfully developed methods that ensured the integrity and quality of the drug substance, contributing to its successful progression through clinical stages.
Question 3: How do you stay updated with advancements in analytical chemistry and incorporate them into your work?
Answer: I believe in continuous learning. I actively follow scientific literature, attend conferences, and participate in workshops to stay informed about the latest advancements in analytical chemistry. I make it a priority to integrate relevant innovations into my work to enhance the accuracy and efficiency of our analytical processes.
Question 4: Could you share an example of a situation where you encountered a complex analytical challenge? How did you approach and resolve it?
Answer: Certainly. I encountered a situation where a drug substance exhibited unexpected instability during analysis. To address this challenge, I collaborated with colleagues to conduct in-depth investigations, utilizing techniques like NMR and mass spectrometry. This collaborative effort led to identifying the degradation mechanisms, enabling us to adjust our methodologies and ensure the accuracy of our results.
Question 5: How do you prioritize and manage your tasks when working on multiple projects simultaneously?
Answer: Effective time management is crucial in a dynamic role like this. I prioritize tasks based on project timelines and urgency. By setting clear milestones and leveraging my experience, I ensure that each project receives the attention it deserves. Regular communication with team members also helps in coordinating efforts and maintaining smooth progress across multiple projects.