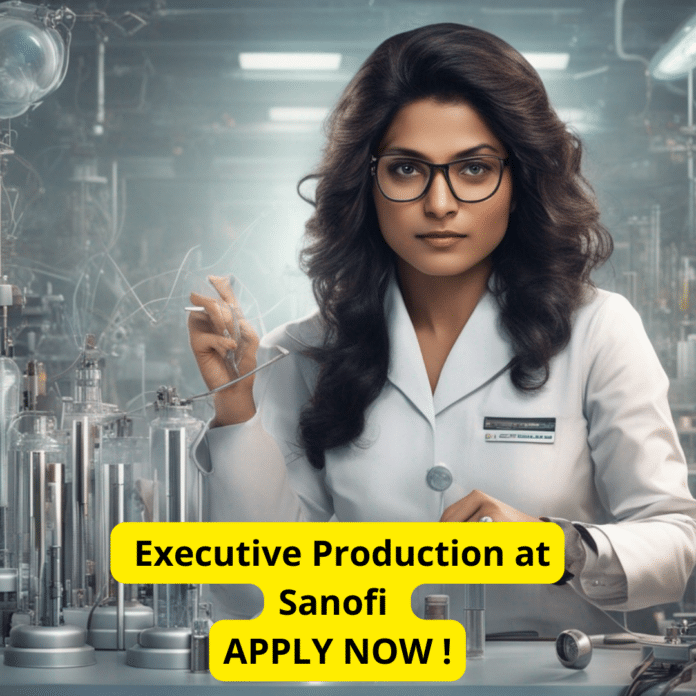 Check out the position Executive Production at Sanofi, Interested and eligible candidates check out all the details given the same below
Job position: Executive Production
Location: Verna, India
Our Team:
We are the team (Packing) of about 100 permanent employees and having 12 packing lines with state-of-the-art imported machineries available from IMA, CAM. Our Purpose is to provide the medicine to patient with outmost quality and on time but with safety. We are highly motivated and safety driven team with a good bonding.
Main responsibilities for Executive Production at Sanofi :
Production Planning and Scheduling: Receive production plan from Manager Packing, plan, execute, interact with cross functional departments for communicating requirement for completion of plan, allocate jobs to the Associates, monitor daily activities, plan changeovers, maintain adequate WIP levels and document for all products manufactured at Goa to achieve scheduled production.
New Product Introduction at Goa: Assist in manufacturing and packing new products transfer at Goa, with respective documents for process validation
cGMP Systems: Ensure that the products are manufactured and stored as per the requirements, ensure implementation of the quality system, ensure that the manufacturing records are evaluated by authorized personnel, maintain the department, premises, and equipment's, ensure validation status of the area & ensure initial and continual training of the department personnel under my responsibility to obtain the required quality in the product. Ensure that all the Employees follow the data integrity principles and routine training on Data Integrity. Ensure the adherence to GQD and GQS.
HSE Systems: Ensure that the of continuous improvement. Coordinate the departmental safety committee meeting and implementation of ISO-14001 requirement for preservation and promotion of environment implementation of HSE systems, safe working conditions and maintain a culture
Implement Process Excellence and Project: Improve processes through lean initiative, reduce cycle time, increase yields, optimum utilization of capacity to improve cost of goods manufactured
Training and development: Train and help subordinates to implement GMP/HSE systems and development of people.
About you for Executive Production at Sanofi..!
Experience: Preferably 1-3 Years
Soft skills: MS Word, Excel, SAP, Power point
Technical skills: Blister Packing machine, carbonator machine, Track & Trace system, Check weighed system, Strip packing machine, Camera Systems
Education: B.Pharm / M.Pharm
Languages: Must know English and able to write and communicate in English
Possible interview questions may be asked for Executive Production at Sanofi
1. Can you describe your experience in pharmaceutical production and your familiarity with Sanofi's production processes?
Answer: I have [X years] of experience in pharmaceutical production, with a strong focus on [mention specific areas of expertise, such as formulation, sterile manufacturing, etc.]. I am familiar with Sanofi's production processes through my research and interactions with industry professionals. I understand the importance of adhering to Good Manufacturing Practices (GMP) and ensuring quality in every stage of production.
2. How do you ensure that production processes run efficiently while maintaining high quality standards?
Answer: Efficiency and quality are both essential in pharmaceutical production. I believe in optimizing processes through continuous improvement initiatives, such as Lean Six Sigma methodologies. By identifying bottlenecks, streamlining workflows, and implementing best practices, I aim to enhance efficiency without compromising quality. Regular monitoring and data analysis help in identifying areas for improvement and making informed decisions.
3. Can you provide an example of a challenging situation you faced in a previous production role and how you resolved it?
Answer: In a previous role, we encountered a sudden shortage of a critical raw material due to a supplier issue. This posed a risk to our production schedule. To address this, I collaborated with the procurement team to source an alternative supplier without compromising the quality of the final product. By maintaining open communication with all stakeholders and finding a swift solution, we managed to avoid production delays and maintain our commitments to customers.
4. How do you ensure compliance with regulatory guidelines and safety protocols in pharmaceutical production?
Answer: Compliance and safety are paramount in pharmaceutical production. I ensure compliance by staying updated with industry regulations and standards, such as FDA guidelines and European Medicines Agency (EMA) requirements. I also conduct regular training sessions for production teams to ensure that everyone is aware of safety protocols and follows standard operating procedures. Routine audits and inspections help identify any gaps and ensure corrective actions are taken promptly.
5. Sanofi focuses on innovation and bringing new therapies to patients. How do you see your role contributing to this mission?
Answer: I see my role as pivotal in supporting Sanofi's mission by ensuring the smooth and efficient production of innovative pharmaceuticals. By maintaining high-quality standards, optimizing production processes, and adhering to regulatory requirements, I contribute to the timely delivery of safe and effective medications to patients. This aligns with Sanofi's commitment to improving patient lives through breakthrough therapies and continuous innovation.