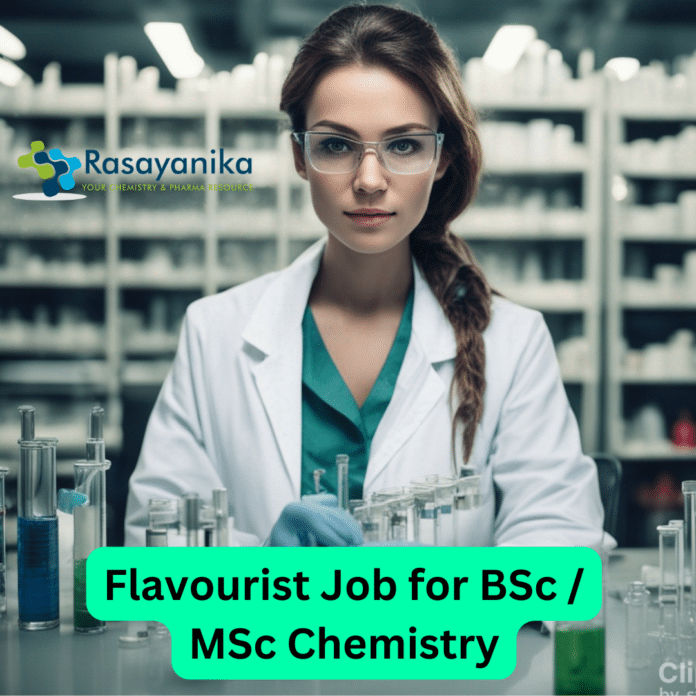 Flavourist Job for BSc / MSc Chemistry at Givaudan
Flavourist Job for BSc / MSc Chemistry at Givaudan. Its is a multinational manufacturer of flavours, fragrances and cosmetic ingredients. Interested candidates check out the details  below for Flavourist Job for BSc / MSc Chemistry and Apply online
Job title: Flavourist II / Senior Flavourist
Job Location: Mumbai, India
Job Category: Flavourist – Sweet Goods and Beverage
Job Type: Full Time
Job Purpose:
To lead complex flavour development projects and innovations in the Sweet Goods and additionally to Beverage segment.
Reporting line and location
Report to the Technical Head of India.
100% office presence in Mumbai, India.
Main areas of responsibilities
Creation: Based on customer requests and market insights, you will create new flavours using the latest flavour technologies, ingredient innovations, market and consumer and sensory insights, and a unique pal-let of raw materials.
· Prepare flavour samples, technology performance assessment, and physical testing;
· Create new flavours or modify existing ones for projects, internal testing needs, or new technology development;
· Coordinate the evaluation of materials developed internally or from external sources and assess the potential for flavour creation;
Collaboration: Within your creation mandate, you will work in close collaboration
with the regional Mar-keting, Application, Commercial, Consumer research & Sensory Insights teams to apply new tools and in-puts for new flavour creations for Sweet Goods and Beverage applications.
· Maintain relationships with a broad range of internal & external partners to gain their trust and res-pect.
· Complete daily brief-related tasks and manage assigned projects and provide flavours that meet all the defined customer needs, manufacturing practices, sample scale-up, production requirements, and regulatory compliance.
· Lead occasional customer visits for flavour creation and product presentations.
· Resolve flavour production issues and customer complaints.
Leadership and being a role model: Creating, collaborating, but also setting the example!
· Provide technical leadership in projects
· Oversee flavour assistants and guide their development
· Proactively takes responsibility to build a diverse and inclusive environment and uses differences in styles, thinking and approaches
· Be a role model in knowledge-sharing
 Desired skills:
15+ years of relevant experience as a Flavourist
Expert palate and tasting skills, to understand how to adjust and modify a flavour formulation
Knowledge of raw materials and flavour ingredients
Has flavour creation experience in preferably both Sweet Goods and Beverage segments.
Quick to understand company specific flavour creation solvent and carrier systems
Complete Givaudan's or any industry equivalent Flavourist Training program is a plus
Knowledge of analytical methodologies (G.C. HPLC, Mass Spec.)
Strong project management and presentation skills.
Comfortable at working and collaborating with diverse teams and cultures.
Customer focus – as being an interface with internal and external partners and customers about flavour creation needs
Always find a solution – serve as the technical expert to resolve flavour production issues and custo-mer complaints
Knowledge of local and regional regulatory requirements for flavours
Excellent proficiency in English
Academic background
Minimum Bachelor's Degree in Food Technology, Food Science, Chemistry & Biology, or Master's Degree
 Benefits
· Attractive package with benefits, including bonus and medical package: insurance cover, personal accident cover, and term life coverage
· Excellent opportunities for progressive learning and development.
· A creative team environment that will inspire you.
Flavourist Job for BSc / MSc Chemistry at Givaudan. Here are five interview questions along with their answers:
Question 1: Can you describe a specific project where you demonstrated your expertise in creating new flavours for Sweet Goods and Beverage segments?
Answer: Certainly. In a recent project, I was tasked with developing a unique flavor profile for a premium line of pastries and a complementary beverage. I leveraged my extensive experience in both the Sweet Goods and Beverage segments to craft flavors that harmonized across the products. I utilized cutting-edge flavor technologies and raw materials to create a distinct palate. The outcome was well-received by both internal evaluation and customer testing, leading to successful scale-up and production.
Question 2: How do you ensure effective collaboration with cross-functional teams while working on flavour creation projects?
Answer: Collaboration is crucial in my role. I maintain open lines of communication with Marketing, Application, Commercial, Consumer Research, and Sensory Insights teams. Regular meetings and brainstorming sessions help integrate diverse perspectives. By sharing insights and aligning goals, we collectively refine flavor concepts. This collaborative approach ensures that the flavors I create not only meet customer needs but also align with manufacturing practices, production requirements, and regulatory standards.
Question 3: Could you provide an example of a challenging flavor production issue you resolved and the steps you took to address it?
Answer: Certainly. In a previous project, a flavor I developed encountered stability issues during production. The challenge was to maintain the flavor's integrity from formulation to the final product. I collaborated closely with the production team to analyze the issue. By revisiting the formulation and adjusting processing parameters, we successfully resolved the stability problem. This experience underscored the importance of real-time collaboration and adapting formulations for practical production.
Question 4: How do you ensure you stay updated with the latest flavor technologies and ingredient innovations in the industry?
Answer: Staying informed about industry developments is integral to my role. I regularly attend relevant seminars, conferences, and workshops to keep up with the latest trends and technologies. Additionally, I actively participate in industry networks and online forums. This proactive approach enables me to identify emerging flavor technologies and ingredient innovations that can enhance my creations and provide valuable insights for new projects.
Question 5: Could you describe a situation where you had to lead a team of flavor assistants and guide their development?
Answer: Certainly. In a project with a tight timeline, I was responsible for leading a team of flavor assistants to develop a series of innovative flavors for a new product line. I assigned specific tasks based on each assistant's strengths and provided guidance throughout the process. Regular check-ins, brainstorming sessions, and constructive feedback ensured the team remained focused and motivated. The project was successfully completed ahead of schedule, showcasing the benefits of effective leadership and mentorship.
Remember, these answers are just examples, and you should personalize them based on your own experiences and qualifications if you are preparing for an interview for the Flavourist position.
Subscribe Rasayanika for more Chemistry and Pharma job updates.