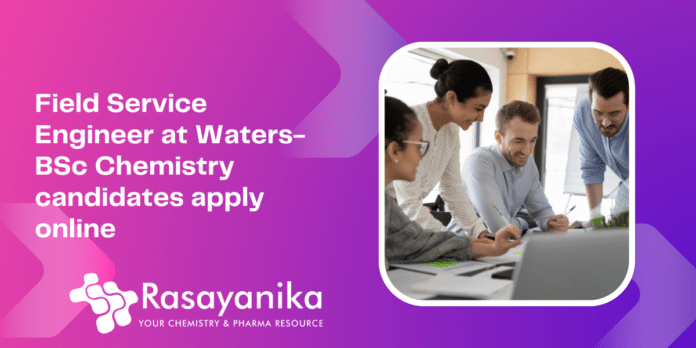 Waters Corporation (NYSE: WAT), the world's leading specialty measurement company, has pioneered chromatography, mass spectrometry and thermal analysis innovations serving the life, materials, and food sciences for more than 60 years. Please go through the details of the MSc Chemistry Engineer Job and apply online.
Role  – Field Service Engineer
Location – Secunderabad
Employment Type –  Regular Full-Time
Job description – 
As Field Service Engineer, you are an ambassador of Waters and will bring to the market Waters' products and services. The candidate will demonstrates a clear grasp of understanding the customers' business and its growth plans and is able to take that knowledge and convert that into a solution and offering from Waters, with a primary aim of bringing "customer success". This position brings a great degree of flexibility working in the field. The role will be designated to either a territory and/or markets.
Responsibilities-
Installation, performance maintenance, troubleshoot and support Waters' product suite (LC, HPLC/UPLC)
Establish and maintain effective relationships with external and internal customers ensuring their success
Manage customer expectations, by communicating work performed and providing follow up plan if needed
Ensure customer compliance regulations are followed
Deliver system level training at customer sites
Manage service inventory according to Waters policies
Issue field service reports daily to document work performed
Maintain sound knowledge regarding the technology and customers' application demands
Work with Sales team in respect to identifying future business development opportunities and needs for service contract sales
Ensure that quality system procedures and Health & Safety standards are adhered to at all times
Qualifications for MSc Chemistry Engineer Job-
Education:
Bachelors/Masters Degree in Chemistry or Biology, engineering or other science related field is desired, will also consider applications with equivalent experience, training, and education
3 years of experience with installation, performance maintenance, troubleshooting, support and/or end user utilization of scientific instrumentation, preference for previous Waters product suite (LC, HPLC/UPLC)
Ability to perform effective system level troubleshooting
Understanding of the scientific application workflow along with the scientific software systems (CDS)
Skills:
Must possess a strong customer focus
Strong communication skills; ability to communicate effectively to a diverse audience with specific customer needs
Personal sense of integrity
Effective time management skills
System level approach to problem solving
Analytical mindset with a strong drive to resolve open issues
Excellent verbal and written communication skills
Travel:
This is a territory-based position with travelling within your designated territory, and occasional travels to other countries for activities such as governance of department, local business support, meetings and training.
Hello friends, we are attaching the expected question and answers below for your reference. Prepare well using the same after applying for MSc Chemistry Engineer Job. All the best!!!
Question 1: Can you describe your experience with scientific instrumentation installation and troubleshooting, particularly with Waters' product suite (LC, HPLC/UPLC)?
Answer:
Certainly. Over the past three years, I've been extensively involved in the installation, performance maintenance, troubleshooting, and support of various scientific instruments, with a significant focus on Waters' product suite, including LC, HPLC, and UPLC systems. I've successfully managed numerous installation projects, ensuring that systems are set up accurately and efficiently. In terms of troubleshooting, I've developed a systematic approach to identifying and resolving issues, which involves both hardware and software components. My experience with Waters' products has equipped me with in-depth knowledge of their technical specifications and functionalities, enabling me to provide effective solutions to customers' challenges.
Question 2: How do you approach customer engagement and ensure their success when working as a Field Service Engineer?
Answer:
Customer engagement is a pivotal aspect of my role as a Field Service Engineer. I believe in building strong relationships with both external and internal customers. I make it a priority to actively listen to their needs and concerns, ensuring a clear understanding of their unique requirements. By doing so, I can tailor my solutions to align with their goals. Effective communication is key; I keep customers informed about the work I've performed, and I always provide a follow-up plan if necessary. My objective is to exceed customer expectations by not only addressing their immediate issues but also by offering insights and recommendations that contribute to their long-term success.
Question 3: How do you manage your time effectively when dealing with multiple tasks and responsibilities in a field-based role?
Answer:
Time management is crucial in a field-based role where I handle various responsibilities. I am highly organized and rely on a structured approach to prioritize tasks. I start by creating a daily schedule that outlines my service visits, installations, and any pending tasks. I use technology to my advantage, utilizing tools that help me navigate efficiently between customer locations. Additionally, I allocate specific time slots for administrative tasks like documenting service reports, maintaining inventory, and ensuring compliance. By adhering to a well-structured plan, I can successfully balance my responsibilities while providing top-notch service to customers.
Question 4: Can you share an example of a challenging situation you encountered while delivering system level training at a customer site? How did you handle it?
Answer:
Certainly. Once, during a system level training session at a customer site, I encountered a situation where some participants had varying levels of familiarity with the technology. To address this challenge, I quickly assessed the group's knowledge levels and adjusted my training approach accordingly. I began with a comprehensive overview to ensure everyone was on the same page and gradually delved into more advanced concepts to cater to those who were more experienced. I also encouraged open discussion and questions, creating a supportive environment for learning. By adapting my training style and fostering engagement, I successfully bridged the knowledge gap and left the session with all participants feeling confident about using the technology effectively.
Question 5: How do you stay up-to-date with the latest advancements in scientific instrumentation and technology relevant to your role?
Answer:
Staying informed about the latest advancements in scientific instrumentation is vital to excel in my role. I am dedicated to continuous learning and professional development. I regularly attend industry conferences, workshops, and seminars where I interact with experts and gain insights into emerging trends. I also maintain subscriptions to scientific journals, online forums, and newsletters that cover advancements in my field. Additionally, I engage in knowledge-sharing sessions with my colleagues and take advantage of internal training opportunities provided by Waters. This proactive approach ensures that I remain well-versed in the latest technologies, enabling me to deliver cutting-edge solutions to our customers.