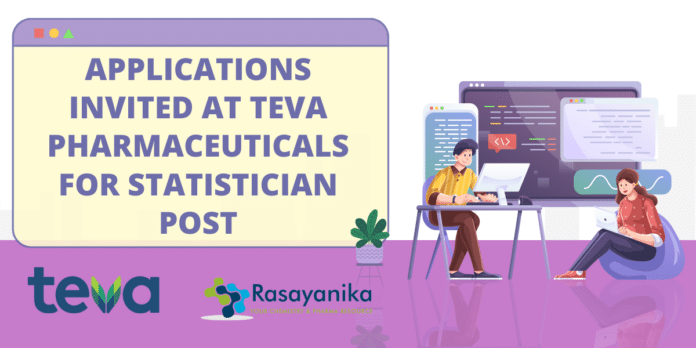 Applications Invited At Teva Pharmaceuticals for Statistician Position 
Applications Invited At Teva Pharmaceuticals for Statistician Post. Interested Candidates can check out the details below and Apply Online
Job title: Statistician II
Job Id: 50539
Job Location: Bangalore, India, 560064
Job Company: Teva Pharmaceuticals
Job Type: Full Time
JOB DESCRIPTION:
Perform Lead Data Manager role; oversee/ drive the DM deliverables for the project, communications with the stakeholders, ensuring adherence to timelines
Proactively coordinate and perform start-up, maintenance and close out activities, as detailed in our SOPs and guidelines
Lead study setup including but not limited to
Performing query management which include, query generation and query resolution
Perform SAE reconciliation and Lab/Vendor data reconciliation
Performing manual review of data, Pinnacle 21 and smart listings
Locking the database as detailed in SOP as per timelines for the statistical review
Performing post production changes and assessment of impact on database in consultation with the Database Programmer
Generating metric reports / status reports for the CDM status of the study and informing of any study related issues to Assistant Manager/Manager/Senior Manager – CDM when required for further action
Maintain study specific documentation as per in-house standards, procedures & regulatory requirements
Participation in reviewing and responding to or sponsor audits/ inspection reports
Proactive participation in appropriate project/ departmental/ organizational meetings and initiatives
Participates in the review of cross-functional department procedures
Continuous improvement of departmental processes and procedures to ensure DM is consistently maximizing efficiencies
Provide training to site personnel in person or via electronic meetings
Training and Mentoring of team members in accordance with established departmental procedures
To carry out other responsibilities as and when assigned by the management
Educational Qualification: B.Tech, B.Pharm
Experience: 6 -10 Years of End to End CDM
Applications Invited At Teva Pharmaceuticals for Statistician Post. Here are Possible interview-based questions along with sample answers:
1. Question: The job description emphasizes the role of Lead Data Manager and performing DM deliverables. Can you provide an example of a project where you effectively managed data and ensured adherence to timelines?
Answer: Certainly. In my previous role at XYZ Pharmaceuticals, I led a clinical trial data management project for a novel drug candidate. I oversaw all data-related activities, from query generation and resolution to database locking. By implementing efficient workflows and closely collaborating with stakeholders, I successfully adhered to project timelines and ensured accurate and high-quality data for the statistical review process.
2. Question: The description mentions participating in sponsor audits/inspection reports. Could you share an experience where you were involved in an audit or inspection and how you contributed to the process?
Answer: Certainly. During an FDA audit at ABC Pharmaceuticals, I played a pivotal role in ensuring the audit readiness of our data management processes. I compiled and organized study-specific documentation, collaborated with cross-functional teams to address potential areas of concern, and provided necessary data and reports for the audit. As a result, we received positive feedback from the auditors for our well-documented and compliant data management practices.
3. Question: One of the responsibilities is training and mentoring team members. How have you approached training and mentoring to ensure your team members are well-prepared and motivated?
Answer: Training and mentoring are integral to team success. In my previous role at DEF Pharmaceuticals, I organized regular training sessions where I covered both technical skills and soft skills relevant to data management. I encouraged an open dialogue where team members could ask questions and share their insights. I also provided constructive feedback and recognized their achievements, creating a supportive learning environment that motivated team members to excel and grow within the organization.
4. Question: The job requires maintaining study-specific documentation as per in-house standards and regulatory requirements. How do you ensure the accuracy and completeness of documentation while managing multiple projects?
 Answer: Keeping documentation accurate and complete is essential to maintain data integrity. To manage multiple projects effectively, I establish a robust documentation process that includes clear naming conventions, version control, and regular updates. I prioritize organization and consistency, ensuring that documentation reflects the most current project status and adheres to both in-house standards and regulatory guidelines.
5. Question: Could you share an example of a challenging situation you encountered during the end-to-end CDM process and how you successfully resolved it?
Answer: Certainly. In a recent project at GHI Pharmaceuticals, we faced unexpected delays due to data discrepancies identified during the statistical review phase. I promptly gathered the relevant team members, including statisticians and database programmers, to address the issues. By analyzing the discrepancies, communicating effectively, and implementing corrective actions, we were able to resolve the discrepancies, revalidate the data, and maintain project timelines, ensuring a successful database lock and subsequent milestones.
Remember, these sample answers are provided to assist you in your preparation. Tailor your responses to your actual experiences and qualifications to present yourself accurately during the interview.
Subscribe Rasayanika for more Chemistry and Pharma job updates.