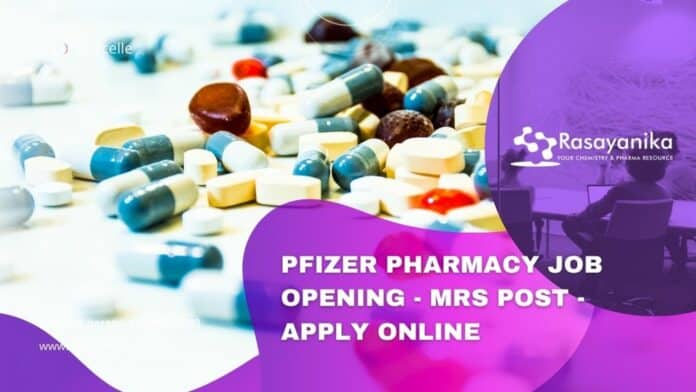 Pfizer pharmacy job opening 2023, Pharma job opening 2023, B Pharma job opening 2023, M Pharmacy job opening 2023, Intrested and eligible candidates may check out all the details on the same below:
Job Title: Associate Medical Manager, Medical Review Services (MRS)
Education:
Graduate/Post-graduate/ Doctorate degree in life sciences/Pharmacy/Medical sciences or equivalent degrees.
Experience:
2 to 3 years relevant experience for medical graduates, PhDs & masters in life sciences/ more than 6 years relevant experience for science graduates.
Minimum 2 year of experience in medical writing/review within an agency, CRO, Pharma / Biotech Company.
Experience in collaborating with Global stakeholders and managing stringent timelines.
Prior experience in medical content creation or promotional material review is preferred.
Prior experience in conducting medical reviews or QC of regulatory documents is preferred.
TECHNICAL SKILLS REQUIREMENTS
Review/QC skills: Excellent review or QC skills. Experience in promotional material review or content review would be an asset.
Analytical skills: Proficiency in analyzing scientific claims and checking the same against the references. Familiarity with statistical/epidemiologic principles and concepts is desirable. Conducts and interpret analyses and interpret routine medical and safety analyses without guidance from team members.
Language skills: High fluency in written English and strong functional fluency
in spoken English.
Personal skills: Strong organizational skills and ability to prioritize multiple projects and meet deadlines.
Interpersonal skills: Effective influencing and negotiating skills, including when appropriate an ability to guide decision-making for document content strategy. Ability to work well with all levels and roles in cross-functional, global teams. Ability to mentor more junior colleagues and external vendors.
Regulatory knowledge: Familiarity with global regulatory guidance especially International Conference on Harmonization (ICH), Food and Drug Administration (FDA) and European Medical Agencies (EMA) relevant to clinical and safety.
Software: Previous experience with software commonly used to present and analyze data (Word, PowerPoint, Excel) is preferred.
Synthesize analyses of medical and scientific data into clearly written text without supervision. Understands medical concepts of the disease and the specific approach to treatment.
POSITION SUMMARY
Associate Medical Manager, Medical Review Services supports Global Medical Affairs team and Global Medical Leads by performing medical pre-review (reference check) of promotional, above brand materials, as well as sales training material. This involves active internal and external stakeholder engagement to coordinate and perform pre-review of materials.
The Pfizer Biopharmaceuticals Group (PBG) Business Units (BUs) (global and US) like Hospital, Oncology, Internal Medicine, Rare Diseases, Vaccines and Inflammation and Immunology are in scope for MRS reviews. The Associate Medical Managers will be part of a highly skilled and highly qualified team of reviewers driving excellence through application of sophisticated automation technology supporting reviews of materials.
POSITION RESPONSIBILITIES
Responsible for providing support to Pfizer Biopharmaceuticals Group (PBG) Business Units (BUs) Global Medical Affairs team and Global Medical Leads, will have the following responsibilities:
Pre-Medical Review:
Performs medical pre-review (reference check) of promotional, above brand materials including but not limited to Health Care Professional (HCP) promotional aids, Web/Social, training material, advertisements, consumer promotions, conventions/ meetings etc to ensure:
The claims are accurate, truthful, not misleading and aligned with Core Claims, Common Technical and/or other regulatory documents.
The references are adequate, and they fully support the relevant claims.
The claims are consistent with the specified reference label used.
Manages end-to-end pre-medical review for assigned therapy area sales training materials and relevant materials by Patient Health and Impact (PHI).
Conducts reviews independently with minimal supervision, in accordance with relevant internal SOPs and external regulatory guidance, alerting project teams in a timely manner of any definite or potential deviations.
Ensures the in-scope promotional, above brand and brand curriculum pieces are reviewed utilizing Automated Machine Learning outputs.
Ensures the correct Bot commands are executed to enable efficiency in reviews.
Supports scientific congresses through review of content and congress reports in GCMA.
Supports review of promotional material/training materials for products other than assigned allocation covering other BUs as well as other therapeutic areas in same BU based on bandwidth.Delivers assigned documents on or before deadline, alerting project teams in a timely manner of any anticipated delays, information gaps or potential shortcomings in quality.
Ensures delivery of all required activities are within expected timelines and on budget.
Pfizer Pharmacy Job Opening Looking for latest chemistry and Pharma job openings, follow Rasayanika Facebook and Telegram and subscribe to our youtube channel for the latest updates on chemistry and Pharma job.