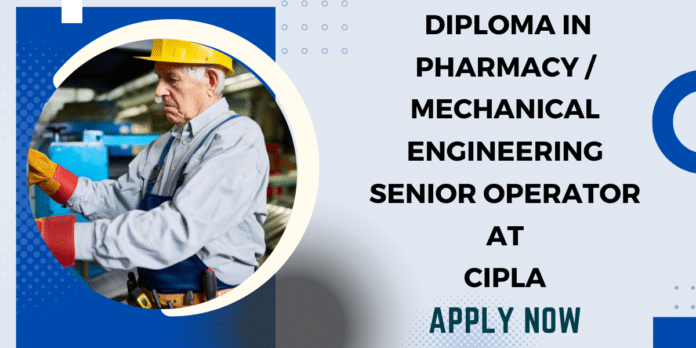 Exciting opportunities for the position Senior Operator at Cipla, Interested and eligible candidates check out all the details given the same below.
Job position: Senior Operator – Production.
Location: Goa, India
Division: Manufacturing
Employment Type: Permanent
Job Purpose:
Execute the production operations in line with safety and GMP requirements to meet the manufacturing targets in shift
Accountabilities
I. Operate the equipment efficiently without error and deviation as per SOP to meet shift targets
II. Provide suggestions for optimization of processes to manufacture quality product
III. Execute and update online documentation to meet cGMP requirements
IV. Deliver training to workmen and adhere cGMP and safety guidelines in production process to ensure smooth operations
Education Qualification
Diploma in Pharmacy / Mechanical Engineering
Qualifications we seek in you for Senior Operator at Cipla ! 
5 years of experience in a manufacturing organization preferably in pharmaceutical industry
Competencies/Skills
Communication Skills (clarity of thought, comprehension)
Likely potential for growth
Job / Product / Technical Knowledge / Pharma domain knowledge
Presentation & Interpersonal skills (If applicable)
Managerial or People Management skills
Safety awareness (If applicable)
Relevance of Previous Experience
Comprehension, Analytical & Problem solving abilities
Productivity & Result Orientation (If applicable)
Attitude
Qualification fitment
Sales drive (If applicable)
Personality traits (Individualistic / Team player, Out spoken, Maturity level etc.)
Possible interview question we may ask for Senior Operator at Cipla
Can you explain your role as a Senior Operator in a manufacturing organization, especially in the pharmaceutical industry?Answer: As a Senior Operator, my primary responsibility is to ensure the efficient and safe operation of production equipment according to Standard Operating Procedures (SOPs). I contribute to meeting manufacturing targets, adhering to cGMP requirements, and maintaining a strong focus on safety. I also provide suggestions for process optimization and deliver training to workmen to enhance the overall production process.
Could you share an example of how you've optimized a production process to enhance product quality?Answer: Certainly. In one instance, I noticed a bottleneck in a particular production step that was affecting efficiency. I collaborated with the team to reconfigure the workflow and adjust certain parameters. This resulted in improved throughput and higher product quality without compromising safety or compliance.
How do you ensure that your production operations are compliant with cGMP requirements and safety guidelines?Answer: Ensuring compliance with cGMP and safety guidelines is a top priority. I meticulously follow documented procedures, perform regular checks, and update online documentation in real-time. I also take the initiative to provide training to my colleagues on the importance of adhering to these guidelines.
Can you describe a situation where you had to address an unexpected deviation in the production process? How did you handle it?Answer: Once, during a production run, I observed a deviation in the output due to a calibration issue with a critical instrument. I immediately halted the process, informed the supervisor, and worked with the maintenance team to rectify the problem. By addressing the issue promptly, we minimized any potential impact on the final product.
How do you ensure that your team follows safety protocols in a manufacturing environment?Answer: Safety is a shared responsibility, and I lead by example. I consistently wear appropriate personal protective equipment (PPE), encourage my team to do the same, and ensure that all safety protocols are followed rigorously. I also actively participate in safety drills and training sessions to create a culture of safety awareness.