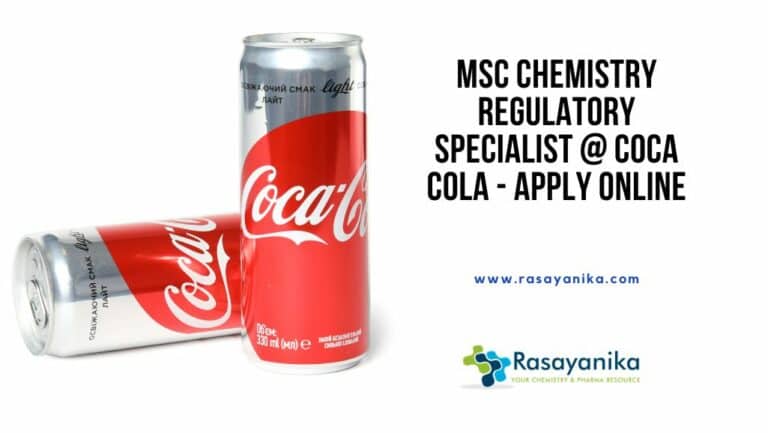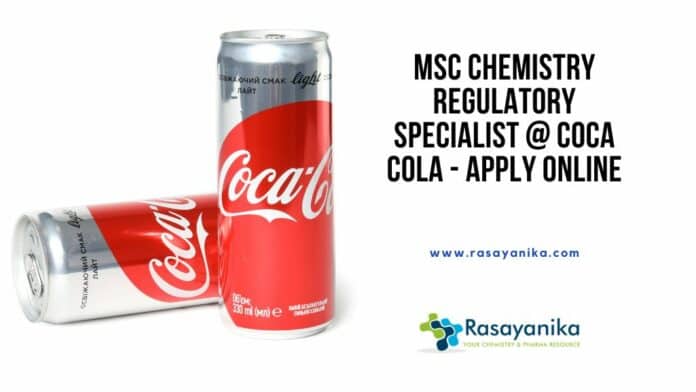 MSc Chemistry Regulatory Specialist. Coca-cola job opening 2023, chemistry job opening 2023, Coca cola chemistry job opening 2023, Specialist job opening. Intrested and eligible candidates may check out all the details on the same below:
Job Title: Formula and Regulatory specialist
Reports to: QSE Manager
Manager Name: QSE Manager
Division: Commercial Products Supply (CPS) India
Job Summary:
Key roles and responsibilities of this position
This position is a key role in the QSE team in the Plant and is the final custodian of the correctness of the Bill of Materials (BOM) & master data setup which will define the product made by the Plant is in accordance to the approved formula issued by Corporate through the Country of Sales Document (COSD).
The key focus of this role is to setup, review and cross validate BOM setup & master data in situation such as but not limited to new product launches /revised country of sale / reformulations / test packs / amendment to formula / changes to pack configuration/Bill of Material updates / textual changes on labels / discontinuation / supply point shifts / outside supply business and business continuity programs. The position will need to setup:
Execute activities related to design, creation, extension, data consolidation and validation of master data.
Responsible for data lifecycle management and providing relevant analytics to the Global MDM team
Ensure In-process inspection for intermediates and finished products in SAP is correct
Provide formulation information to Operations to create recipe andinput special intructions in the Standard Mixing Instruction (SMI).
Ensure accuracy of manufacturing recipe in the Human Machine Interface program which control the batching of products.
Validate that the recipe and SMI will meet the design and capability of the equipment setup for manufacturing.
Generate the product label Master image and is the final approver for the accuracy of the product label to customers.
Generate & review SDS to meet custom requirements for shipment of products.
Eligibility Criteria
Master is Chemistry, or equivalent.
Working experience – Minimum 6-8 years in manufacturing company in similar positions. Should have knowledge of Food safety and production line knowledge in CPS OR should know manufacturing workflows, knowledge of processes in food industry. Hands on SAP knowledge and MDM work experience.
Company ("System") knowledge, such as organizational structures, policies, Product Approval Request , Product Stewardship, Regulatory, customers(BU's) and other stakeholders (suppliers and bottlers).
The job requires accuracy, discipline, consistency, and pro-activity in all duties to deliver on time.
Technical Knowledge – Good knowledge of central and local Govt. regulatory requirement related to food Safety, import and export related to food regulation. Knowledge of various labelling requirements of food items. GHS, GLS, Allergen, GMO, PICASSO,KORE, GMP, etc.
Knowledge of food ingredients, packaging, Data analysis and reporting.
Various standards like BIS, JECFA, Pharmacopeia, HALAL , KOSHER, etc requirements.
Analytical Ability – Support in decision making by providing accurate data. about Trends, Internal auditing.
Interpersonal relationships – Networking and Wworking with others. Shows respect, trust and good team member.
Communication –
Planning and Organization – Set priorities and organized for meeting timelines
Influencing – Accepts other views and implement required solution yet in agreement of others. Takes the view of others.
Ability to apply technical knowledge and establish credibility with highly technical audiences in order to build relationships
Ability to recognize and protect proprietary information as it relates to formulas and ingredients
Attention to detail and focused work with full concentration to avoid any error / mistake in MDM/BOM/ Recipe
Decision making ability and effective communication,
Collaborate and contribute to the success of the team, tolerance to stress, manage
workload, take risks, and develop positive work relationships with external areas.
Organization Impact/Influence:
This position works closely with senior management and plant's associates in providing safety & environment recommendations to comply with requirements. Interactions include, but not limited to:
Internal interactions:All functions
External interactions:
CPS SRA / MDM Team
Product Portfolio team
Local Government Authorities for Food safety and FDA (as required).
Third parties service providers
Professional bodies / consultants/Third party labs to improve food safety regulations
MSc Chemistry Regulatory Specialist Looking for latest chemistry and Pharma job openings, follow Rasayanika Facebook and Telegram and subscribe to our youtube channel for the latest updates on chemistry and Pharma job