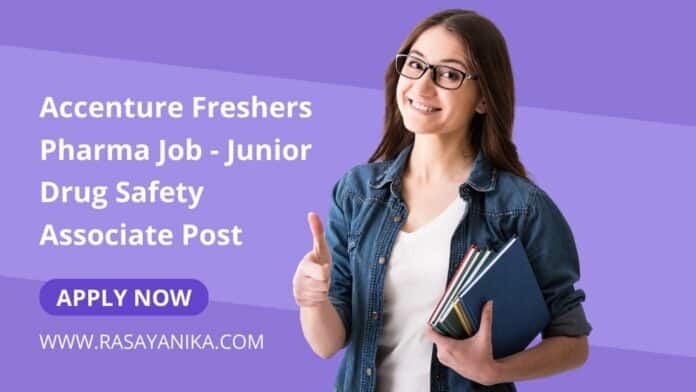 Freshers job opening 2023, Pharma job opening 2023, Pharmacovigilance job opening at Accenture, Accenture freshers job opening 2023, B Pharma job opening 2023, M pharma job opening 2023, Intrested and eligible candidates may check out all the details on the same below:
Skill required: Pharmacovigilance – Pharmacovigilance & Drug Safety Surveillance
Job Title: Junior Drug Safety Associate
Job Location: Bengaluru
Qualifications: Bachelor of Pharmacy/BSc/Master of Pharmacy
Years of Experience: 0 to 1 years
What would you do?
You will be aligned with our Life Sciences R&D vertical. Our services span across the entire life sciences enterprise, from research laboratories, clinical trials support, and regulatory services, to pharmacovigilance and patient services solutions. Employees under this span will be a part of one of the sub-offerings – Clinical, Pharmacovigilance & Regulatory, helping the world's leading biopharma companies bring their vision to life – enabling them to improve outcomes by converging around the patient, connecting scientific expertise with unique insights into the patient experience.
Responsible for the evaluation and processing of Adverse Events in the Global Safety Database within agreed timeframes and to a high standard of accuracy, in compliance with standard operating procedures and global regulatory requirements. You will be part of a dynamic Pharmacovigilance team with array of capabilities ranging from detection, assessment, understanding and prevention of adverse effects or any other medicine/vaccine related problem following Good Pharmacovigilance Practice (GVP) per client SOPs and applicable global regulatory requirements (Individual Case Safety Reports) to working on various aspects of Aggregate reports such as planning, authoring, reviewing and publishing of PBRER, PSUR, DSUR, PADER, Addendum to clinical overview (AdCO), Risk Management Plan (RMP), Signal detection and validation reports (SDVR), Cosmetovigilance Safety Reports (CoSR).
The Pharmacovigilance team is also responsible for authoring and reviewing clinical documents such Protocols and amendment, Investigator Brochure, Clinical Study Reports (CSR), Synoptic/Abbreviated CSR, Safety Narratives, Clinical Overview/abbreviated Clinical Overview. In this role, you will be expected to create and manage case identification, data entry, MedDRA coding, case processing, submission, and follow-ups for ICSRs in the safety database as per client guidelines and applicable global regulatory requirements.
What are we looking for?
• Adaptable and flexible
• Detail orientation
• Commitment to quality
• Ability to work well in a team
• Agility for quick learning Educational and Experience Requirements:
• Minimum of Bachelor's degree in Health Sciences; Bachelor's Degree in Life Science with relevant Pharmacovigilance experience
• A minimum of 1 years' experience in pharmaceutical or clinical research preferred.
• Knowledge of medical terminology including knowledge of applicable dictionaries like MedDRA and WHO-Drug
• Good medical writing skills
• Good Communication Skills
• Analytical Ability
• Strong English Language proficiency
Roles and Responsibilities
Responsibilities/Authorities
• Prioritise case processing activities for ICSRs in accordance with project guidelines, Regulatory due date and TAT SLAs and KPIs.
• Processing and evaluation of Individual Case Safety Reports
• Consistent data entry and processing from source documents, adhering to timelines and quality.
• Confirm accurate and consistent coding of medical history, drugs and adverse event terms.
• Assess adverse event reports for seriousness, causality and expectedness as per applicable labeling, consulting the Medical Reviewer whenever needed.
• Alert the Medical Reviewer of potential safety issues and assist the Medical Reviewer in monitoring the safety profile of product as appropriate.
• Determine if any additional information is needed for clarification, or if any follow-up is necessary, and take all relevant steps to obtain any additional/missing information as stated in the relevant Project SOP.
• Archive all communications/clarifications related to the Case in the Global Safety Database.
• Initiate and handle case deletions/ nullification as appropriate.
• To participate in audits or inspections.
• Open to get trained and moved across roles based on business requirement.
• Training and mentoring to new associates.
• Authoring of process documents.
Accenture Freshers Pharma Job Looking for latest chemistry and Pharma job openings, follow Rasayanika Facebook and Telegram and subscribe to our youtube channel for the latest updates on chemistry and Pharma job