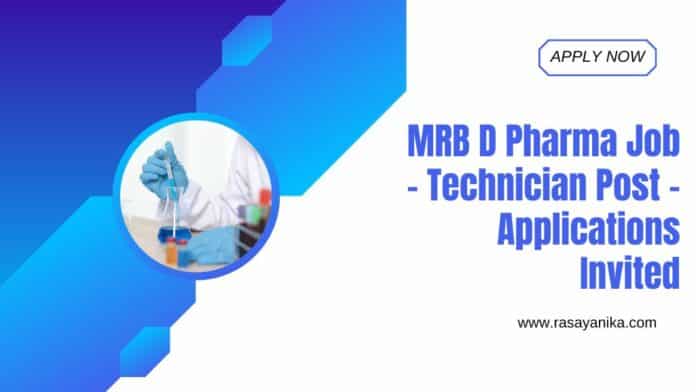 Applications are invited only through online mode up to 21.08.2023 for direct recruitment on temporary basis to the post of Technician Grade- I, Drug Testing Laboratory, Chennai (Non Transferable Post) in Tamil Nadu Medical Subordinate Service.
Job Title: Technician Grade – I
( Non Transferable Post)
Salary: Rs.35,400 – 1,12,400
(Pay Matrix Level-11)
No.of posts: GT – G – 01
Eligbility Criteria: 
Only candidates with Diploma in Pharmacy alone are eligible to apply for the post as per rules and requirement of the Director of Drug Control, Chennai.
PROCEDURE OF SELECTION:
Selection will be made based on the marks scored by the candidates in their academic
and technical qualification(s) for the post of Technician Grade I duly following the rules of
reservation and communal rotation issued by the Government of Tamil Nadu. There will
be no oral test (Interview) for the post.
ON-LINE REGISTRATION:
a. Interested and eligible candidates are to visit the Medical Services Recruitment
Board's website www.mrb.tn.gov.in and familiarize themselves with the detailed
notification.
b. On the Home Page, click "Online Registration" to open up the On-Line Application
Form.
c. Select the name of the post of Technician Grade – I.
d. All the required particulars be entered
without skipping any field.
e. Mobile number and e-mail are mandatory; you are also requested to provide
alternate secondary Mobile No., Landline number as well. All communication
from MRB will be sent only to the registered primary mobile number by SMS
and to the registered e-mail only and by no other means.
f. Candidates are required to upload their scanned copy of colour photograph (not
exceeding 500 kb in size) and scanned copy of signature (not exceeding 200 kb
in size) as per the specifications given in the Guidelines for Scanning and Upload
of Photograph and Signature. An online application is incomplete without the
Photograph, Signature upload.
g. The candidates need to apply only in online mode. They shall not send copies
of certificates / printed application to MRB. In the online application, candidates
need to furnish the details such as: Community Certificate number; Issuing
Authority; Date of issue, in support of the claims made with regard to community
failing which the application will not be considered.
h. Candidates need to verify their eligibility for the post before submitting their online
application. If a candidate furnished wrong information, action will be taken by
MRB to debar such candidate from the future exams/recruitment, apart from
other legal actions. Please read the instructions on "How to Apply On-line" in Annexure-1
Last date for submission of Application (Online Registration & Online payment) 21.08.2023
View Main Notification
MRB D Pharma Job MRB D Pharma Job Looking for latest chemistry and Pharma job openings, follow Rasayanika Facebook and Telegram and subscribe to our youtube channel for the latest updates on chemistry and Pharma job