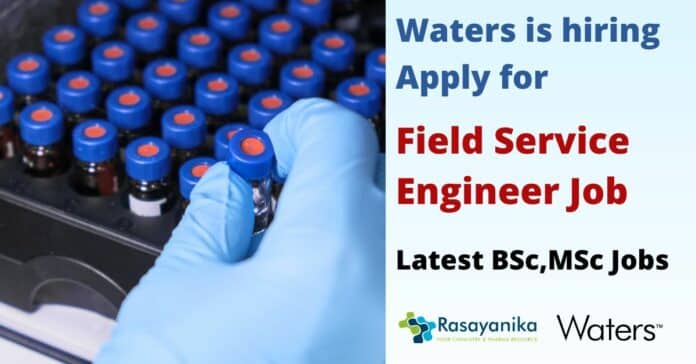 Field Service Engineer at Waters. Interested candidates can check the details below and apply online.
Job role: Field Service Engineer
Job ID: 19251
Location: IN-DL-New Delhi
Category: Field Service
Employment Type: Regular Full-Time
Company Name: Waters Division
Company Description
Waters Corporation (NYSE: WAT), the world's leading specialty measurement company, has pioneered chromatography, mass spectrometry and thermal analysis innovations serving the life, materials, and food sciences for more than 60 years. With more than 7,000 employees worldwide, Waters operates directly in 35 countries, including 15 manufacturing facilities, with products available in more than 100 countries. Our team focuses on creating business advantages for laboratory-dependent organizations to enable significant advancement in healthcare delivery, environmental management, food safety, and water quality.
Working at Waters enables our employees to unlock the potential of their careers. Our global team is driven by purpose. We strive to be better, learn and improve every day in everything we do. We're the problem solvers and innovators that aren't afraid to take risks to transform the world of human health and well-being. We're all in it together delivering benefit as one to provide the insights needed today in order to solve the challenges of tomorrow.
Overview
As Field Service
Engineer, you are an ambassador of Waters and will bring to the market Waters' products and services. The candidate will demonstrates a clear grasp of understanding the customers' business and its growth plans and is able to take that knowledge and convert that into a solution and offering from Waters, with a primary aim of bringing "customer success". This position brings a great degree of flexibility working in the field. The role will be designated to either a territory and/or markets.
Responsibilities:
Installation, performance maintenance, troubleshoot and support Waters' product suite (LC, LC/MS, HPLC/UPLC, SFC, Informatics)
Establish and maintain effective relationships with external and internal customers ensuring their success
Manage customer expectations, by communicating work performed and providing follow up plan if needed
Ensure customer compliance regulations are followed
Deliver system level training at customer sites
Manage service inventory according to Waters policies
Issue field service reports daily to document work performed
Maintain sound knowledge regarding the technology and customers' application demands
Work with Sales team in respect to identifying future business development opportunities and needs for service contract sales
Ensure that quality system procedures and Health & Safety standards are adhered to at all times
Qualifications
Education: Bachelors/Masters Degree in Chemistry or Biology, engineering or other science related field is desired, will also consider applications with equivalent experience, training and education
Experience:
3 years of experience with installation, performance maintenance, troubleshooting, support and/or end user utilization of scientific instrumentation, preference for previous Waters product suite (LC, LC/MS, HPLC/UPLC, SFC, Informatics)
Ability to perform effective system level troubleshooting
Understanding of the scientific application workflow along with the scientific software systems (CDS, SDMS, LIM, ELN)
Skills required for Field Service Engineer at Waters:
Must possess a strong customer focus
Strong communication skills; ability to communicate effectively to a diverse audience with specific customer needs
Personal sense of integrity
Effective time management skills
System level approach to problem solving
Analytical mindset with a strong drive to resolve open issues
Excellent verbal and written communication skills
Travel:
This is a territory-based position with travelling within your designated territory, and occasional travels to other countries for activities such as governance of department, local business support, meetings and training.
Diversity and inclusion are fundamental to our core values at Waters Corporation. It is our responsibility to actively implement programs and practices to drive inclusive behavior and increase diversity across the organization. We are united by diversity and thrive on it for the benefit of our employees, our products, our customers and our community. Waters is proud to be an equal opportunity workplace and is an affirmative action employer. We are committed to equal employment opportunity regardless of race, color, religion, sex, national origin, sexual orientation, age, marital status, disability, gender identity or protected Veteran status.
Here are five interview questions with answers for the job role of Field Service Engineer at Waters:
1.Can you describe your experience with scientific instrumentation, particularly with Waters' product suite such as LC, LC/MS, HPLC/UPLC, and SFC?
Answer: During the past three years, I have gained valuable experience in installing, maintaining, troubleshooting, and supporting various scientific instruments, including Waters' product suite. I am well-versed in the operation and maintenance of LC, LC/MS, HPLC/UPLC, and SFC systems, and I have successfully resolved several complex issues related to these instruments. My knowledge of Waters' product suite and its software systems (CDS, SDMS, LIM, ELN) allows me to provide effective system-level troubleshooting and support to customers.
2.How do you approach building and maintaining effective relationships with customers?
Answer: Building and maintaining effective relationships with customers is crucial for success in this role. I believe in a customer-centric approach where I actively listen to their needs, concerns, and feedback. I strive to understand their unique business requirements and work towards delivering solutions that meet their expectations. Regular communication and follow-ups ensure that customers feel supported and valued. By being responsive, reliable, and demonstrating a personal sense of integrity, I foster long-term relationships built on trust and mutual respect.
3.How do you handle customer compliance regulations during your service visits?
Answer: Ensuring compliance with customer regulations is a top priority for me. Before every service visit, I thoroughly review the specific compliance requirements applicable to the customer's location and industry. During the service visit, I adhere to all relevant protocols, standards, and safety guidelines. Additionally, I document the work performed and any relevant follow-up plans, ensuring full transparency and accountability. By maintaining a keen eye on compliance measures, I contribute to customer satisfaction and maintain Waters' reputation as a trusted and compliant partner.
4.Can you provide an example of a challenging troubleshooting situation you faced with a scientific instrument and how you resolved it?
Answer: One challenging situation I encountered involved an LC/MS system malfunctioning intermittently, leading to inconsistent results for the customer's critical analyses. To address the issue, I took a systematic and methodical approach. I thoroughly reviewed the system logs, instrument diagnostics, and performance data to identify patterns and potential causes. After eliminating various possibilities, I focused on the sample introduction system, where I discovered a partially clogged inlet needle causing irregular flow. I cleaned and replaced the faulty part, and the system returned to normal operation, producing consistent and reliable results for the customer.
5.How do you approach time management when handling multiple service requests and commitments?
Answer: Effective time management is vital in the field service role, especially when dealing with multiple service requests and commitments. I prioritize tasks based on urgency and customer impact. I plan my schedule efficiently, ensuring adequate travel time between locations. To avoid delays, I keep a well-organized inventory of essential parts and tools, allowing me to address common issues promptly. By maintaining open communication with customers and the internal team, I manage expectations and provide realistic timelines for service completion. My system-level approach to problem-solving enables me to resolve issues efficiently, ensuring I meet deadlines and deliver a positive customer experience.
Field Service Engineer at Waters.
Stay tuned on RASAYANIKA for more chem and pharma related job updates.