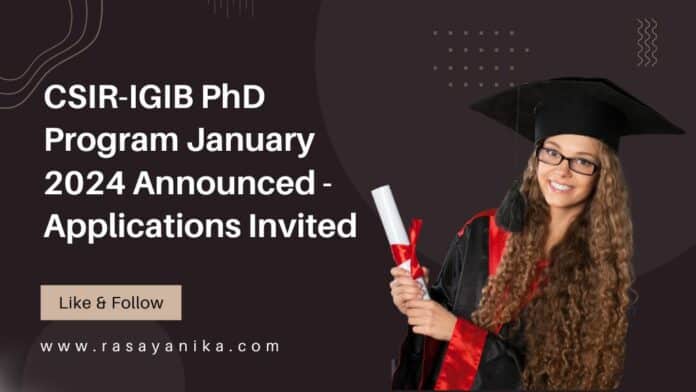 The CSIR-Institute of Genomics and Integrative biology (CSIR-IGIB) invites applications from bright young individuals from diverse backgrounds with strong motivation and good academic credentials to pursue research in the frontier areas of modern biology leading to a PhD degree. The broad interdisciplinary research areas are chemical and biology systhesis
PhD students in CSIR-IGIB are enrolled in the Academy of Scientific and Innovative
Research (AcSIR) and the degree will be awarded by AcSIR.
Are you eligible to apply for PhD at CSIR-IGIB?
Educational Qualifications
A candidate must have obtained at least 60% in their XII standard board examination. Please convert CGPA grades to percentage.
A candidate must have
 Masters (M.Sc/M.Tech/M.Pharm) with at least 60% in any branch of
Chemistry or allied subjects with special interest in Biology. Please convert CGPA grades to percentage. OR
B.Pharm/B.E./MBBS candidates with at least 60%. Please convert CGPA grades to
percentage.
 An SC/ST/OBC (non-creamy) candidate must have at least 55% in the highest qualifying exam (same as above) and in the XII standard board examination.
 Candidates who are awaiting results for the highest qualifying examinations are eligible to appear for interviews, but their admission is subject to clearing all the eligibility criteria at the time of admission.
Fellowship
A Candidate must hold a valid (at the time of joining) fellowship certificate. Fellowship can be CSIR-UGC(JRF)/DBT(JRF)/ICMR-JRF or the equivalent).
 Fellowship conditions should allow the candidate to work in CSIR Laboratories and on CSIR projects.
 B.Tech/BPharm/B.E students who fulfil the conditions for GATE-JRF fellowship
(http://csirhrdg.nic.in/gate.html) are also eligible.
 GATE score is NOT a valid fellowship criteria for MSc/MTech candidates
Age Limit
 Upper age limit is 28 years (as on 20th September 2023)
Age limit is relaxed for women, SC/ST/OBC (non-creamy)/physically handicapped persons as per Govt. of India rules in this regard.
How to apply
1. Please register at the AcSIR admission portal (https://acsir.res.in/admissions/)
2. Things to keep handy before you start filling in the CSIR-IGIB application form
a. Your AcSIR application number (AAN) e.g. AcSIR12345
b. A digital passport photograph NOT more than 2MB in size.
c. Details of your educational qualifications (marks, subjects, university, year of passing,
etc). Please convert CGPA grades to percentage.
d. Fellowship details.
e. Your net banking details or Credit/Debit card details for online payment. Application
requires a non-refundable application fee of Rs 1000/- [Rs 500/- for SC/ST/OBC (noncreamy) candidates].
f. A succinctly written research proposal (see below on how to write the research proposal)
How to write the research proposal
The research proposal does not have to be related to the work you will actually do in the PhD.
 The proposal will be used to evaluate your scientific aptitude.
 The proposal should address these points.
 Title of the proposal
 Introduction on the problem.
 What is not known?
 How do you aim to solve it?
If needed, you can add a one-page hand-drawn/ computer-made schematic diagram
 The total proposal must be less than 1500 words (excluding the figure).
 The whole proposal (with figure) file should be a single PDF file.
Now you are ready to start the application
3. Please click here to start applying to CSIR-IGIB PhD Program.
Please note, if you do not meet the eligibility criteria you will not be able to submit the
application form.
4. After you have uploaded your photo, details and the research proposal you will be led to a page to confirm the details.
5. After confirmation you will be prompted to pay the application fee.
6. Once payment is successful you will be redirected back to our site for the transaction and registration details. In case the payment goes through but you have not obtained your
registration details, please DO NOT initiate another payment. If you do not get registration
details and an email from us, please write to us with your details.
7. Your admit card will be automatically send to your registered email address
In case of any difficulty or confusion please email us at [email protected]
SELECTION The CSIR-IGIB interviews will be held IN-PERSON At CSIR-IGIB South and North Campuses Delhi
Eligible candidates who completed the application form and paid the application fee would have received an email with the admit card for appearing in interviews at CSIR-IGIB, Delhi.
Interviews
The interviews are aimed at assessing the suitability of the candidate for the PhD program at CSIR-IGIB.
 The candidate will be evaluated for their ability to comprehend, analyse and reason.
 The research proposal submitted with the application form will also be used to assess the suitability of the candidate for the PhD program.
 The candidates should be ready to make a short 5-minute presentation (no slides) based on their research interest and research proposal submitted.4
 The names of the candidates eligible to join CSIR-IGIB PhD program will be declared on the institute website within a week of the interviews.
 The selected candidates are required to join CSIR-IGIB before the last date of joining intimated to avoid cancellation of the selection.
 Admission into the CSIR-IGIB PhD Program of AcSIR is subject to the verification of all
documents ensuring eligibility. Non-fulfilment of the eligibility criteria can result in cancellation of the candidature at any stage of admission process.
 At the time of admission all selected candidates are required to pay a non-refundable fee (Rs 10,000 for general category and Rs 5,000 for SC/ST/non-creamy OBC candidates).
 No TA/DA will be paid at any stage of the selection or admission process
 The decision of the Admission Committee will be final and binding and no correspondence will be entertained in this regard. Canvassing of any form and/or bringing in any influence will be lead to disqualification.
 Candidates who have already activated JRF fellowships elsewhere must furnish a consent letter from appropriate authority for transfer of fellowship. Without this the candidate will be NOT be deemed eligible.
Before you start please ensure:
To register your candidature on the AcSIR admission portal
(https://acsir.res.in/admissions/)
Select CSIR-IGIB as one of the preference, in AcSIR registration form.
 Please note AcSIR portal closes on 17 September 2023
 AcSIR application number (AAN) e.g. AcSIR12345, is mandatory to register for PhD
program at CSIR-IGIB
CSIR-IGIB PhD Program Looking for latest chemistry and Pharma job openings, follow Rasayanika Facebook and Telegram and subscribe to our youtube channel for the latest updates on chemistry and Pharma job