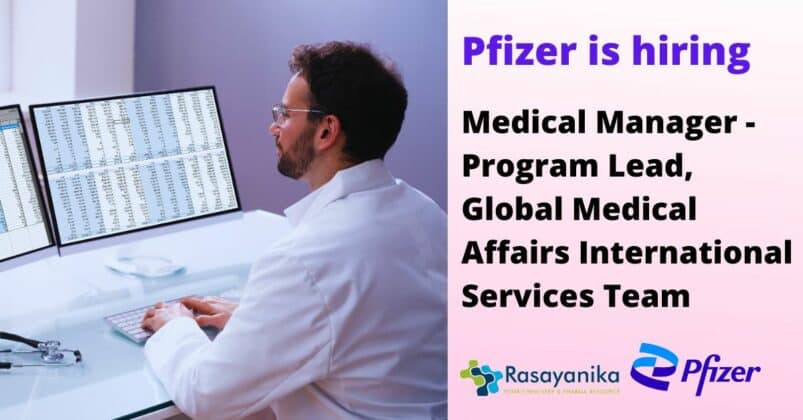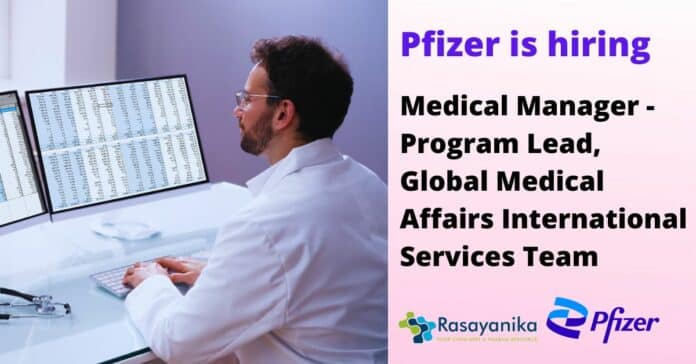 Medical Manager at Pfizer. Interested students can check the details below and apply online.
Job role: Medical Manager – Program Lead, Global Medical Affairs International Services Team
Job ID: 4884393
Job location: India – Mumbai, India – Remote
Employment type: Full time
About Us:
Pfizer careers are like no other. In our culture of individual ownership, we believe in our ability to improve future healthcare, and potential to transform millions of lives. We're looking for new talent to join our global community, to unearth new innovative therapies that make the world a healthier place.
Responsible for providing support to Global Medical Excellence & Innovation (GME&I), Global Technology & Engineering (GT&E), Worldwide Safety and Regulatory teams, specifically:
Supervise the combination product post-production periodic review program, and ensure high quality of all the required deliverables within expected timelines.
Provide strategic guidance to the associates, and review the activities associated with the maintenance phase of combination products.
Independently author high quality deliverables to support combination product post-production periodic review and activities associated with the maintenance phase of combination products.
Coordinate/assemble information which may be sourced from functions outside GT&E.
Independently research literature databases (PubMed/EMBASE), and internal and external repositories to support the evaluation of the benefit-risk of Pfizer products.
Evaluate competitive landscape and on a periodic basis analyze changes to the state-of-the-art.
Review the produced documents for relevance and compliance with respect to:
Design Changes
Commitment Tracking (CT) Records
Competitor information
Corrective and Preventive Action (CAPA)
Supplier Corrective Action Request (SCAR)
Complaint Trends review by product with a deep-dive into Device Engineering Investigation data
Market Actions
Perform Risk Management File reviews as part of Post-Production Combination product review.
Actively trains/mentors team members for the effective execution of assigned tasks and goals.
The Senior Medical Manager supports and partners with cross functional stakeholders including GT&E, Quality, Safety, Regulatory, and Global Medical Affairs by:
Develop and sustain constructive relationships within other Pfizer lines including country organizations.
Explain and defend data analyses before internal and external (including Regulatory Authority) audiences.
Collaborate with other lines and relevant project team subject matter experts, ensuring the accuracy and quality of information presented in assigned documents.
Deliver assigned documents on or before deadline, alerting project teams in a timely manner of any anticipated delays, information gaps or potential shortcomings in quality.
Understand relationships and dependencies between documents and analyses.
Assessing document requirements, gauging document complexity, and identifying information gaps or other potential issues.
In collaboration with the GT&E Lead, the Senior Medical Manager is expected to discuss the strategies to resolve any identified issues.
Ensure clear, factual, effective, and appropriately concise presentation of analyses and associated discussions in assigned documents.
To work collaboratively with team members and to align with agreed timelines.
Effectively manage own time and workload.
Deliver assigned documents on or before deadline, alerting project teams in a timely manner of any anticipated delays, information gaps or potential shortcomings in quality.
REQUIRED SKILL SET:
Technical:
Regulatory knowledge: Familiarity with global regulatory guidance especially:
International Conference on Harmonisation (ICH), Food and Drug Administration (FDA) and European Medicines Agency (EMA)
AAMI TIR105 Risk management guidance for combination products
ISO 13485:2016 Medical Devices-Quality Management Systems—Requirements for Regulatory Purposes
US Food and Drug Administration (FDA) regulations published in 21 CFR part 820.30
ISO 14971:2019 Medical Devices-Application of Risk Management to Medical Devices
ISO/TR 24971:2020 Medical Devices-Guidance on the Application of ISO 14971
Writing skills: Excellent scientific writing skills, including an ability to summarize and interpret complicated data effectively, concisely and persuasively.
Analytic skills: Utilize tools such as OvidSP and other bibliographic databases such as PubMed, Embase, and Biosis. Ability to examine data, formulate reasonable hypotheses, and design and execute analyses to test them.
Language skills: High fluency in written English and strong functional fluency in spoken English.
Personal skills: Strong organizational skills and ability to prioritize multiple projects and meet deadlines.
Interpersonal skills: Effective influencing and negotiating skills, including when appropriate an ability to guide decision-making for document content strategy. Ability to work well with all levels and roles in cross-functional, global teams.
Software: Previous experience with software commonly used to present and analyze data and experience with searching academic databases. (Word, PowerPoint, Excel) is preferred.
Managerial: Reports directly to the GMAIST Lead, Medical Devices and Combination Products.
Works closely with GT&E and Quality team colleagues at regional and global level.
Certifications for Medical Manager at Pfizer: NA
Education: Graduate/Post-graduate/ Doctorate degree in life sciences/Pharmacy/Medical sciences/Biomedical Engineering or equivalent degrees.
Experience:
Medical writing experience in the medical devices and/or combination products domain is mandatory.
7 years relevant experience for medical graduates and PhDs; 9 years relevant experience for science graduates/biomedical engineers.
Minimum 5 years of experience in medical writing within an agency, CRO, Pharma / Biotech Company.
Prior experience as a team manager is mandatory.
Prior experience in using search tools, developing search strings and assessing search results is preferred.
Work Location Assignment: Flexible
Pfizer is an equal opportunity employer and complies with all applicable equal employment opportunity legislation in each jurisdiction in which it operates.
Medical
#LI-PFE
Possible interview questions with answers for Medical Manager at Pfizer:
1.Can you explain your experience in medical writing for medical devices and combination products?
Answer: Sure! I have been working in the field of medical writing for over 7 years, specifically focusing on medical devices and combination products. During this time, I have honed my skills in summarizing and interpreting complex data effectively to create high-quality documents that adhere to global regulatory guidelines, such as ICH, FDA, and EMA.
2.How do you ensure the accuracy and quality of information presented in your assigned documents?
Answer: Ensuring accuracy and quality is paramount in my role. I rely on my extensive knowledge of regulatory guidelines and use tools like OvidSP and PubMed to conduct thorough research and analysis. I also collaborate closely with cross-functional stakeholders, subject matter experts, and project teams to review and validate the information presented in the documents.
3.Can you describe a situation where you had to resolve potential issues or delays in document delivery?
Answer: Certainly! There was a complex project where we encountered unexpected delays due to missing data from a critical study. To address this, I proactively communicated with the project team, identified alternative data sources, and proposed a revised timeline. Through effective communication and collaboration, we managed to overcome the setback and delivered the document on time.
4.How do you handle the workload and prioritize multiple projects effectively?
Answer: Time management is essential in my role as a medical manager. I begin by assessing document requirements and complexity, then prioritize projects based on deadlines and criticality. I maintain open communication with project teams, alerting them of any potential delays, and ensure that I manage my time efficiently to meet all deliverables on or before the deadline.
Medical Manager at Pfizer
Stay tuned on RASAYANIKA for more chem and pharma related job updates.