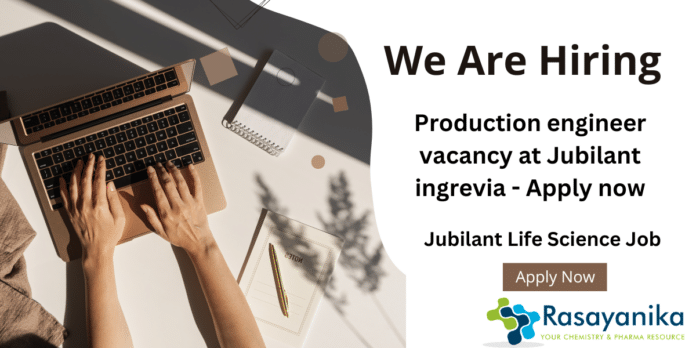 Jubilant Life Sciences Limited is one of the India's leading corporate and a highly treasured brand throughout the world. The organization has a presence in the fields of Pharma and Life Sciences, Agri & Performance Polymers, Food & Retail, Oil & Gas and Services. Applications are invited for the post of production engineer at Jubilant for BE BTech Chemical Engineering. BE Chemical Engineering Job details are given below. Apply online now for BE Chemical Engineering Job.
Position – Senior engineer-Production
Location – Nira, Maharashtra
Summary of Job – To execute the production in the shifts as per the production plan in a manner so as to ensure compliance to quality, safety & regulatory requirements & to maintain the cost within budget.
Key Responsibilities for BE Chemical Engineering Job :
Controlling all operating parameters for smooth running of the plant in the shifts.
Maintaining logbook and shift report.
Preparation of the daily production report and commercial report.
Compliance with company EHS policy in all aspects of production during the shift operations.
Safety of man and machine and house keeping of the plant.
Avoiding any abnormality in the plant by frequent checks.
Ensuring strict adherence to permit system.
Implement the recommendation of WCM and ISO points in the shifts.
Job allocation to technician and monitoring the work done.
Training of production chemist / technicians for better operations.
Knowledge of chemical reactions like distillation, fermentation and centrifuging.
Working Knowledge of operation of pumps, compressors, blowers, safety valves and control valves.
Exposure in preparing SOP's and WI's of the concerned area.
Understanding and experience of manpower handling.
Experience in DCS / PLC based control systems in plants.
B.E / B. Tech – Chemical Engineer with 4 – 6 years or
Diploma Chemical with 6- 8 years of experience in continuous chemical process.
You are provided with the interview question and answers that are expected for your interview for the BE Chemical Engineering Job. Good luck with your interview!!!
Question 1: Can you describe your experience in overseeing production operations and ensuring compliance with quality, safety, and regulatory requirements?
Answer: Certainly! In my previous role as a Senior Engineer-Production at XYZ Chemicals, I was responsible for managing the smooth running of the plant during shifts. I closely controlled all operating parameters to meet production targets while adhering to strict quality, safety, and regulatory standards. By implementing standard operating procedures (SOPs) and permit systems, I ensured a safe working environment and compliance with company EHS policies.
Question 2: How do you manage and allocate tasks to technicians to ensure efficient production operations?
Answer: As a Senior Engineer, I understand the importance of effective job allocation and monitoring. I review the production plan and allocate tasks based on individual strengths and expertise. Regular communication with technicians helps identify and address any challenges they may face during the production process. By providing clear instructions and support, I ensure the work is completed efficiently, contributing to a successful production outcome.
Question 3: Can you provide an example of how you have improved production processes to optimize costs while maintaining quality standards?
Answer: Certainly! In my previous role, I led a cost optimization project by analyzing the usage of raw materials and identifying areas of waste. Through process improvements and adjustments, we reduced material wastage by 15% and, as a result, brought down production costs. However, we maintained the same level of product quality, ensuring that the end product met all required specifications.
Question 4: How do you stay updated on the latest developments in chemical engineering and process control systems?
Answer: Continuous learning is essential in the field of chemical engineering. I actively participate in workshops, seminars, and industry conferences to stay informed about the latest advancements. Additionally, I subscribe to relevant technical journals and publications to keep abreast of emerging trends in chemical reactions, process automation, and control systems. This proactive approach helps me apply the latest knowledge to improve production efficiency and safety.
Question 5: How do you prioritize safety and maintain a safe working environment for the production team and equipment?
Answer: Safety is always a top priority in production operations. I ensure that all team members undergo regular safety training and are well-versed with safety procedures. We conduct frequent safety checks and audits to identify and mitigate potential hazards. By strictly adhering to permit systems and safety protocols, we minimize the risk of accidents and ensure the well-being of both the production team and the equipment.