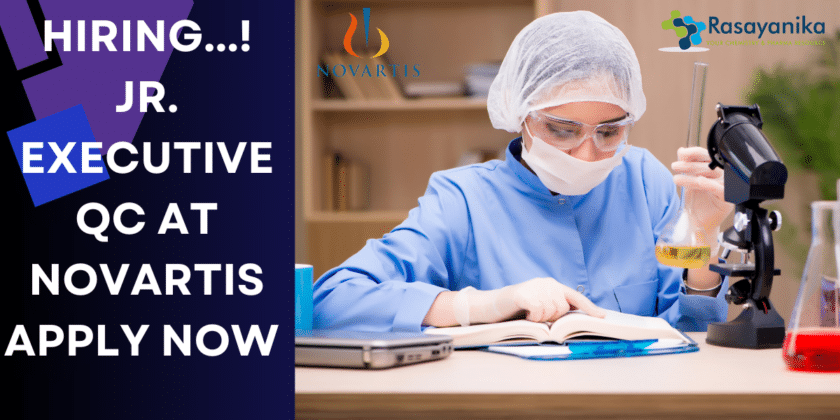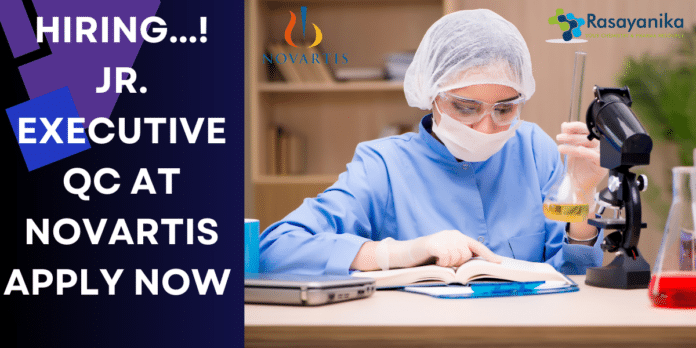 Latest position for Jr. Executive QC at Novartis, check out all the details given the same below.
Job Title: Jr. Executive QC
Job Location: Navi Mumbai, India
Division: SANDOZ
Job Description:
2023 will potentially see Sandoz become a standalone organization! Already a global market leader in Generics and Biosimilar medicine, this is an exciting, once-in-a-career opportunity to set our own path forward as an independent, purpose-driven organization, and as the founders of a new Sandoz, this is a time of immense opportunity for us all, both professionally and personally!
Together we will shape the future of Sandoz… are you ready to make a difference?
Position Purpose:
This role utilizes chemistry laboratory skills to test and measure product or materials while ensuring that analysis is performed according to established Standard Operating Procedures (SOPs), Analytical Methods, and current Compendial at Kalwe Site.
Your Key Responsibilities:
• Sample storage and management (FDF & API), Analytical testing/documentation of drug product / finished product / complaints / stability / packaging material samples to GxP standards. Stability Testing/Sample storage and management.
• Analytical documentation of stability samples to GxP standards. Analytical Method Validation & Analytical Method Transfer.
• Assisting supervisor Quality Control for efficient functioning of
Quality Control Laboratory through QC analysis and good documentation as per quality control system. To maintain all testing records, raw data & log books as per SOP
• Maintain confidentiality and ensure safe custody and efficient handling of company document / material. Perform any other task that may be assigned for running of the company as per latest quality standard and Novartis Corporate Guidelines.
• Ensure Data Integrity, cGMP, GDP, ALCOA and ALCOA+ Principle at Workplace
• Any other responsibility that may be assigned by supervisor/Manager from time to time.
Commitment to Diversity & Inclusion:
We are committed to building an outstanding, inclusive work environment and diverse teams representative of the patients and communities we serve.
Qualifications we seek in you for Jr. Executive QC at Novartis:
• M.Sc. in Chemicals /M. Pharm from reputed university with min 5+ yrs experience in Quality function.
• Sound technical & scientific knowledge of pharmaceutical/ chemical analytics/QC/ equivalent Working experience in Laboratory environment in the pharmaceutical industry.
• Experience in Laboratory Excellence & Laboratory equipment Quality Control (QC) Testing Quality Control Sampling.
Possible interview Question may be asked for Jr. Executive QC at Novartis
Can you tell us about your experience and educational background in Quality Control (QC)?
Answer: I have a Bachelor's degree in Chemistry with a strong focus on analytical chemistry and quality control principles. During my academic studies, I gained practical experience in various QC techniques, such as chromatography, spectroscopy, and wet chemistry methods. Additionally, I completed an internship in a pharmaceutical company's QC department, where I was involved in sample analysis, method validation, and ensuring compliance with quality standards.
2.  How do you ensure accuracy and precision in your QC work?
Answer: Accuracy and precision are critical in QC to ensure the reliability of results. I follow standard operating procedures (SOPs) meticulously during sample preparation and analysis. Regular calibration and maintenance of analytical instruments are essential to maintain accuracy. To enhance precision, I pay attention to details and repeat analyses when necessary. Moreover, I maintain a well-organized and clean workspace to minimize the risk of contamination.
3. How do you handle deviations or out-of-specification results during QC testing?
Answer: In the event of a deviation or an out-of-specification result, I immediately inform my supervisor or QC manager. I then initiate an investigation to identify the root cause of the issue. This may involve retesting the sample, reviewing instrument logs, or checking for any procedural errors. If necessary, I collaborate with the team to implement corrective and preventive actions to prevent such issues in the future and ensure product quality and compliance.
4.  How do you prioritize and manage multiple QC tasks with tight deadlines?
Answer: To prioritize and manage multiple tasks with tight deadlines, I first create a detailed schedule or task list. I assess the urgency and complexity of each task and allocate appropriate time and resources. Effective time management and organization skills help me stay focused and meet deadlines. In case of unforeseen challenges, I communicate proactively with my team and seek support if needed to ensure timely completion of all QC activities.
5. How do you ensure compliance with regulatory guidelines and quality standards in your QC work?
Answer: Compliance with regulatory guidelines and quality standards is of utmost importance in QC. I am well-versed with relevant regulatory requirements and industry standards, such as Good Manufacturing Practices (GMP) and ISO guidelines. I strictly adhere to SOPs and ensure that all QC activities are documented accurately and transparently. Routine calibration and maintenance of instruments, as well as participation in internal audits, are essential to maintain the highest level of compliance.