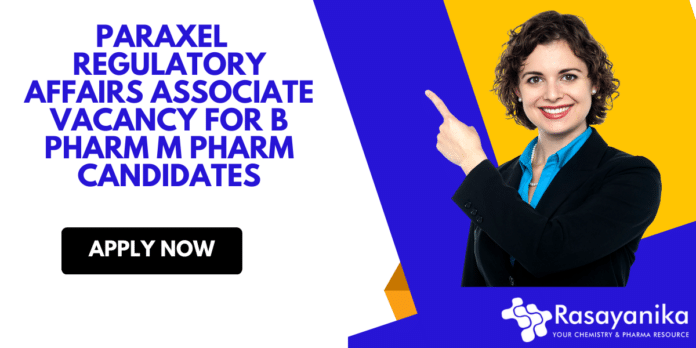 Paraxel opening at Bangalore location for B pharm M pharm candidates. Bachelors Masters in Pharmacy job in Regulatory Affairs. Attaching the details here. Interested candidates can apply now.
Role – Senior Regulatory Affairs Associate
Location – Bengaluru, India
Job ID – R0000003109
Experience: Biologic CMC
5+ years of experience
Supported the CMC activities related to Vaccine/Biologic manufacturing and control including authoring of submission dossiers related to:
new application, post approval variations
Understanding of EU/CA/WHO/US regulations & guidance allowing appropriate review and compilation of data to appropriate standards & requirements
Experienced in CTD update/authoring ( CTD Module 1, 2&3)
Handled and responded Health Authorities Request
US & CA Annual reports, Renewals, PQVAR, APR
Assessment of the Change Controls and associated technical dossiers
Excellent individual project management and communication skills
Veeva tool experience
Bachelors/Masters in Pharmacy OR Bachelors/ Masters in any of Life Science
Hi friends, attaching interview questions and answers that you can expect for the interview for Bachelors Masters in Pharmacy job. Please go through the same and prepare well after applying for Bachelors Masters in Pharmacy job. All the very best !!!
Question: Can you walk us through your experience in handling CMC activities related to Biologic manufacturing and control? Specifically, tell us about your involvement in authoring submission dossiers for new applications and post-approval variations.
Answer:
During my 5+ years of experience as a Senior Regulatory Affairs Associate, I have been extensively involved in Biologic CMC activities. I have successfully authored submission dossiers for both new applications and post-approval variations. This includes compiling and reviewing data in alignment with EU/CA/WHO/US regulations and guidance to meet the required standards and requirements. I have worked on various aspects of CMC submissions, ensuring accurate and comprehensive documentation to support regulatory approvals and post-approval changes.
Question: How familiar are you with the CTD (Common Technical Document) format, particularly Module 1, 2, and 3? Can you provide an example of a challenging CTD update or authoring experience you encountered?
Answer: I am well-versed with the CTD format, including Module 1, 2, and 3, which are essential components of regulatory submissions. In a recent project, I was responsible for a challenging CTD update for a post-approval variation. The task involved incorporating new data and ensuring alignment with updated regulatory requirements. I worked closely with cross-functional teams to gather the necessary information, reviewed and organized the data in CTD format, and prepared a comprehensive submission dossier. This collaborative effort resulted in a successful and timely submission, meeting Health Authorities' expectations.
Question: Can you share your experience in handling Health Authorities' requests? How do you approach such requests, and how do you ensure timely and effective responses?
Answer: Handling Health Authorities' requests is a critical aspect of regulatory affairs. When faced with such requests, I begin by thoroughly reviewing the specific requirements and assessing the impact on our Biologic manufacturing and control processes. I collaborate with subject matter experts to gather accurate and relevant data, ensuring the response aligns with regulatory guidelines. To ensure timeliness, I adopt an organized and structured approach, setting clear timelines for information gathering and document preparation. Effective communication with internal teams is essential to coordinate efforts and ensure a cohesive response that addresses all aspects of the request.
Question: Have you worked on US and CA Annual reports, Renewals, PQVAR, and APR? How do you manage the compilation and submission of these reports?
Answer: Yes, I have worked on US and CA Annual reports, Renewals, PQVAR, and APR. These reports are critical for maintaining regulatory compliance and product approvals. To manage their compilation and submission, I follow a systematic approach. I initiate the process well in advance, identifying all required data and documentation. Collaborating with the relevant stakeholders, I ensure that the reports are comprehensive and accurate, meeting all regulatory requirements. Close attention is paid to timelines and deadlines, and I maintain effective communication with the Health Authorities to facilitate a smooth submission process.
Question: Do you have experience with Veeva or similar regulatory tools? How has the use of such tools streamlined your regulatory affairs activities?
Answer: Yes, I have experience with Veeva, a widely used regulatory affairs tool. Veeva has significantly streamlined our regulatory affairs activities by providing a centralized platform for document management, workflow tracking, and collaboration among team members. The tool allows for efficient tracking of submission statuses, document version control, and timely approvals. Its user-friendly interface has enhanced our overall productivity and reduced the likelihood of errors or delays. Through Veeva, we can better manage our regulatory processes and ensure compliance with regulatory timelines and requirements.