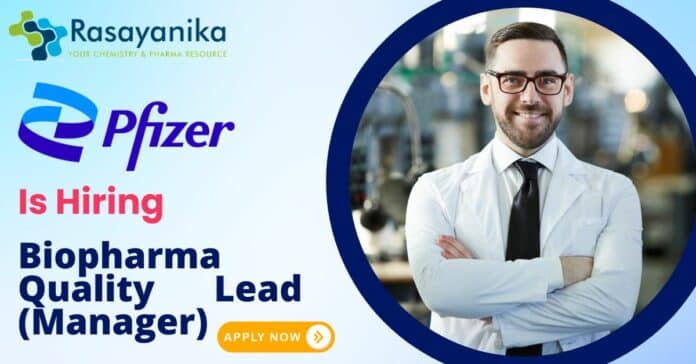 Biopharma Quality Lead at Pfizer. Apply now.
Job role: Biopharma Quality Lead (Manager)
Job ID: 4890304
Location: Australia – New South Wales – Sydney, APAC – Any Pfizer Site, APAC – Remote,
Singapore – CleanTech One
Employment type: Full time
About us:
Pfizer careers are like no other. In our culture of individual ownership, we believe in our ability to improve future healthcare, and potential to transform millions of lives. We're looking for new talent to join our global community, to unearth new innovative therapies that make the world a healthier place.
What You Will Achieve
Biopharma Quality enables the Commercial Business and Biopharma Operations to innovate and operate at lightspeed by providing consultancy, risk-based controls and oversight to embed quality in user-centric, end-to-end business processes.
The BQ organization provides Quality Consulting and Quality Oversight to over 20,000 commercial colleagues across pharmacovigilance, data privacy, and promotional practices, this includes:
Standardizing quality processes to drive consistency and enable the business to move at lightspeed
Proactively addressing emerging regulatory and compliance risks
Streamlining implementation and delivery of new and evolving processes
Maximizing user experience and promoting self-service
Building expertise and agility into the BQ workforce in order to create a "best place to work" environment
ROLE RESPONSIBILITIES of Biopharma Quality Lead at Pfizer:
Accountable for:
Quality Consulting
Act as single point of contact and subject-matter expert on commercial quality for Biopharma colleagues for their accountable markets
Enable commercial customers to design and execute commercial activities embedding compliance and quality requirements through design, development, approval, execution and close-out of in-scope commercial activities (e.g. programs, tools, privacy requirements where implemented eg, IRRs for GDPR markets)
Ensure consistent quality standards and effectiveness measures across commercial activities in line with global quality plans and quality by design guidance
Monitor and impact assess changes to local regulations for in-scope quality areas in collaboration with relevant stakeholders (e.g., compliance, legal, safety, regulatory and digital)
Proactively identify emerging local commercial quality risks and user experience requirements
Demonstrate consultative partnership through end-to-end BQ support establishement, communication to market stakeholders, follow up on feedback received and resolution of any issues identified
Drive adoption of new BQ customer engagement/support models e.g., self-service
Drive a culture of quality and compliance
Respond to commercial quality queries and coordinate with SMEs when needed
Embed, advise and support commercial customers with the implementation of BQ policies, procedures and guidance
Provide design guidance for commercial programs to optimize the risk and benefit balance
Lead and facilitate local committee approvals and other such meetings required for the provision of BQ services
Collaborate with other BQ Leads to implement BQ Lead accountabilities across the markets or regional / global programs as needed
Ensure quality thresholds (e.g. training compliance) are met across assigned markets and / or programs
Capture and leverage data / metrics (i.e. program activity & cost data, vendor performance data, etc.)
Oversight, Audit Readiness and Issue Remediation
Lead in-market audit readiness activities in collaboration with Audit Readiness and Quality Oversight (ARQO) Team
Collaborate with ARQO Team on quality events, audit findings and remediation (root cause analysis, Corrective And Preventive Action – CAPA- development) for assigned market(s)
Execute, manage and monitor performance of assigned CAPAs required to address issues (e.g., quality events, audit findings) in collaboration with BQ ARQO team for assigned market(s)
Upskill commercial colleagues (e.g. Program Owners) to fulfil their role during audits and inspections
Provide country leadership insight in state of control, risks and gaps through quality oversight results, quality events and learnings from audit readiness activities
Represent Biopharma during audits, support inspections in accountable market(s) and provide input where required (e.g., audit report).
Accountable for vendor audit management (logistics, document request fulfilment etc)
Vendor Excellence
Assess, evaluate and maintain accurate performance data for vendors operating within accountable market(s)
Assure BQ preferred vendor list meets critical business needs in accountable markets and drive adoption of usage of preferred vendors
Ensure that vendors not complying with BQ requirements are identified, and define applicable CAPAs.
BQ Training
Drive awareness and upskilling of key customers e.g., Program Owners, Tool Owners, vendors, approvers, marketers, and field force colleagues to increase understanding of BQ policies and processes and enhance quality & compliance
Deliver training and BQ awareness to commercial colleagues and contractors (as needed)
Drive training completion
Ensure training audience list kept up to date and shared with Training Strategy and Curriculum Lead
Share feedback on training requirements, assets, process and communication effectiveness with Training Strategy and Curriculum Lead.
Supporting the BQ Lead Group
Oversee collection of market service demand forecasts for BQ services
Promote collaboration across the BQ community and exchange best practices and thought leadership across markets
Provide input into the BQ operating plan (e.g., local volumes) in collaboration with the Regional BQ Lead
Support assigned local, regional and global BQ initiatives
Accountable for local implementation of regional and global BQ initiatives and for assuring these will meet local business needs
Stakeholder Engagement
Partner and collaborate across internal Biopharma Operations stakeholders including BOPs, enablement teams, and Bold Moves Team to deliver strategic solutions in support of ongoing and new business requests
Facilitate collaboration with biopharma stakeholders and business partners (e.g., Legal, Digital, Safety, Medical, Privacy, Compliance) to ensure effective end-to-end support for commercial initiatives and large-scale priority projects
In collaboration with other stakeholders provide guidance to help biopharma colleagues compliantly use emerging digital tools and channels
Provide commercial quality insights and share market reports with local stakeholders
Co-ordinate local market BQ communications
Escalate appropriate risks and issues to Regional BQ Lead and local stakeholders
Represent commercial quality in local meetings and forums in partnership with applicable Biopharma Operations colleagues
Identify continuous improvement opportunities and share with BQ colleagues
Stakeholder Engagement
Proactively engage with regional and global BQ community to exchange best practices and lessons learned and enhance collaboration across countries.
Act as change agents to help build internal and external alignment during transformation
Driving continuous process improvements
Drawing upon best practice to identify new ways of working and drive continuous improvement
Proactively identify and drive implementation of local and above market opportunities to improve ways of working within BQ team and with stakeholders (involve BQ global team (corresponding Effectiveness Leads and ARQO), other functions as needed)
Encourage and drive adoption of new technologies and ways of working to drive innovation and operating efficiencies (e.g., self-service)
Continuously provide feedback on training assets, procedures, guidance and other such BQ materials to improve effectiveness and stakeholder experiences
QUALIFICATIONS:
MUST HAVE:
Bachelor's degree required
5+ years of relevant experience with a minimum of 3 years' experience in pharma
Understand the fundamentals of the pharmaceutical industry, regulatory requirements, and risk management
Language skills: fluent in English and other language(s) if required
Proven ability of strong networking and negotiation skills
Proven ability to influence without authority, a wide range of senior stakeholders
Experience of audits and inspections
Demonstrated extensive experience of aligning senior stakeholders and facilitating conflict
Local operating experience
Experience of working across cultures and multiple time zones
Detail-oriented with strong organizational skills and a proven ability to prioritize and work independently to complete quality work on a timely basis
Understand the fundamentals of drug safety and risk management (e.g. Adverse Event reporting) and / or data privacy processes
Team collaboration spirit, with strong ability to work as a single driver and contributor
Strong written and oral communication skills with focus on issue understanding and resolution
Demonstrated strategic thought leadership & ability to drive transformation
Experience in project management and facilitating cross-functional initiatives via indirect leadership
Ability to work effectively and collaboratively with global and regional teams
Strong analytical skills; ability to analyze information, draw insights and recommend improvements; ability to synthesize problems and develop innovative solutions and strategies
NICE TO HAVE for Biopharma Quality Lead at Pfizer:
Strong business acumen
Experience in commercial operations, safety, compliance, sales, and marketing
Experience of assigned market(s)
Experience in BQ services and scope
Proficient in common technical tools (e.g. Microsoft Office)
At Pfizer we care about our colleagues' wellbeing and offer a range of great benefits for them, including:
Paid parental leave
Access to Health & Wellness apps
Career Growth Experiences program
Recognition & rewards program
Paid volunteer days
Life Insurance Benefits
Pfizer Learning Academy access to top content providers
Access to flu vaccines & skin checks
Options to purchase additional leave
Salary packaging & novated lease options
*Benefits listed may vary depending on your position and location and may be subject to change.
Pfizer Australia and New Zealand's diverse workforce represents the patients we serve and the communities in which we operate. With a focus on Diversity, Equity & Inclusion (DE&I), Pfizer ANZ ensures our people are heard and cared for. We offer engagement opportunities in both Colleagues Resource Groups (CRGs) and workstreams across: Culture and Tradition, Reconciliation @ Pfizer (RAP), Gender Equity (GEN), Disability and through the Out Pfizer Employee Network (OPEN) for our LGBT + colleagues and allies.
If you require reasonable adjustment during your application, please reach out to the Talent Acquisition Manager.
Marketing and Market Research
Possible interview questions with answers for the interview of Biopharma Quality Lead at Pfizer:
1.Can you describe your experience in managing commercial quality and risk management in the pharmaceutical industry?
Answer: In my previous role as a Biopharma Quality Lead, I had the opportunity to work closely with commercial colleagues to ensure quality and compliance in their activities. I have over 5 years of experience in the pharma industry, with a minimum of 3 years specifically focused on managing quality processes. During this time, I have gained a deep understanding of regulatory requirements, risk management, and the fundamentals of drug safety. My experience in audits and inspections has allowed me to develop strong negotiation and networking skills, enabling me to align senior stakeholders and drive compliance.
2.How do you ensure consistent quality standards across different commercial activities in line with global quality plans?
Answer: Ensuring consistent quality standards is essential to maintaining compliance and risk mitigation in commercial activities. To achieve this, I emphasize the use of quality by design guidance and standardized processes. I work closely with relevant stakeholders such as compliance, legal, safety, regulatory, and digital teams to monitor changes in local regulations that might impact our quality processes. Additionally, I proactively identify emerging local quality risks and user experience requirements to address potential issues before they escalate.
3.How do you handle situations where there are conflicting demands from different stakeholders while ensuring compliance and quality?
Answer: Handling conflicting demands from stakeholders requires a delicate balance. As a Biopharma Quality Lead, I prioritize open and transparent communication with all parties involved. I engage in consultative partnerships with stakeholders to understand their needs and concerns thoroughly. By fostering collaboration and showcasing the benefits of adhering to quality processes, I strive to align senior stakeholders and facilitate conflict resolution. Ultimately, I aim to create win-win solutions that support both business objectives and quality compliance.
4.Can you share an example of how you've driven continuous improvement initiatives in your previous role?
Answer: One significant continuous improvement initiative I led was the implementation of a new customer engagement/support model called self-service. By introducing self-service options, we empowered commercial colleagues to access quality resources and tools independently, resulting in quicker turnaround times for compliance-related queries. I collaborated with the BQ global team and relevant functions to ensure successful adoption of this new approach. Through regular feedback sessions and data analysis, we identified areas for enhancement and fine-tuned the self-service system, leading to increased efficiency and improved stakeholder experiences.
5.How do you stay updated on industry trends and best practices in biopharma quality management?
Answer: Staying updated on industry trends and best practices is crucial for maintaining a competitive edge. I actively engage with the regional and global BQ community to exchange knowledge and share best practices. Additionally, I participate in industry conferences and workshops to gain insights into the latest advancements in quality management. Regularly collaborating with colleagues from different markets allows me to learn from their experiences and adapt successful strategies to enhance our local quality management approach.
Biopharma Quality Lead at Pfizer
Stay tuned on RASAYANIKA for more chem and pharma related job updates.