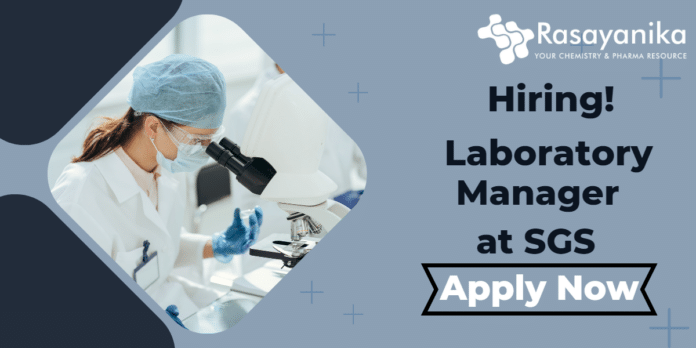 Latest Laboratory Manager for BE/ B.Tech at SGS, Interested and Eligible Candidates can check out all the details given in the same below.
Job Title: Laboratory Manager (Transformer Oil Testing Lab)
Job Location: Thane, Maharashtra, India
Seniority level: Mid-Senior level
Job function: Quality Assurance
Employment type: Full-time
Industries: Oil and Gas, Retail Office Equipment, and Consumer Services
Company Description for Laboratory Manager for BE/B.Tech at SGS:
Established in 1878, SGS transformed grain trading in Europe by offering innovative agricultural inspection services. The Company was registered in Geneva as Société Générale de Surveillance in 1919. Shares were first listed on (SWX) Swiss Exchange in 1985. Since 2001, we have only one class of shares consisting of registered shares.
Job Description:
Operations, planning & implementation using dif. tools/checks at diff. places eg benchmarking, Sample status for the day in terms of registration, typing, revenue, delays, and reasons.
Meet internal as well as external Customer related to Transformer Oil Condition Monitoring requirements.
Independently Handle the Transformer Oil Testing Laboratory.
Planning to achieve revenue targets with managing the competence, Integrity, and quality of work of the Org.
Periodic review of lab outstanding with the collection team and to find measures for easy retrieval. e.g. To ensure Promptness and strong follow by the collection team.
Prediction of manpower/ Capex for the year to ensure smooth functioning of the Lab in the peak times.
To meet the Turn Around Time defined by the Client/Contracts and improve Client Satisfaction
Keeps a track of expenses of the lab on monthly basis using diff. Toolset Profit and loss statement.
Prepare / update marketing strategy and ensure the implementation keeping in consideration diff. Factors egg Potential, Inclination, Market feedback, Inroads.
Regular visits/cold calls with the existing Customers ensuring timely service to the Customers with the help of active participation of executives.
To formalize and implement a system to evaluate the performance at diff. Stages of operations eg Registration, Typing, Chemist etc.
Verify test reports and certificates before signing wherever applicable.
To oversee and develop key accounts and coordinate with international key account .
Testing Knowledge of Transformer Oil Parameters, like Tan delta, Resistivity, Breakdown Voltage, Dissolved Gas Analysis, Water Content, Oxidation Stability, Total Acid Number, Total Acid Number as per IS , ASTM and IEC Standard
Able to carry out the Recommendation for Dissolved Gas Analysis, Defining training needs and Arrange training for chemists & technicians and executives eg. Comm. skills training, New tests training.
To develop the existing services and also think of new avenues for new services eg New product testing seeing the market potential, Trainings, ISO consultancy, Lab setup, calibration.
Periodic Meetings / Quality circles with staff – Sales, Quality, Operations, To follow 5s and WCS practices in Laboratory
Ensure compliance with mandatory local & other laws pertaining to health, safety environment protection, within the laboratory & outside surrounding. Key Results Areas ( KRA's) & Key Deliverables: Branch
Maintain accurate and thorough records of laboratory procedures and results; ensure compliance.
Review of test methods consistently to have control over all updated test methods.
To calibrate the instruments (internal calibration) & maintain the record with a countersign of Technical Executive or QAC at specified frequency (includes the instruments at our other terminal labs also).
Assist the Laboratory Manager in coordinating the activities and operations of the laboratory and work allocation to lower level staff.
Qualifications we seek in You!
Essential: BE/ B.Tech.
Desirable: First Grade.
Specialization: Chemistry/Electrical.
Experience Profile : 7 years+
Industry/ Sector: Electrical.
Scope of job /Activities handled: Testing, Maintenance and Recommendation of TR oil report.
Possible Interview Questions with answers may be asked for Laboratory Manager for BE/B.Tech at SGS
1: Can you describe your experience in managing a laboratory and overseeing daily operations?
Answer: In my previous role as a Laboratory Manager, I successfully managed a team of technicians, ensured adherence to quality standards, and maintained efficient laboratory operations. I implemented standard operating procedures (SOPs), established quality control measures, and coordinated workflow to meet deadlines and deliver accurate results.
2: How do you ensure compliance with safety protocols and regulations in the laboratory?
Answer: Safety is a top priority in any laboratory setting. I am well-versed in implementing safety protocols, conducting regular safety training sessions, and maintaining a safe working environment. I ensure that all personnel are trained on proper handling of hazardous materials, use of personal protective equipment (PPE), and compliance with relevant safety regulations.
3: How do you handle equipment maintenance and calibration in the laboratory?
Answer: Equipment maintenance and calibration are critical for accurate and reliable results. I have implemented a proactive maintenance schedule to ensure that equipment is in optimal working condition. I collaborate with vendors to perform regular calibrations and troubleshoot any technical issues promptly to minimize downtime and maintain the accuracy of test results.
4: Can you provide an example of how you have improved laboratory processes or implemented cost-saving measures?
Answer: In my previous role, I identified an opportunity to streamline sample processing and reporting. By implementing automation software and optimizing workflows, we significantly reduced turnaround time and increased overall efficiency. Additionally, I conducted a thorough cost analysis and identified alternative suppliers, resulting in significant cost savings for reagents and consumables without compromising quality.
5: How do you ensure quality control in laboratory testing procedures?
Answer: Quality control is essential for accurate and reliable testing. I have implemented stringent quality control measures, including regular proficiency testing, internal quality assessments, and adherence to international standards. I also encourage open communication among team members to address any quality issues promptly and continuously improve our processes.
Laboratory Manager Job for BE/B.Tech at SGS