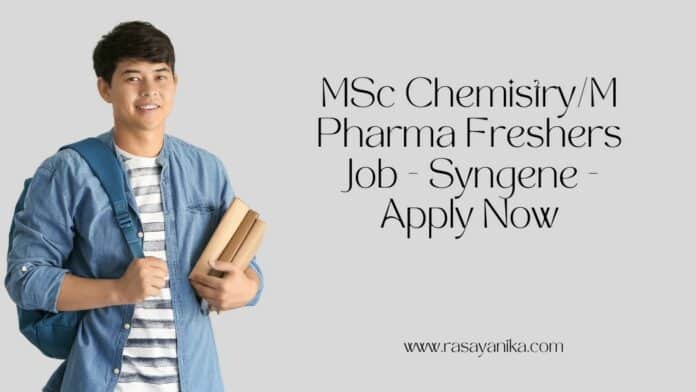 MSc Chemistry/M Pharma Freshers Job – Syngene
Syngene is hiring! If you wish to be part of a dynamic, high-performing team for bringing new solutions to drug discovery and changing people's lives for the better, please read more. We are looking for Senior Research Scientist
Job Title: Senior Research Associate
Job Location: Bengaluru
Reporting to: Principle Research Scientist
Job Grade: 9 II
Mandatory expectation for all roles as per Syngene safety guidelines
Overall adherence to safe practices and procedures of oneself and the teams aligned
Contributing to development of procedures, practices and systems that ensures safe operations and compliance to company's integrity & quality standards
Driving a corporate culture that promotes environment, health, and safety (EHS) mindset and operational discipline at the workplace at all times.Ensuring safety of self,
teams and lab/plant by adhering to safety protocols and following environment, health, and safety (EHS) requirements at all times in the workplace.
Ensure all assigned mandatory trainings related to data integrity, health, and safety measures are completed on time by all members of the team including selfCompliance to
Syngene' s quality standards at all times
Hold self and their teams accountable for the achievement of safety goals
Govern and Review safety metrics from time to time
Core Purpose of the Role:
A highly motivated individual with strong interest in in-vitro ADME assays and LC-MS/MS bioanalysis is required for our current replacement. In this position, candidate will support compound screening efforts in standard in-vitro ADME assays.
Role Accountabilities
Perform in vitro ADME assays such as solubility, metabolic stability, CYP450 inhibition, plasma protein binding, TDI, etc
Processing of plasma and tissue samples for bioanalysis
Operating instruments like LC-MS/MS for compound tuning and analysis, followed by data retrieval, method development of NCEs in plasma and other matrices
Analytical problem-solving skills.
Understanding and demonstrating responsibility for safety of self & colleagues by following all safety protocols provided by Syngene.
Adherence to all environment, health, and safety (EHS) policies & standards at all times in the workplace.
Wearing all PPE as required.
Adherence to all procedures related to Syngene's data integrity policies.
Compliance to Syngene's quality standards at all times.
Leadership Capabilities
Syngene Values
All employees will consistently demonstrate alignment with our core values
Excellence
Integrity
Professionalism
Accountabilities as a Syngene Leader (only for Leadership Hires)
Champion effective Environment, Occupational Health, Safety and Sustainability (EHSS) practices for the company and oversee compliance with those practices within Biologics business. Play an active leadership role in monitoring and verifying safety performance through Gemba walks and other safety-led activities.
Foster a corporate culture that promotes an environment, occupational health, safety, and sustainability (EHSS) mindset as well as the highest standards of quality, integrity, and compliance.
Put people at the heart of our success by providing clear, active leadership defined by the Syngene leadership framework setting high standards of people management, career planning and talent retention as a priority.
Specific requirements for this role
Experience: 0 – 2 years in industry.
Demonstrated Capability
Education: MSc (Chemistry/Biological Sciences)/M. Pharm from reputed University
Technical/Functional Skills:
Prior experience in handling NCEs, analysis by LC-MS/MS, sample processing
Prior experience in standard in vitro ADME assays.
Behavioral/Managerial Skills:
High inter-personal skills, excellent oral & written communication skills.
Problem solving, time-management skills, multi-tasking.
MSc Chemistry/M Pharma Freshers Looking for latest chemistry and Pharma job openings, follow Rasayanika Facebook and Telegram and subscribe to our youtube channel for the latest updates on chemistry and Pharma jobs and much more