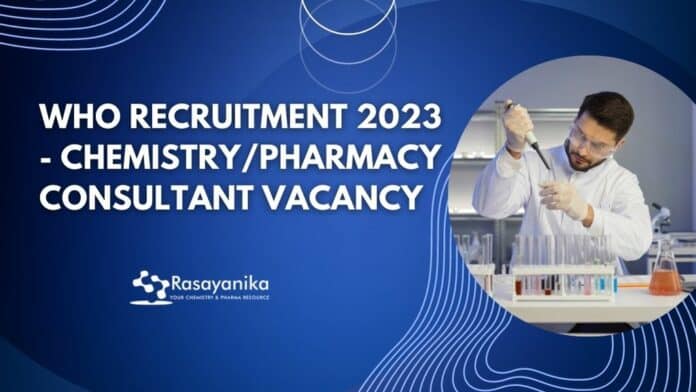 WHO recruitment 2023 – Chemistry/Pharmacy Consultant Vacancy
WHO recruitment 2023, world health organization announces job opening for the post of International consultant. International consultant job opening 2023, Pharmacy job opening 2023, Pharma job opening, Intrested and eligible candidates may check out all the details
Job Title:  International consultant for small National Regulatory Authorities (NRAs) – (2304236)
Location
On site: Regional workshop to discuss the draft model in one of the participating Member States.
Off site: Home-based (virtual).
Eligbility Criteria
Essential:
University degree in pharmacy, medicine, pharmacology, chemistry, biochemistry, microbiology, or other health related sciences.
Postgraduate degree in pharmacy, medicine, public health or any of the above sciences or management.
Experience
Essential:
At least ten years of national, regional or international professional experience working in the area of regulation of medical products within the national or regional regulatory authority and/or pharmaceutical industry.
Experience of working in collaboration with the World Health Organization is essential in order to understand WHO's roles and core functions.
Experience related to benchmarking of regulatory authorities in low- and middle-income countries (LMICs).
Desirable:
Experience related to benchmarking of small regulatory authorities in low- and middle-income countries (LMICs) in the region.
Skills/Knowledge:
Extensive knowledge of regulatory systems strengthening
for medical products in the regulatory authority or related fields and in-depth knowledge of the WHO global benchmarking tool, methodology and related guidelines. Excellent ability to communicate and work in diverse cultural settings. Good professional drafting and communication skills.
Languages and level required (Basic/Intermediate/Advanced):
Expert knowledge of English is essential
Remuneration and budget (travel costs are excluded):
Remuneration: Band Level-C;
Daily remuneration starting from USD 500 to USD 625.
Monthly remuneration starting from USD 10,000 to USD 12,500.
Living expenses: Per diem will be paid as per WHO rules applicable to international consultant for travel
Expected duration of contract: 6 months (part time)
Additional Information
This vacancy notice may be used to identify candidates for other similar consultancies at the same level.
Only candidates under serious consideration will be contacted.
A written test may be used as a form of screening.
If your candidature is retained for interview, you will be required to provide, in advance, a scanned copy of the degree(s)/ diploma(s)/certificate(s) in English required for this position. WHO only considers higher educational qualifications obtained from an institution accredited/recognized in the World Higher Education Database (WHED), a list updated by the International Association of Universities (IAU)/United Nations Educational, Scientific and Cultural Organization (UNESCO). The list can be accessed through the link: http://www.whed.net/. Some professional certificates may not appear in the WHED and will require individual review.
For information on WHO's operations please visit: http://www.who.int.
WHO is committed to workforce diversity.
WHO has a smoke-free environment and does not recruit smokers or users of any form of tobacco.
Applications from women and from nationals of non and underrepresented Member States are particularly encouraged.
WHO prides itself on a workforce that adheres to the highest ethical and professional standards and that is committed to put the WHO Values Charter into practice.
WHO has zero tolerance towards sexual exploitation and abuse (SEA), sexual harassment and other types of abusive conduct (i.e., discrimination, abuse of authority and harassment). All members of the WHO workforce have a role to play in promoting a safe and respectful workplace and should report to WHO any actual or suspected cases of SEA, sexual harassment and other types of abusive conduct. To ensure that individuals with a substantiated history of SEA, sexual harassment or other types of abusive conduct are not hired by the Organization, WHO will conduct a background verification of final candidates.
Consultants shall perform the work as independent contractors in a personal capacity, and not as a representative of any entity or authority. The execution of the work under a consultant contract does not create an employer/employee relationship between WHO and the Consultant.
WHO shall have no responsibility whatsoever for any taxes, duties, social security contributions or other contributions payable by the Consultant. The Consultant shall be solely responsible for withholding and paying any taxes, duties, social security contributions and any other contributions which are applicable to the Consultant in in each location/jurisdiction in which the work hereunder is performed, and the Consultant shall not be entitled to any reimbursement thereof by WHO.
Closing Date: May 30, 2023, 3:29:00 AM
WHO recruitment 2023 Looking for latest chemistry and Pharma job openings, follow Rasayanika Facebook and Telegram and subscribe to our youtube channel for the latest updates on chemistry and Pharma jobs and much more