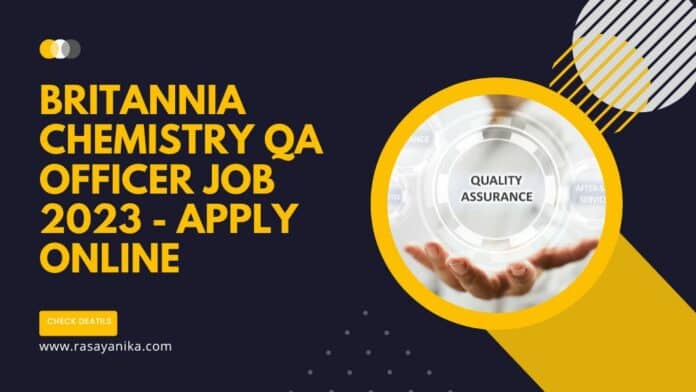 Britannia Chemistry Quality Assurance Officer Vacancy – Apply
Chemistry job opening 2023. Britannia Industries Quality Assurance Officer Recruitment, Apply Online. Britannia Industries Limited Quality Assurance Officer Jobs. Quality Assurance Officer Vacancy for Chemistry. Interested and eligible applicants can check out all of the details on rasayanika.com
Job Title: Quality Assurance Officer
Location: Rudrapur
Eligbility Criteria: MSc Chemistry
Experience: 1-2 years of experience
Key Responsibilties:
Quality and Food Safety Execution.
1) Ensure On-Line Product Quality Monitoring & Immediate Action Taken Through Production Offices and CP management to address any non Conformity
2) Ensure Testing Of Finished Goods As Per Standard Sampling & Test Method With Correct Document Exercise Regularly.
3) Periodic Verification Of Process Records. Incoming Quality Check Records, Ingredient Shelf-Life Records in-process quality check records.
4) Regular Verification Of Correct Functioning of Critical Process Equipment Like Weighing Balance Moulders, Oven, Slicers, And Coders
5) Ensure Basic Hygiene, Food Safety & GMP Requirements Are Complied With In Manufacturing.
6) Ensure Critical To Food Safety Processes Are Being Complied With At Any Point in Time During manufacturing this would include Metal Detector, Pest Control, Convey Condition. Equipment Cleanliness, Sieves & Magnets, Personnel Hygiene storage condition, etc.
7) Conduct Training Sessions For Workers
To Create Awareness On Quality Standards, GMP, Food Safety, and Hygiene.
8) Regular Audit Of Systems, Processes & Lab To Verify Compliance To Quality & Food Safety Standards.
9) Immediate & Suitable Action Against Issues Related To Process/System/Norm Non-Adherence Eq Monitoring, Food Safety & Hygiene To Prevent The Outcome Affecting Consumers & Brand Value.
Statutory Compliance.
1) Ensure Wrappers Are Checked For Presence Of Correct Addresses MRP, Veg Logo Mandatory declarations, and necessary documentation Maintained.
2) Ensure Sufficient Samples Are Checked For Weight At Every Stage Of Production.
3) Ensure Immediate Action In Process To Correct The Non-Adherence Before Continuing
4) Verification Of Compliance To Pack Weights By Random Sampling On Regular Basis
5) Ensure No Lots Detected With Underweight Packs Are Released Without 100% Checking & Sorting
6) Ensure Functioning Of Coder With Legible Printing On Each & Every Pack Across SKUS
7) Ensure Systems Are Followed During Change In Date. Shift, Supervisors Name With Necessary Doc
8) Verification Of Compliance To Coding By Random Sampling On a Regular Basis
9) Ensure All Weighing Balances & Dead Weights Are Calibrated As Per Schedule & Not In Use Without necessary certifications.
Benchmarking
1. Visit all retail Outlets & Distribution Points Weekly Once For Understanding Customer & Consumer Quality concerns.
2. Evaluate Competmon Products in Tamms Of Grammage, Packaging Product Quality Features Etc.
3. Identity improvement Opportualities & Shale Action Plans With Operation & Quality for improvements
4) Measure Effectiveness of improvement Through Market Evaluation & Customer Feedback
Britannia Chemistry QA Officer Britannia Chemistry QA Officer Looking for latest chemistry and Pharma job openings, follow Rasayanika Facebook and Telegram and subscribe to our youtube channel for the latest updates on chemistry and Pharma jobs and much more