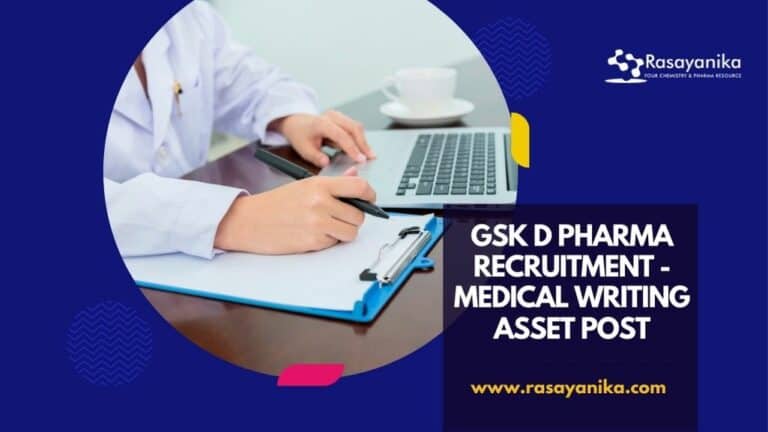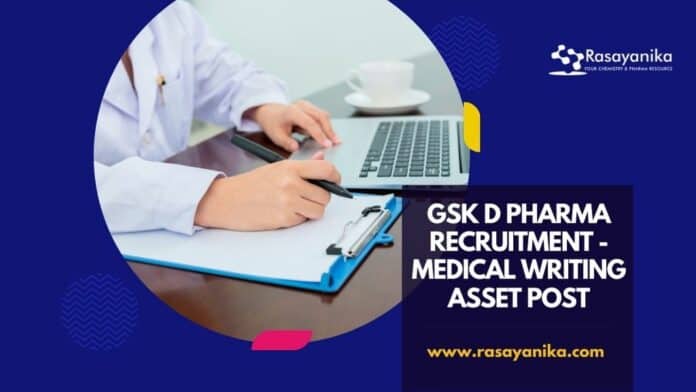 GSK D Pharma Recruitment – Medical Writing Asset Post
GSK hiring Medical Writing Asset Lead-Oncology. Medical Writing Asset Lead-Oncology job opening 2023. Medical Writing Asset Lead-Oncology job opening 2023, Pharmacy job opening 2023, D Pharmacy job opening 2023, D Pharmacy job opening 2023, job opening 2022
Job Title: Medical Writing Asset Lead-Oncology
Location: Bengaluru, India
Department: Medical and Clinical
Id: 370230
Eligbility Criteria:
We are looking for professionals with these required skills to achieve our goals:
Bachelor's Degree
Preferred Qualifications:
If you have the following characteristics, it would be a plus:
PhD, PharmD, MPH, MS or other post-graduate degree
Possesses highly effective communication skills and is capable of presenting ideas and data clearly to a group, including key stakeholders at senior level.
Demonstrated track record of quality decision making and creative problem resolution that impacts program/project direction.
Experience analysing complex scientific & operational information and implementing effective solutions.
This role will provide YOU the opportunity to lead key activities to progress YOUR career, these responsibilities include some of the following…
Provides key contributions to clinical strategy, including knowledge and understanding of regional and global regulatory requirements for writing clinical documents including, but not limited to, protocols, clinical study reports, clinical study register summaries, common technical document summaries and Clinical Overview, briefing documents for regulatory authorities, responses to regulatory authority questions, clinical sections of the IMPD for clinical trial applications, investigator brochures and annual reports.
Leads matrix teams in planning and production of multiple clinical documents to support regulatory submissions, working with CROs and/or independent contractors as needed. Ensures global approach for submissions as appropriate, including the use of core global modules, supplemented by local modules as necessary. Ideally works in collaboration with GRA to ensure business needs are met for new chemical entities and post approval documentation.
Plans and successfully implements large submissions independently or in conjunction with the Medical Writing Director, effectively recommending methods or innovative solutions for achieving accelerated timelines as necessary. Recommends solutions for problems that affect timelines. Provides guidance and facilitation to submission teams in development of detailed submission plan.
Ideally demonstrates an understanding of the interdependences of various contributing functions and manages problems affecting timelines as necessary. Ideally demonstrates an ability to quickly assess complex situations, apply scientific, operational and submission development knowledge to identify and implement effective plans for solutions.
Proposes resourcing solutions for major projects including number of FTEs required and best use of internal and external resource.
Effectively organizes content and arguments in complex clinical submission documents, including briefing documents and responses to regulatory questions. Acts as lead author on submissions.
Actively contributes to development of training materials for therapeutic area scientists and provides mentoring and/or training on clinical documentation and submission planning to individuals or teams. Ideally, proactively identifies medical writing training needs for staff and develops/implements training sessions.
Has ability to prioritise effectively and meet multiple deadlines successfully with attention to detail, demonstrating high performance standards for own work and encouraging similar standards across the matrix, ensuring standards are proactively applied across a submission.
GSK D Pharma Recruitment Looking for latest chemistry and Pharma job openings, follow Rasayanika Facebook and Telegram and subscribe to our youtube channel for the latest updates on chemistry and Pharma jobs and much more