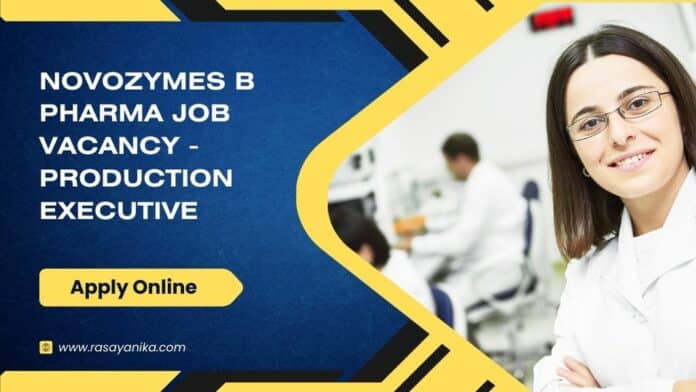 Novozymes B Pharma Job Vacancy – Production Executive
Dont forget to check out possible interview questions for this job below
Are you passionate about making a sustainable impact, and do you see yourself in this position? Then unlock your passion and apply today! M Pharma job opening 2023, M pharma job opening 2023, pharma job opening 2023, executive job opening 2023. Intrested and eligible candidates may check out all the details
Job Title: EXECUTIVE – PRODUCTION
Location:
This job will be located at at Riata Life sciences Pvt. Ltd. (Now a part of Novozymes) Vadodara.
Eligbility Criteria:
Must be science graduate or Pharma graduate.
Minimum more than 6-8 years' experience in FFS, capsules and Oral liquid formulation plant
Knowledge of cGMP, NSF, 21 CFR, FSSAI
Knowledge Equipment operation of FFS, Capsules and oral liquid plant,
Document preparation of SOPs, Equipment Qualification,
Strong communication skill and manpower handling skills.
Production of solid dosage form and liquid dosage forms, capsules manufacturing.
In this role you'll make an impact by:
Production areas of FFS , Capsules and Oral liquid formulations
Application deadline: 17-May-2023
Important Interview Questions and Answers for the above job role:
What inspired you to pursue a career in the pharmaceutical industry, and how have you prepared yourself to excel in this role? Answer: I have always been interested in the healthcare sector and the impact it has on people's lives. To pursue a career in the pharmaceutical industry, I completed my M Pharma degree and gained experience in FFS, capsules, and oral liquid formulation plant. I also made sure to stay up-to-date with industry regulations and guidelines such as cGMP, NSF, 21 CFR, and FSSAI. I am excited about this role as it aligns with my passion for producing quality medicines that make a positive impact on people's lives.
Could you describe your experience with document preparation of SOPs and Equipment Qualification? Answer: I have experience in preparing SOPs and equipment qualification documents for the production of solid dosage forms and liquid dosage forms, capsules manufacturing. I understand the importance of following standardized procedures and ensuring that all equipment is functioning optimally to produce quality medicines.
How do you prioritize and manage production schedules to ensure timely delivery of quality products? Answer: I believe in effective planning and communication to ensure that production schedules are met. I prioritize tasks based on their urgency and make sure that resources are allocated accordingly. I also regularly monitor the progress of each production phase to ensure that we are on track to meet our deadlines.
How do you ensure compliance with industry regulations such as cGMP and NSF? Answer: Compliance with industry regulations is a critical aspect of my job, and I take it very seriously. I make sure that all processes and procedures are designed to meet these regulations and that all team members are trained on the same. I also conduct regular audits and inspections to ensure that we are meeting the required standards.
Can you describe a time when you faced a challenging production issue and how you resolved it? Answer: During my tenure at my previous job, we had a sudden increase in demand for a particular product, and we faced challenges in meeting this demand within our existing production capacity. To resolve this issue, I collaborated with the operations team and suggested process improvements to increase efficiency and reduce downtime. We also invested in additional equipment and resources to scale up our production capacity, which enabled us to meet the increased demand and ensure timely delivery of quality products.
Editors Note: Novozymes B Pharma Job Subscribe to Rasayanika for the latest chemistry and Pharma job openings, follow us on Facebook and Telegram and subscribe to our youtube channel for the latest updates on chemistry and Pharma jobs and much more.