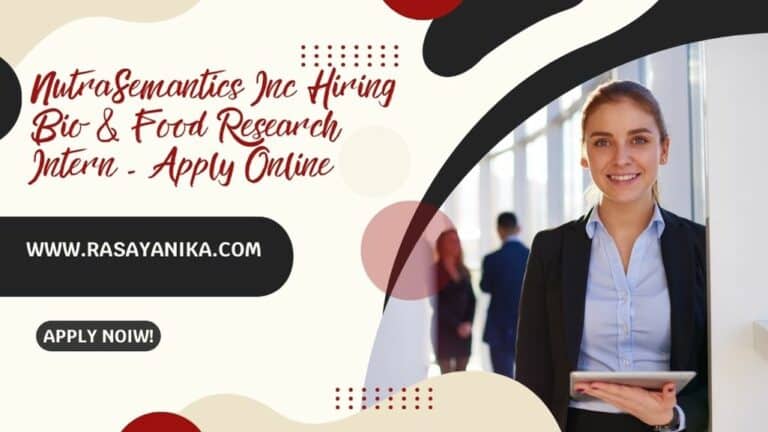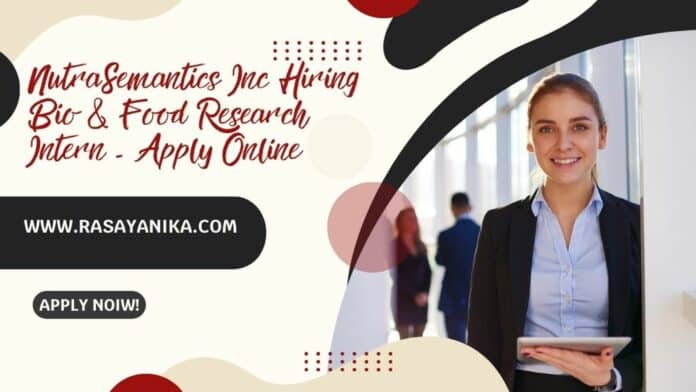 NutraSemantics Inc Hiring Bio & Food Research Intern – Apply Online
Dont forget to check out possible interview questions for this job below
NutraSemantics Inc hiring organic chemistry candidates for the post of Bio & Food Research Intern.Bio & Food Research Intern post vacancy. Chemistry internship, Chemistry vacancy, Interns are required at NutraSemantics Inc. Intrested and eligible candidates may check out all the details on the same below:
Job Title: Bio & Food Research Intern
Basic Requirements
What will your day look like:
Must attend zoom meetings twice a week.
Shall submit weekly reports
Shall Submit an Internship Report at the end about the entire experience.
Research Indian Companies involved in Functional food manufacturing.
R&D of functional food ingredients.
Search and organize summary for research data on company-specified food materials
Survey of regional research institutes in India (university, private enterprises, state institutions, etc.)
Cell testing, animal testing, clinical testing
Accompany Nutrasemantics executives and employees to Indian companies, if necessary.
Assists Analytical & Process teams with data trending and review.
Completes lab work to assess product appearance in stability and package sizing.
Supports Product formulators with research for claims on products.
Creates protocol/report templates to assist with efficiency improvements.
Eligbility Criteria
Minimum Requirements
1. Major in the following fields:
– Organic Chemistry
– Biochemistry
– Food Chemistry.
2. Any experience in a health functional food company (manufacturing, distribution, R&D, etc.) – Internship Experience (mandatory)
Soft Skills
A quick and critical thinker with the ability to come up with a number of ideas about a topic.
Good communication skills, Interpersonal Skills, and Team player.
Potential to apply innovative and exciting ideas, concepts, and technologies.
Urge to stay updated with the latest trends and practices is highly preferred.
Complex Problem Solving: Identifying complex problems and reviewing related information to develop and evaluate options and implement solutions.
We require someone who is innately curious and motivated
Understanding new information's implications for current and future problem-solving and decision-making.
Additional Requirements
Have good inductive reasoning ability including finding a relationship among seemingly unrelated events.
Should be able to perform in a fast-paced environment while being calm and able to handle complex situations with ease.
Last Date To Apply: Apply by May 05, 2023
Important Interview Questions and Answers for the above job role:
Can you tell us about your experience working with functional food companies and how it relates to this internship?
Answer: Yes, during my previous internship, I worked at XYZ Health Foods as a quality control intern, where I was responsible for ensuring the quality of the raw materials and finished products. This experience gave me a good understanding of the functional food industry and the importance of quality control in this field.
2. How do you plan to organize and summarize research data on company-specified food materials?
Answer: I plan to use various tools like Microsoft Excel and Google Sheets to organize the research data. I will first identify the key parameters of interest and then organize the data in a tabular format, making it easier to analyze and summarize. I will also use data visualization techniques to present the findings in an easily understandable way.
3. How do you plan to keep yourself updated with the latest trends and practices in the field of functional food ingredients?
Answer: I plan to attend webinars, conferences, and workshops related to functional food ingredients. I will also follow relevant blogs, scientific journals, and social media accounts to stay updated with the latest research and developments in this field.
4. Can you tell us about a complex problem that you faced in your previous work experience and how you solved it?
Answer: In my previous internship, we faced an issue with the consistency of the finished product. I first identified the root cause of the issue by analyzing the data and conducting various experiments. Then, I worked with the manufacturing team to come up with a solution, which involved adjusting the processing parameters. Finally, I conducted further experiments to verify the effectiveness of the solution, and we were able to improve the consistency of the finished product.
5. How would you approach a project that requires cell testing, animal testing, and clinical testing?
Answer: I would first research the relevant regulations and guidelines for each type of testing and ensure that we comply with them. Then, I would work with the relevant teams, including the R&D, analytical, and process teams, to design the experiments and conduct the testing. I would also ensure that the testing is conducted in a controlled and ethical manner and that the results are properly documented and analyzed.
Editors Note: NutraSemantics Inc Hiring Bio Subscribe to Rasayanika for the latest chemistry and Pharma job openings, follow us on Facebook and Telegram and subscribe to our youtube channel for the latest updates on chemistry and Pharma jobs and much more.