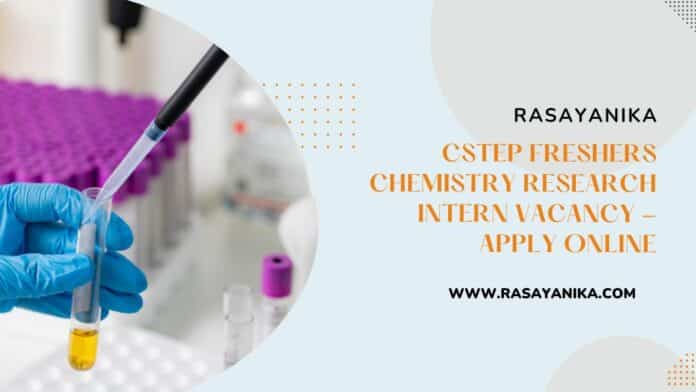 CSTEP Freshers Chemistry Research Intern Vacancy – Apply Online
Dont forget to check out possible interview questions for this job below
CSTEP research intern job opening 2023, Freshers job opening 2023. Chemistry intern job opening 2023, Chemistry job opening. Intrested and eligible candidates may check out all the details on the same below:
CSTEP works in critical areas such as environment, energy and strategic materials to enable sustainable growth. We are also involved in cutting-edge research that incorporates Artificial Intelligence for social good and computational tools and modelling to provide solutions for complex developmental issues in India.
Job Title: Research Intern – Strategic Initiatives (0-1 Years)
Location Bengaluru
Role Overview
The research intern will be involved in performing techno-economic assessments related to carbon conversion technologies.
Responsibilities
Undertake research on technologies related to carbon capture storage and utilisation (CCUS).
Conduct performance assessment of various carbon conversion technologies.
Conduct process-level modeling/analysis of 'carbon to chemicals'.
Eligbility Criteria:
Bachelor's degree in Chemical Engineering/Chemistry with research interests in the above-mentioned area.
Skills
Proficient in Microsoft Office Suite (Word, Excel, Power Point)
How to Apply
Please send an email to [email protected] with the subject "Application: Research Intern – Strategic Initiatives" and attach a copy of
your updated CV, as well as a cover letter
Important Interview Questions and Answers for the above job role:
What inspired you to pursue a career in research related to carbon conversion technologies, and what relevant experience do you have?
Answer: My passion for finding innovative solutions to environmental issues and my educational background in Chemical Engineering make me a perfect fit for this position. I have also worked on various research projects related to carbon capture, storage, and utilization during my bachelor's degree.
2. Could you explain a complex technical concept related to carbon conversion technologies in simple terms?
Answer: Sure. Carbon conversion technologies involve processes that capture carbon dioxide and convert it into valuable products such as chemicals or fuels. One example of such a technology is carbon capture and utilization, which involves converting carbon dioxide into chemicals or materials that can be used in industrial processes.
3. What tools and software do you use to conduct techno-economic assessments and process-level modeling?
Answer: I have experience using Aspen HYSYS, Matlab, and Excel for process-level modeling and simulation. For techno-economic assessments, I usually use software such as SuperPro Designer, and I am comfortable working with any other similar tools required for this position.
4. How do you stay up-to-date with the latest developments and advancements in carbon conversion technologies?
Answer: I stay up-to-date by reading scientific journals, attending conferences and workshops, and networking with professionals in the field. I am also a member of relevant industry associations and online communities that allow me to keep up with the latest news and trends.
5. Can you give an example of a project you worked on that required collaboration with other team members, and how did you ensure effective communication and teamwork?
Answer: One project I worked on involved developing a techno-economic analysis for a new carbon conversion technology. I collaborated with a team of engineers, scientists, and economists to conduct the analysis, and we had weekly team meetings to discuss our progress and share feedback. To ensure effective communication, I used tools like Trello and Slack to share updates and track tasks. I also made sure to actively listen to my team members' ideas and suggestions and incorporate them into the final report.
Editors Note: CSTEP Freshers Chemistry Research Subscribe to Rasayanika for the latest chemistry and Pharma job openings, follow us on Facebook and Telegram and subscribe to our youtube channel for the latest updates on chemistry and Pharma jobs and much more.