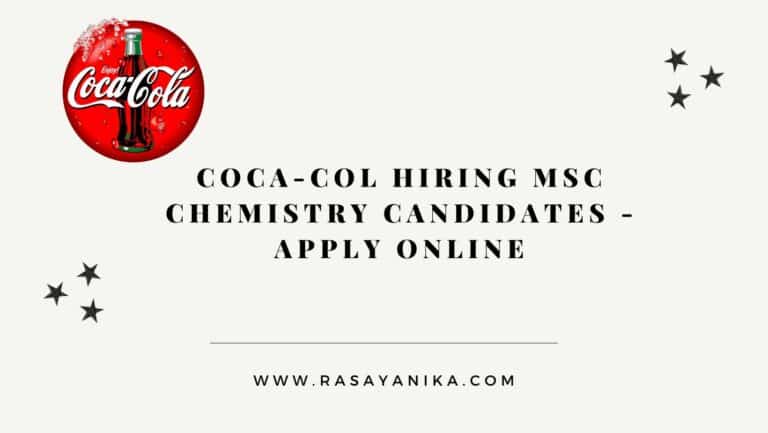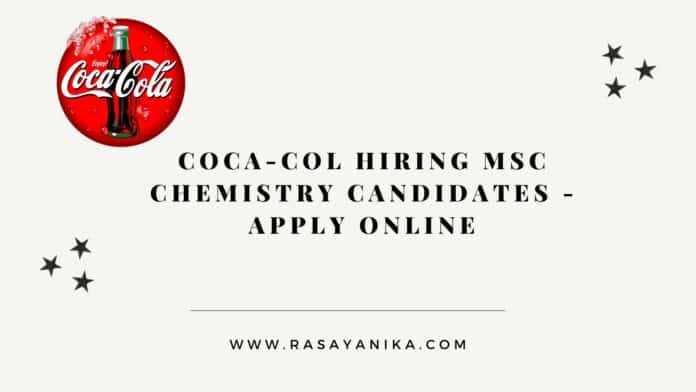 Coca Cola Hiring MSc Chemistry Candidates – Apply Online
Hindustan Coca-Cola Beverages hiring Formula & Regulatory Specialist job opening 2022. Formula & Regulatory Specialist job opening 2022. chemistry job opening 2022. MSc chemistry job opening 2022, chemistry job vacancy 2022. Intrested and eligible candidates may check out all the details on the same below:
Job Title: Formula & Regulatory Specialist
Location: Pune, Maharashtra IN
Job ID: R-80088
Time Type: Full time
Eligbility Criteria & Skills: 
Master is Chemistry, or equivalent.
Working experience – Minimum 6-8 years in manufacturing company in similar positions. Should have knowledge of Food safety and production line knowledge in CPS OR should
know manufacturing workflows, knowledge of processes in food industry. Hands on SAP knowledge and MDM work experience.
Company ("System") knowledge, such as organizational structures, policies, Product Approval Request , Product Stewardship, Regulatory, customers(BU's) and other stakeholders (suppliers and bottlers).
The job requires accuracy, discipline, consistency, and pro-activity in all duties to deliver on time.
Technical Knowledge – Good knowledge of central and local Govt. regulatory requirement related to food Safety, import and export related to food regulation. Knowledge of various labelling requirements of food items. GHS, GLS, Allergen, GMO, PICASSO,KORE, GMP, etc.
Knowledge of food ingredients, packaging, Data analysis and reporting.
Various standards like BIS, JECFA, Pharmacopeia, HALAL , KOSHER, etc requirements.
Analytical Ability – Support in decision making by providing accurate data. about Trends, Internal auditing.
Interpersonal relationships – Networking and Wworking with others. Shows respect, trust and good team member.
Key roles and responsibilities of this position
This position is a key role in the QSE team in the Plant and is the final custodian of the correctness of the Bill of Materials (BOM) & master data setup which will define the product made by the Plant is in accordance to the approved formula issued by Corporate through the Country of Sales Document (COSD).
The key focus of this role is to setup, review and cross validate BOM setup & master data in situation such as but not limited to new product launches /revised country of sale / reformulations / test packs / amendment to formula / changes to pack configuration/Bill of Material updates / textual changes on labels / discontinuation / supply point shifts / outside supply business and business continuity programs. The position will need to setup:
Execute activities related to design, creation, extension, data consolidation and validation of master data.
Responsible for data lifecycle management and providing relevant analytics to the Global MDM team
Ensure In-process inspection for intermediates and finished products in SAP is correct
Provide formulation information to Operations to create recipe andinput special intructions in the Standard Mixing Instruction (SMI).
Ensure accuracy of manufacturing recipe in the Human Machine Interface program which control the batching of products.
Validate that the recipe and SMI will meet the design and capability of the equipment setup for manufacturing.
Generate the product label Master image and is the final approver for the accuracy of the product label to customers.
Generate & review SDS to meet custom requirements for shipment of products.
In regulatory area –
Provide regulatory expertise and serves as an internal consultant on regulatory issues and decision making relative to GHS, Customs and Heath authorities regulations and company specific requirements. Liason with SRA BU, R&D and Corporate.
Leverage business relationships and influence leadership and operations to support, communicate and drive the execution of current and future program for regulatory compliance as well as provide technical expertise
Work in collaboration with R&D in order to reduce time to market, improve productivity and flexibility, reduce complexity, logistics cost reduction, re-apply ideas & leverage intellectual property across the System, minimize write-offs, optimize product and packaging and Increase equipment utilization
This position will work very closely with the Product Portfolio & Global Master Data Teams, OU -SRA, TCCC- SRA to ensure effective execution of duties.
Key Duties/Responsibilities:
MDM 35%
Create, amend & cross Validate BOM
Translate formula and technical review information into master data elements to be updated in SAP and related systems. Create, validate through audits, and maintain master data (material master, BOMS, Master Recipes, AFL) in the SAP R/3 production module for materials, raw materials, in process, finished goods and sales kits.
Maintenance of Business Continuity Master Data for Contingency Supply Points to meet the Enterprise Risk Management (ERM) requirements.
Material Master Creation, Validation, Maintenance
Creation & validation of correct Master data in various tabs of the Material Master, Recipe Master which include net and gross weight, storage condition, shelf life, alternate units of measurement and packing configuration.
Upkeep and validate all formula assigned to the Plant through Country of Sales document (COSD) which is active and current.
Data quality reporting (metrics and compliance) – Includes the design, execution and publishing of data quality and compliance scorecards.
Create working note and get it approved.
Regulatory 45%
FSSAI Licensing and compliance to food safety standards
Lead FSSAI and other food regulations required for CPS Pune to company for its domestic and export business. License renewal, Modification, annual returns, fulfilling condition, inspections, addressing notices, etc.
Ensure testing compliances, training and other records are maintained and up to date
Read and interpret regulation and changes to it. Collaborate / align with OU SRA , TCCC SRA for statutory submission.
Follow up with specific authorities in case of delays in import materials.
Have good record keeping practice.
Intellectual property
Develop solutions for disclosures requested by Customs and Health officials
Approve new statements provided to Customs and Health authorities concerning the composition of our ingredients and beverage bases with Corporate approval
Customs Classifications
Assign tariff codes for import of ingredients and export of finished products
Give support in issues regarding tariff codes
Provide support in contingency plans. Act as SME and liason with BU
New Regulations
Give support to CPS, BU and bottlers in new requirements implementation involving CPS processes
Coordinate the analysis and interpretation of the regulations and scope
Provide guidelines based on Corporate validation
Support Food Safety System Management
Lead GHS implementation for finished products, assuring accomplishment with country of sales regulations. Work in collaboration with R&D for reformulations to avoid not expected hazards
Support to Allergen program and Validate Concentrate labels
Identify safety, food safety, environmental and quality risks and/or opportunities, and apply problem solving tools to ensure conformance and continuous improvement of processes. Ensure the organizational knowledge maintenance.
Value Design activities
Provide flexibility and productivity, reducing time to market and costs through a draft prototype formula analysis
Support new supply models according to business needs: acquisitions, supply point shifts, etc
Improve supply chain through collaborative work with R&D on formula design, reducing operational complexity, ensuring supply continuity and optimizing costs before first manufacture
Finished product label approval 10%
KO art work, Winshuttle and label template creation
Setting up GLS Master data and ensure it is ok for production in CPS Pune
Check with importing country SRA for any specific regulatory requirement on labelling.
Provide information to Operation for creating the label template, verify the correctness of the template created and give the final approval for use.
Communicate changes to the label to customer service.
Coordinate relabeling activities brought upon changes in the product label.
Maintain the approved label database.
Create SDS and other documentation requirement for shipping and custom clearance. 5%
Check with importing country SRA for any specific regulatory requirement.
Provide product information declaration, Certificate of Analysis or Conformance on the products to be shipped.
Obtain the necessary regulatory document required by importing country such as health certificate or free sales certificate.
Create the Safety Data Sheet (SDS) document for all the parts in the kits.
Upkeep the SDS for active formulas assigned to supply by the Plant.
Others 5%
Lead and/or participate in Formula and Regulatory projects in CPS Asia.
Review and feedback KORE changes regarding Master Data in CPS Asia.
Lead root cause analysis sessions to resolve non-conformance identified.
Jointly work with R&D, Operational Excellence and Product Portfolio Teams in value creation initiatives (e.g. formula rationalization, formula change and ingredient substitution, etc.).
Data Lifecycle Management – routine review of all master data object to identify and obsolete redundant data.
Data analytics, mining and Reporting – as requested to support the business functions and processes.
Support Development of Data Standards – working with the MDM governance team to design, implement and retrofit standards.
Organization Impact/Influence:
This position works closely with senior management and plant's associates in providing safety & environment recommendations to comply with requirements. Interactions include, but not limited to:
Internal interactions: All functions
External interactions:
CPS SRA / MDM Team
Product Portfolio team
Local Government Authorities for Food safety and FDA (as required).
Third parties service providers
Professional bodies / consultants/Third party labs to improve food safety regulations
Coca Cola Hiring MSc
Editors Note: Coca Cola Hiring MSc, Coca Cola Hiring MSc chemistry, Coca Cola Hiring MSc Subscribe to Rasayanika for the latest chemistry and Pharma job openings, follow us on Facebook and Telegram and subscribe to our youtube channel for the latest updates on chemistry and Pharma jobs and much more.