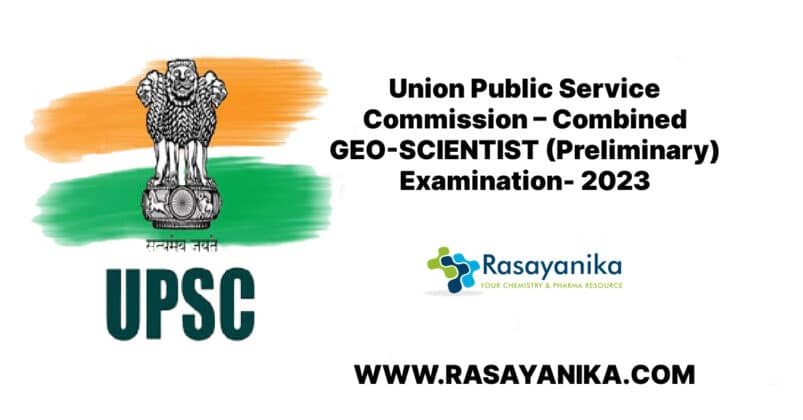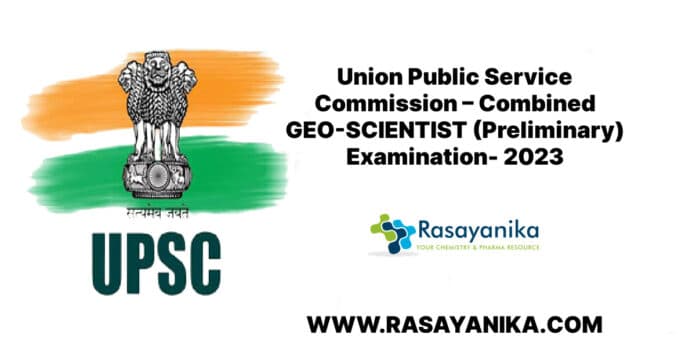 UPSC – Combined GEO-SCIENTIST (Preliminary) Exam 2023
Union Public Service Commission invites chemistry candidates for Combined GEO-SCIENTIST (Preliminary) Examination- 2022. Combined GEO-SCIENTIST (Preliminary) Examination- 2022, analytical Chemistry and applied for the exam. Interested and eligible candidates may check out all the details.
Job Title: Scientist 'B'(Chemical ) Group 'A'
Department: Central Ground Water Board
Eligbility Criteria: 
For Chemist Group 'A' in Geological Survey of India and Scientist 'B' (Chemical) under
C.G.W.B. M. Sc. in Chemistry or Applied Chemistry or Analytical Chemistry from a University incorporated by an Act of Parliament or State Legislature or other educational Institutes established by an Act of the Parliament or declared to be deemed Universities under section 3 of the University Grants Commission Act, 1956 i.e. recognized University
CANDIDATES TO ENSURE THEIR ELIGIBILITY FOR THE EXAMINATION:
All candidates (male/female/transgender) are requested to carefully read the Rules of Combined Geo-Scientist Examination notified by the Government (Ministry of Mines) and the Notice of Examination derived from these Rules. Candidates applying for the Examination should ensure that they fulfill all eligibility conditions for admission to the Examination. Their admission at all the stages of the Examination will be purely provisional
subject to satisfying the prescribed eligibility conditions. Mere
issue of Admission Certificate to the candidate will not imply that the Commission has finally cleared his/her candidature. Verification of eligibility conditions with reference to original documents is taken up only after the candidate has qualified for Interview/Personality Test.
HOW TO APPLY :
Candidates are required to apply online only by using the website https://upsconline.nic.in. In case the applicant has not yet registered in the One Time Registration (OTR) platform, the link of which is already available on the Commission's website, he/she should register in this platform and thereafter proceed for filling up the online application for the examination. Brief instructions for filling up the online Application Form have been given in Appendix II.
(A). Detailed instructions are available on the above-mentioned website.
2.1 Candidate should have details of one Photo ID Card viz. Aadhaar Card/Voter Card/PAN
Card/Passport/Driving Licence/Any other Photo ID Card issued by the State/Central Government. The candidate will have to provide the details of this Photo ID card while filling up the online application form. The candidates will have to upload a scanned copy of the Photo ID whose details have been provided in the online application by him/her. This Photo ID Card will be used for all future referencing and the candidate is advised to carry this Photo ID Card while appearing for the Examination/ Personality Test.
2.2 The facility of withdrawal of Application is available for those candidates who do not want to appear for the Examination. In this regard, instructions are mentioned in Appendix II (B) of this Examination Notice.
Special Instructions:
Candidates are advised to read carefully "Special Instructions to the candidates for Objective Type Test and Conventional Type Test" (Appendix III – Part A and Part B).
The Preliminary Examination for Combined Geo-Scientist Examination for two Objective Type papers will be conducted on OMR Sheet.
FACILITATION COUNTER FOR GUIDANCE OF CANDIDATES :
In case of any guidance/information/clarification regarding their applications, candidature, etc. candidates can contact UPSC's Facilitation Counter near 'C' Gate of its campus in person or over Telephone No. 011-23385271/011-23381125/01123098543 on working days between 10.00 hrs and 17.00 hrs
The Union Public Service Commission will hold a Screening Test for selection to Combined Geo-Scientist (Main) Examination, 2022 through Combined Geo-Scientist 2 (Preliminary) Examination, 2022 which will be held on 20th February 2022, in accordance with the
Rules published by the Ministry of Mines in the Gazette of India dated the 22nd September 2021.
(B) The Preliminary Examination will be held at the following Centers:
AHMEDABAD
BANGALURU
BHOPAL
CHANDIGARH
CHENNAI
CUTTACK
DELHI
DISPUR
HYDERABAD
JAIPUR
JAMMU
KOLKATA
LUCKNOW
MUMBAI
PATNA
PRAYAGRAJ (ALLAHABAD)
SHILLONG
SHIMLA
THIRUVANANTHAPURAM
The Centres and the dates of holding the Examination as mentioned above are liable to be changed at the discretion of the Commission. Applicants should note that there will be a ceiling on the number of candidates allotted to each of the centers, except Delhi, Dispur, Kolkata, and Ahmedabad. Allotment of Centres will be on the "first-apply-first-allot" basis, and once the capacity of a particular Centre is attained, the same will be frozen. Applicants, who cannot get a Centre of their choice due to ceiling, will be required to choose a Centre from the remaining ones. Applicants are, thus, advised that they may apply early so that they could get a Centre of their choice.
FEE :
Candidates (excepting Female/SC/ST/Persons with Benchmark Disability Candidates who are exempted from payment of fee) are required to pay fee of Rs. 200/- (Rupees Two Hundred only), alongwith the submission of Online Application Form, either by remitting the money in any Branch of State Bank of India or by using Visa/Master/RuPay Credit/Debit Card/UPI Payment or by using Internet Banking of any Bank. Applicants who opt for "Pay by Cash" mode should print the system-generated Pay-in-slip during Part II registration and deposit the fee at the counter of SBI Branch on the next working day only. "Pay by Cash" mode will be deactivated at 11:59 p.m. of 10.10.2022 i.e. one day before the closing date of submission of the application; however, applicants who have generated their Pay-in- Slip before it is deactivated may pay at the counter of SBI Branch during banking hours on the closing date. Such applicants who are unable to pay by cash on the closing date i.e.
during banking hours at SBI Branch, for reasons whatsoever, even if holding valid pay-in-slip will have no other offline option but to opt for available online Debit/Credit Card/UPI Payment or Internet Banking payment mode on the closing date i.e. till 6:00 p.m. of 11.10.2022.
Note 1: Candidates should note that payment of Examination Fee can be made only through the modes prescribed above. Payment of fee through any other mode is neither valid nor acceptable. Applications submitted without the prescribed fee/mode (unless remission of fee is claimed) shall be summarily rejected.
Note 2: Fee once paid shall not be refunded under any circumstances nor can the fee be held in reserve for any other Examination or Selection.
Note 3: For the applicants in whose case payments details have not been received from the bank, they will be treated as fictitious payment cases and their applications will be rejected in the first instance. A list of all such applicants shall be made available on the Commission website within two weeks after the last day of submission of online application. The applicants shall be required to submit the proof of their fee payment within 10 days from the date of such communication either by hand or by speed post to the Commission. On receipt of documentary proof, genuine fee payment cases will be considered and their applications will be revived, if they are otherwise eligible
LAST DATE OF SUBMISSION OF APPLICATIONS FOR UPSC – Combined GEO-SCIENTIST
The Online Applications can be filled up to 11th October 2022 till 18.00 Hours.
The online Applications can be withdrawn from 19.10.2022 to 25.10.2022 till 18.00 Hours
Editors Note: UPSC – Combined GEO-SCIENTIST exam UPSC – Combined GEO-SCIENTIST Subscribe to Rasayanika for the latest chemistry and Pharma job openings, follow us on Facebook and Telegram and subscribe to our youtube channel for the latest updates on chemistry and Pharma jobs and much more.