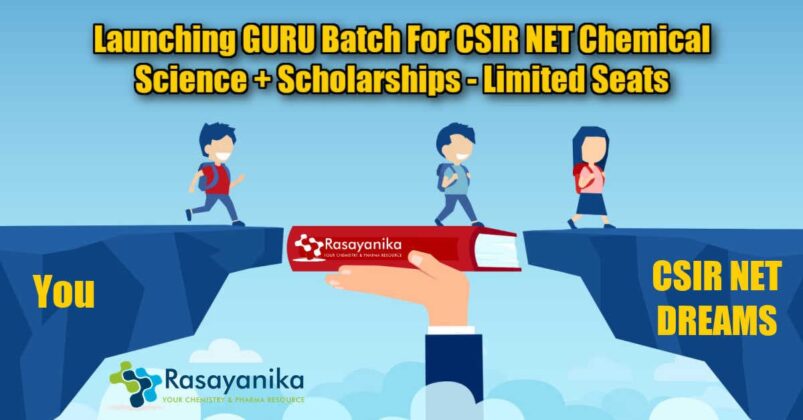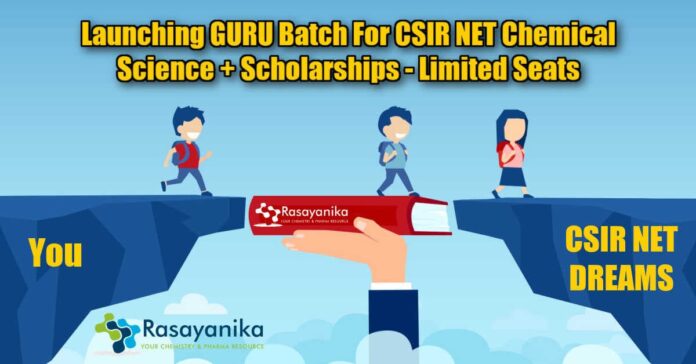 CSIR NET Coaching Rasayanika For Chemical Sciences 2022
Get Personalized Experience From Experienced Gurus
Launching GURU BATCH FOR CSIR NET Chemical Science
Starts on 5th September 2022
Chat with us to Avail A2 Scholarship
Dear Student,
A teacher can carve something extraordinary out of ordinary students
Experience the Power of great Teachers with Rasayanika
With CSIR NET Application Registrations being announced, the hopes are high, and many of you have been in full-on gear to prepare well against the current time frame of fewer than 100 days. And thus, to support you all, Rasayanika proudly announces the CSIR NET Guru Batch for  December 2022 + June 2023
Now is not the time to delay/procrastinate or be fearful of examination. Tackle these two roadblocks, and the path towards succeeding in an exam becomes clear!
Rasayanika brings you the perfect package for your CSIR NET Preparation- Time to say Bye Bye to Procrastination!
MOTIVATE YOURSELF + MANAGE TIME + MASTER CONCEPTS
16 SEATS + EXPERIENCED EXPERTS + UNMATCHED QUALITY
Subjects Offered:
Timings & Mode:
Evening Batch: 7 PM
Only Online
Attend from Home or Anywhere in the world using an Internet connection
Intensive Online training for Organic, Inorganic, and Physical Chemistry.
Higher priority will be given to essential and difficult units.
Online E-Learning Study Portal with access till Dec 2022
Guru Batch 2022 starting from 5th September- With Limited seats Only 
Salient Features of Guru Batch- Found nowhere else 
100+ hours of discussions on tough questions and CSIR NET previous year's question papers.
Complete Mind Maps of Entire CSIR NET Syllabus
Special Part C Speed Booster Training
Guru Assignment Per Student
Plan your study so that you can schedule your subjects 
Personalized timetable planner for every student.
24X7 chat support for question-solving (That means you can ask questions and get instant answers at night time also when you study )
Tips and Tricks- Guidelines on how to crack CSIR NET exams faster
What else is new?
A chance to upgrade to the Double Success Guarantee Program or Triple Success Guarantee Program.
Practice isn't the thing you do once you are good. It's the thing you do that makes you good.
Every year Lakhs of candidates graduate, but what gives you the edge over the others is a Good rank in national Level Exams like CSIR NET/GATE/DBT/ICMR, etc. Not only is this Rank important for your Ph.D., but it also is one of the major requirements for many private or Government Job openings. So do not underestimate the power a CSIR NET/GATE qualification holds.
Prepare with Rasayanika Expert's designed classes and achieve your goals.
At Rasayanika every student is encouraged not just to crack these examinations but also nurtured to develop research skills and attitude to survive in the Industry. We invite you to be a part of this culture where your goals become ours too. Your Success is our achievement.
CHAT WITH OUR EXPERTS TO KNOW MORE
Got Questions?
Our experts will be happy to help you out.
Feel Free to contact us at 1800-1200-1818 or 080-5099-7000
Your Success is Our Achievement
&
Your Research is our Responsibility
You can contact Rasayanika at its toll free Phone number: 1800-200-3757 , 080-5099-7000
Our Mission: Rasayanika Revolution
Our Vision: To Reach every Pharma Professional in our country and help them build a strong career.
CSIR NET Coaching Rasayanika