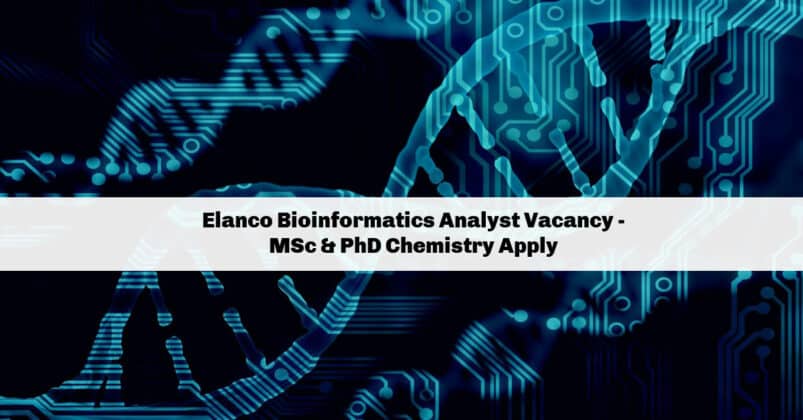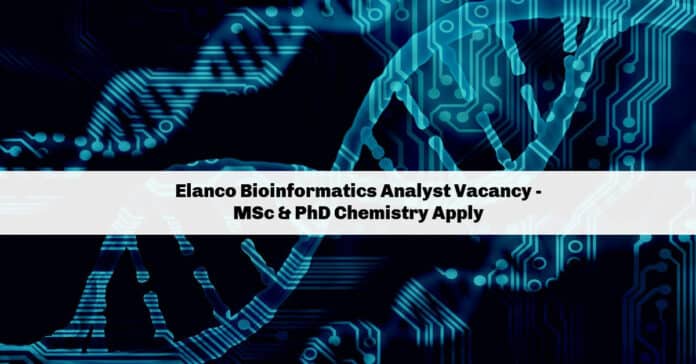 Elanco Bioinformatics Analyst Vacancy – MSc & PhD Chemistry Apply
Elanco Hiring MSc & Ph.D. chemistry candidates, Senior Bioinformatics Analyst vacancy. Chemistry job opening 2022, Chemistry analyst job opening 2022. Analyst job opening 2022, candidates with master's and a Ph.D. degree in chemistry may apply for the post of Senior Bioinformatics Analyst at Elanco. Check out all the details on the same below:
Job Title: Senior Bioinformatics Analyst
Req Id: R0011213
Elibiglity Criteria:
Master/ PhD in Medicinal Chemistry/ Computational Biology/ Computer Science/ Cheminformatics/ Bioinformatics/ Applied Statistics or a related field
Knowledge of small molecule drug discovery and basics of protein engineering, in data analysis, machine learning, QSAR, and statistical modeling.
Knowledge of discovery tools including Schrodinger (Maestro/Bioluminate/ Canvas) / MOE / molecular dynamics tools (GROMACS) / AlphaFold / Rosetta/ KNIME, RDkit
Experience with common workflow automation, scripting, and programming platforms (e.g., Python, shell scripting)
Must be detail-oriented, well organized with the ability to analyze, and communicate data effectively
Experience working in a high-performance computing environment or cloud is a plus
~3-5 years of experience in drug design, cheminformatics
Additional Preferences:
Outstanding oral and written communication skills with the ability to communicate logically and technically
Excellent interpersonal skills
Organizational planning skills and commitment to quality
Strong team spirit and commitment to the success of all team members
Ability to work independently or as part of a team and collaborate with global teams across geographies and time zones.
Ability to travel globally up to 10% of the time
Position Description:
They are looking for a highly motivated scientist with experience in computational chemistry, small molecule drug design, and protein modeling to join the team and apply computational approaches in the field of molecular design and modeling, supporting small and/or large (macromolecules, peptides, biosimilars, etc.) molecule drug discovery to advance our core cheminformatics capabilities. Responsible for developing computational hypotheses using molecular modeling tools for small molecule and/or large molecule discovery related to diseases, parasites, immunology, and other areas in animal health. Additionally, draft scientific communications, abstracts, posters, slide sets, and manuscripts for publication.
Roles and Responsibilities:
Apply computational techniques relevant to small molecule or large (peptide/protein engineering/antibody) molecule drug discovery
Work on the design of small and or large molecules by computational techniques such as virtual screening using both ligand and structure-based methods, homology modeling, hit-to-lead, and lead optimization strategies, docking, pharmacophore modeling, cheminformatics approaches
Work with modeling tools such as Schrodinger (Maestro/Bioluminate) / MOE / molecular dynamics tools (GROMACS) / AlphaFold / Canvas / KNIME/ RDKit.
Generate and maintain chemical libraries, apply statistical methods for the screening of compounds and build SAR models
Play a major role in drug repurposing, lead identification, optimization, scaffold hopping and fragment linking
Conducting literature searches for the target, structures related to the target and any other relevant or key information for preparing target dossiers
Work collaboratively with chemists, biologists, and multidisciplinary project team members from target assessment to hit identification, compound optimization towards clinical candidates and provide scientific knowledge obtained through molecular modeling, supporting preclinical drug discovery
Help with new target assessment through druggability, ortholog analysis, active site prediction, selectivity, and/or tool compound analysis
Contribute towards several research initiatives by the company
Manage multiple projects at any given time along with tracking project milestones.
Capable of self-directed research within broader goals set by group
Obtain feedback from customers and implement customer management requirements.
Comply with and support the group's project management tool, standards, policies, and initiatives.
Follow Elanco specifications for documentation, specifically good documentation practices.
Work closely in consultation with Regulatory, R&D sites, and global project teams.
Should be able to teach and train his/her team in all the above-mentioned aspects as and when required
Perform additional tasks as assigned.
Editors Note: Elanco Bioinformatics Analyst Vacancy Subscribe to Rasayanika for the latest chemistry and Pharma job openings, follow us on Facebook and Telegram and subscribe to our youtube channel for the latest updates on chemistry and Pharma jobs and much more.