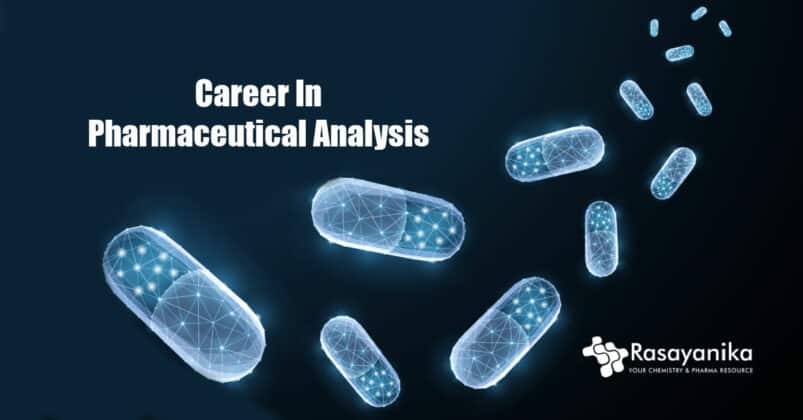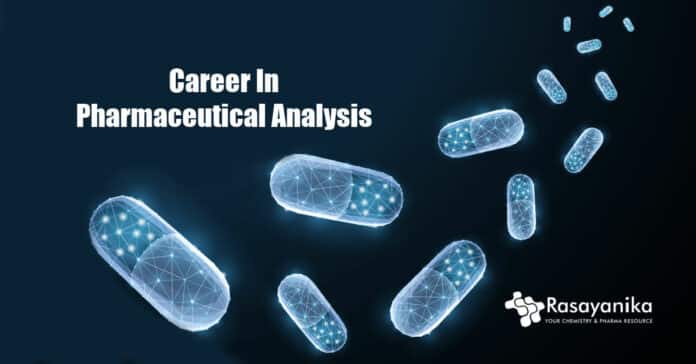 Pharmaceutical analyst career path
Pharmaceutical Analysis is a branch of pure chemistry that involves identifying substance or drug, purification, separation, quantification, determining the structures of chemical compounds used in the making of a pharmaceutical product, and various pharmaceutical samples. It is chiefly concentrated in drug analyses, in raw materials and pharma formulations, concerning the determination of active components, impurities, excipients, content uniformity, solubility, dissolution rate, and stability.
The sample might be a single compound or a combination of compounds, and it might be in any of the dosage forms. The substance utilized as pharmaceuticals are animals, plants, microbes, minerals, and numerous synthetic products.
This study mainly involves the drug development process, assessing the quantity and quality of drugs and their impurities. The domain covers the fields related to drug safety, simplifying manufacturing, lowering development expenses, addressing market demands for evidence-based information in the discipline of pharmaceutical development.
The pharmaceutical sample can be analyzed by 3 methods as given below.
Manual method of analysis: As organoleptic characteristics such as taste, smell, texture, color, and appearance can be discerned with sense organs.
Chemical method of analysis– Various chemical methods are available to analyze the samples, such as titrations, Microbiological assays (antibiotics). It comes under the chemical approach of analysis as it involves chain reactions between reagents.
Instrumental method of analysis: This includes different instrumental approaches to evaluate any sample by different instruments such as UV-spectroscopy, High-performance liquid chromatography, fluorimetry, atomic absorption spectroscopy, polarography, gravimetry, nuclear magnetic resonance, infra-red spectroscopy, etc.
Pharmaceutical analysis can be classified into 2 types:
Qualitative Analysis: The foremost priority of any analyst is to identify the sample; qualitative analysis involves identifying the sample that what sort of chemical moieties are present, like structure elucidation and molecular weight elucidation of molecule present in samples.
Quantitative Analysis: This includes evaluation of quantity/weight or concentration of components present in a sample.
Educational Requirement For Career In Pharmaceutical Analysis
If a student wishes to work as a Pharmaceutical Analyst, he/she has to pass 10 +2 exams with major subjects including biology, chemistry, physics, and mathematics.
Graduation in Pharmaceutical Analysis, Pharmacology, Chemistry, or any other related subject is required to gain an entry-level job as a Pharmaceutical Analyst.
Some firms prefer a post-graduation or doctoral degree in any related field and working experience for higher posts.
In-depth theoretical and practical knowledge is needed to work as a Pharmaceutical Analyst.
Job role
Perform qualitative and quantitative chemical analyses or experiments in labs for quality or process control or to develop novel products (drugs, vaccines, etc.) or methods.
Carry our quality control and Quality assurance analyses.
Maintain lab equipment to make sure they are functioning properly and troubleshoot malfunctions when needed.
Compose technical papers or reports or develop standards and requirements for processes, facilities, products, or experiments.
Develop test solutions, compounds, or reagents for lab personnel to perform experiments.
Collect and examine test data to determine a process or equipment operating performance or to detect defects.
Analyze organic or inorganic substances used in the pharma industries to determine chemical or physical properties, composition, structure, relationships, or reactions with chromatography, spectroscopy, or spectrophotometry methods.
Assess lab safety procedures to make sure compliance with standards or to make amendments as needed.
Guide or coordinate with co-workers in the experiment processes for examining elements or physical properties of compounds.
Develop, improve, or customize products, devices, formulas, or analytical approaches.
Discuss with scientists or engineers to perform evaluations of research projects, evaluate test outcomes, or develop nonstandard examinations.
Employment opportunities
Hospitals
Pharma companies
Drug Research
R&D Institutes
Skills Required
Profound scientific knowledge and laboratory skills.
Critical Thinking – logic and reasoning skills.
Complex problem-solving skills.
Good verbal communication skills.
Decision-making skills.
Time Management skills.
Analytical skills.
Capable of working well under pressure.
Convenient working in a team.
Technical knowledge.
Good computer skills.
Good maths skills.
Strong lab bench skills.
Multi-tasking.
Ability to prioritize.
Colleges for Pharmaceutical analysis and Pharmaceutical sciences
Scope of Pharmaceutical analysis
Pharmaceutical analysis plays a very crucial role in various sectors in the pharma industry, like in research and development (R&D) and Quality assurance (QC). Pharmaceutical analysis is used to analyze the raw sample and final product quality, purity, efficiency as well as safety. Pharma industry will be ever-growing as new pathogens and diseases are emerging day by day. So, domains associated with the pharma industry will likewise face a boom in the coming days.
Pharmaceutical analysts also work in the Food industry. All food items (packaged food) should be analyzed for parameters like quality, purity, safety, etc. before it is dispatched from the manufacturing unit. This improves acceptability by consumers. Various types of preservatives, coloring, flavoring, and also artificial sweeteners are utilized in packed foods, which can be natural or artificial chemical components, which have to be assessed qualitatively and quantitatively. Pharmaceutical analysts are assigned to do this job.
Pharmaceutical analysts also work in Cosmetic Industries. As preparation of cosmetics involves many coloring agents and fragrances containing various chemical ingredients, these have to be analyzed to determine the quality and quantity of these ingredients.
Environmental agencies also hire pharmaceutical analysts to carry out various environmental studies like checking the pH of rain, river, and water resources. Different environmental factors like temperature, humidity, etc., can be analyzed.
Pharmaceutical analysis is also used to diagnose various diseases. Hence, this study domain has widespread applications, and this domain will have a huge demand at all times. In general, the ongoing COVID-19 pandemic has brought a huge boom to life science and pharma industries.
Top Recruiters in India
Global Recruiters
Johnson & Johnson
Pfizer
Roche
Novartis
Merck & Co.
GlaxoSmithKline
Sanofi
AbbVie
Takeda
Shanghai Pharmaceuticals
Average Annual Salary
A Pharmaceutical Analyst gets monetary benefits based on qualifications, individual skillset, and experience. A Pharmaceutical Analyst earns around ₹3.8 LPA in an entry-level position. However, the pay depends on the industry one is employed in.
---
Read also