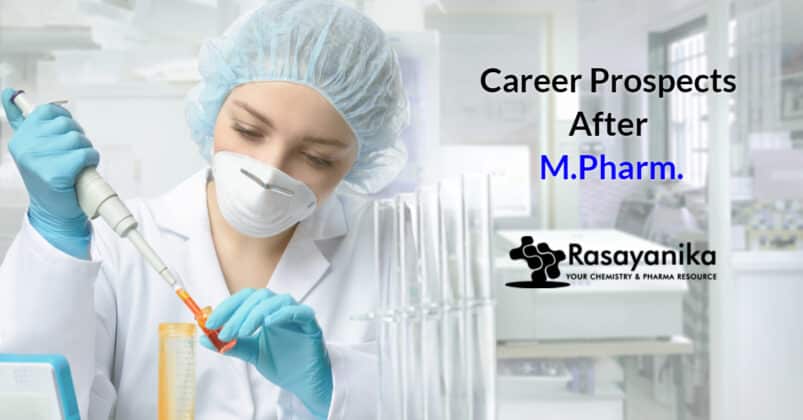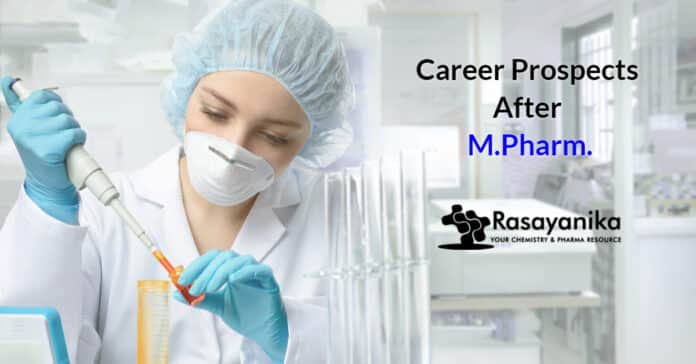 Career Prospects After M.Pharm
Pharmaceuticals is a booming field. Especially now, with the whole world trying to protect themselves from the pandemic and fight against it. A successful career in pharma requires the right skills, knowledge, and expertise in different branches of the subject. As the fastest growing science field, there is a dire need for specialists in the pharma sector.
Students who wish to pursue pharma as a career go on to study and specialize in M.Pharm. The job prospects and career scope for M.Pharm. Graduates are vast and highly attractive. Here, we shall discuss these details along with the salary prospects and potential recruiters for M.Pharm. Graduates.
M.Pharm. Specializations
M.Pharm is a 2-year course where students are exposed to the nitty-gritty of their chosen specialization in pharma and are equipped to join the workforce with the required knowledge and expertise. B.Pharm graduates who wish to build a career in pharma can choose the subject to specialize in:
M.Pharm in Pharmaceutical Analysis and Quality Assurance
M.Pharm in Biotechnology
M.Pharm in Pharmaceutics
M.Pharm in Pharmacognosy
M.Pharm in Industrial Pharmacy
M.Pharm in Pharmacology
M.Pharm in Medicinal Chemistry
M.Pharm in Regulatory Affairs
Job prospects after M.Pharm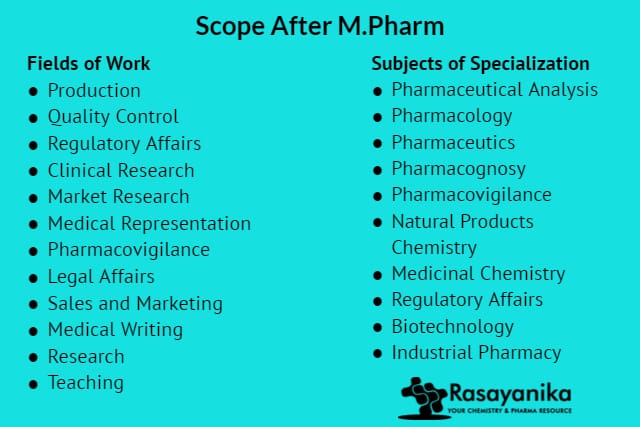 The career prospects after M.Pharm are certainly lucrative options that are many in number. Following are the possible routes you can take to get into the pharma industry:
Production
The field of pharmaceutics is related to production. Production has a lesser starting salary than many other pharmaceutical jobs and has a rising rate of vacancies. The growth rate is also quicker than in any other line. A graduate of M.Pharm in Pharmaceutics has good career prospects in this section of the industry which involves work on all kinds of drugs (and their dosages) and cosmetics.
Salary Prospects – Starting salary ranges from ₹20,000-30,000 per month
2. Quality Control
Quality control and quality analysis are certainly indispensable parts of a pharma company. This job involves the checking and rechecking of the quality of drugs and ensuring that the products that are partially or finished comply with the standards and guidelines of the country's pharma council. They also need to ensure that the quality of products complies with the company standards for products before manufacturing, during, and after manufacturing them. The nature of work is supervisory. The quality control expert is expected to test the accuracy and precision of the company's products and also report the same, which involves documentation work on the testing procedures used in the inspection.
Salary Prospects – Ranges from ₹20,000-40,000 per month
3. Pharmacogynsy
Pharmacognosy involves using your knowledge about therapeutic products derived from natural medicine. Graduates in this subject go on to work in companies like Dabur, Himalaya, Zandu, etc. You may initiate a career in this field by joining the workforce of a small herbal company and then progress towards higher positions. The work profile is mostly research and development based and can also be pursued in branches like Homeopathy, Unani, Yoga, Ayurveda, Siddha, etc.
Salary Prospects – ₹18,000-30,000 per month
4. Regulatory Affairs
Regulatory affairs involve the preparation of dossiers to export drugs at an international level. The work pressure in the field of regulatory affairs varies according to company requirements at that time. One can also pursue law with knowledge of regulatory affairs in pharma.
Salary Prospects – ₹12,000-15,000 as starting salary in smaller companies if you join as an intern. Bigger companies may offer a starting salary of up to ₹20,000 per month.
5. Clinical Research
Clinical research is among the most important jobs in the pharma sector. Drugs and vaccines are required to go through several clinical trials before getting released into the market. It involves testing new drugs to test the effects they have on the intended subjects and the desired result. Based on the success or failure of these clinical trials, drugs can be modified or pushed further for manufacturing and approval.
In clinical research, one can work as a clinical programmer who monitors and coordinates work in the labs and makes sure that deadlines of protocols and projects are sufficiently met. They are also consulted in the clinical trials' design and development. They are also hired to evaluate and analyze clinical trials, identify inconsistencies, and resolve data problems.
Salary Prospects – ₹20,000-40,000 per month
6. Pharmacology
This job involves the research, development, and testing of novel drugs to evaluate and comprehend their results in different environments when subjected to different parameters. The regulations set by the Pharmacy council are to be followed, and pharmacologists make sure of it. A pharmacologist is also in charge of ensuring that the proper dosages, adverse effects, and instructions are mentioned along with the medicine.
Salary Prospects – ₹25,000-40,000 per month
7. Research scientist
Research and development in the pharma sector involve drug discovery and drug designing. They need to have exemplary knowledge and equally good skills in applying that knowledge wherever and whenever necessary. This work is mostly acquired in the R&D and F&D laboratories of Indian and foreign companies. New drugs and new therapeutic mechanisms and approaches to disease curing are developed and studied by research scientists in the pharma sector. There is tremendous scope in this field, and jobs for pharma scientists are mostly located in the country's capital cities.
Salary Prospects – ₹25,000-40,000 as starting salary.
8. Teaching
Teaching is a field that is best delved into after a doctoral degree (Ph.D.). However, many institutes also accept M.Pharm graduates as associate professors. Along with the theoretical knowledge, professors in pharma college cover the practical aspects of the subject in detail. A teaching position in government colleges is most preferred. Pharma is a rapidly growing field with thousands of new individuals enrolling in courses every ear. Teaching thus has a lot of scope for M.Pharm and Ph.D. graduates.
Salary Prospects – The starting salary in private colleges may go up to ₹25,000, while government colleges may offer up to ₹30,000-35,000. The salary increases with experience and skill development.
Other jobs include:
Medical representative
Intellectual property (IP) Analyst
Pharmacist
Medical Writer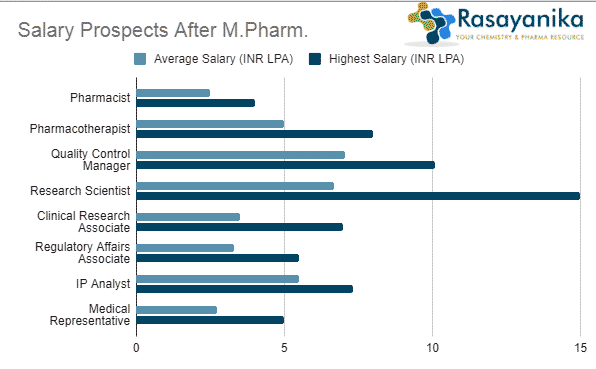 Job sectors for an M.Pharm graduate
The Career prospects after M.Pharm are several. They are generally found in:
Candidates for jobs in the government sector are generally recruited through various recruitment examinations. There is higher job security and stability in government jobs. The salary package of an experienced professional may range from ₹45,000-65,000 per month for an M.Pharm graduate.
Candidates may apply for jobs on the company websites with recruitment based on the candidate's merit. There are many jobs in the private sector for M.Pharm graduates with ample opportunities to gain experience and grow in the field. The starting salary may range from ₹20,000-40,000 and eventually increases with greater skills and experience.
Companies that recruit M.Pharm graduates
Career prospects after M.Pharm may be found in several companies in India and abroad. Some of the best companies that hire M.Pharm graduates are as follows:
Higher Education after M.Pharm
To gain better career prospects after M.Pharm, many opt for higher studies which may be pursued in India or abroad.
Pharmacy specialization or Ph.D. in Pharmacy
The M.Pharm graduates who wish to understand their subject of interest or those interested in research can opt for specialization through a doctoral degree. Those who wish to pursue a career in academia and research can think more about this option. This also helps the individuals improve their knowledge and skillset to enter with higher salary prospects into the pharma industry. One can pursue a doctoral degree in pharma in either government or private institutes. Qualifying for competitive exams like GATE makes you eligible for a fellowship during the Ph.D. course.
Those interested in the managerial aspects of the pharma industry can definitely go for an MBA or a PGDM degree. This gives them a better understanding of the managerial aspects of the sector and increases their chances of being recruited by pharma companies into their managerial positions.
Those interested in the legal aspects of the pharma sectors can opt to study LLB after M.Pharm. With higher knowledge about the pharmaceutical aspects and regulations, such individuals are highly preferred as corporate lawyers in pharmaceutical companies.
Conclusion
An M.Pharm graduate has tremendous scope in the pharma sector. Career prospects after M.Pharm are highly lucrative and offer favorable environments fr learning, skill development, and growth within the company and the sector itself. A student needs to develop skills and acquire opportunities by learning more about the field and its workings via certificate courses, workshops, conferences, internships, and various training programs.
Check out the certificate courses offered by Rasayanika which can help you excel in your pharma career and get better jobs: